It's 10.30 PM and I am facing computer screen since a while trying to finish up an upcoming post. Everyone in the house are in deep sleep relaxing themselves after the daily chaos of life. But right now I am hard on myself to finalize some of the recipe posts to be scheduled during my vacation. But you know what, I feel zero words. No thoughts at all. It's like I sit down, bring in the recipe, edit the pictures. Now, uh, what do I have to say ? Blank.  It seems so simple but it is sometime very hard to make the thoughts to flow through fingers as words. Today actually I had to write about a rice accompaniment, say yogurt curry which is prepared using tindora (tondekayi) one of my favorite veggie. Tondekayi majjige huli is a basic comforting rice side dish that tastes amazingly yummy.
It's probably a curry that can alone beat the heat of sunny days and cool our body internally. Being in UAE since 5 years, I have learnt to keep myself cool and hydrated during summer through food. Because  the electrical appliances like AC can run 24 hours a day to keep us cool externally. But our internal organs should be kept intact with right food during right season. Which is why yogurt curry, tambli, spiced buttermilk and lentil salad get on to my dining table frequently or on daily basis.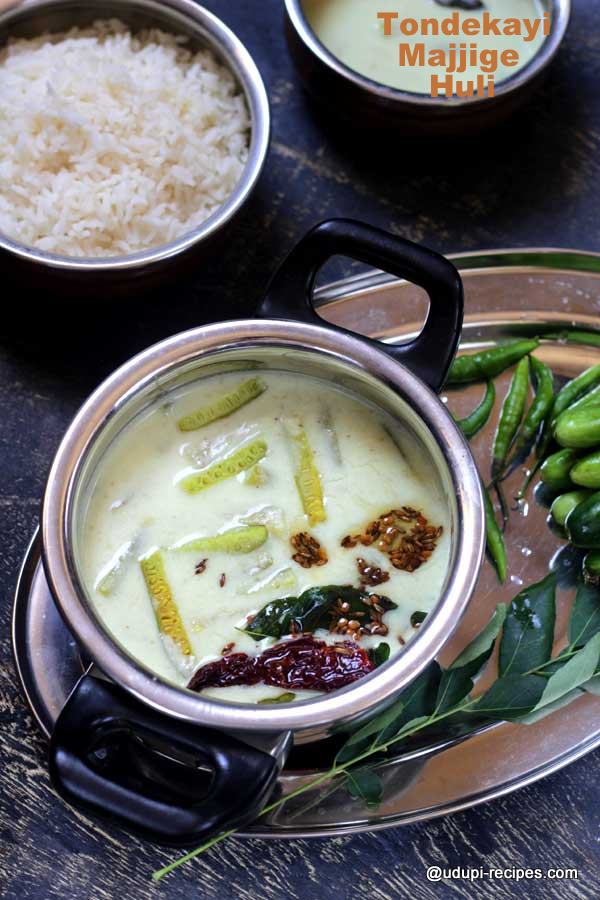 And today the tender, immature tindora/tindly has taken it's turn to be in yogurt curry. Tondekayi majjige huli has coconut and yogurt as main ingredients. Besides it has the flavorful tempering of fenugreek and cumin seeds. I recommend to use coconut oil for this tempering. Because the unique flavors of fenugreek roasted in coconut oil takes the curry to the next level. This summer food world is quite interesting so far. How about yours?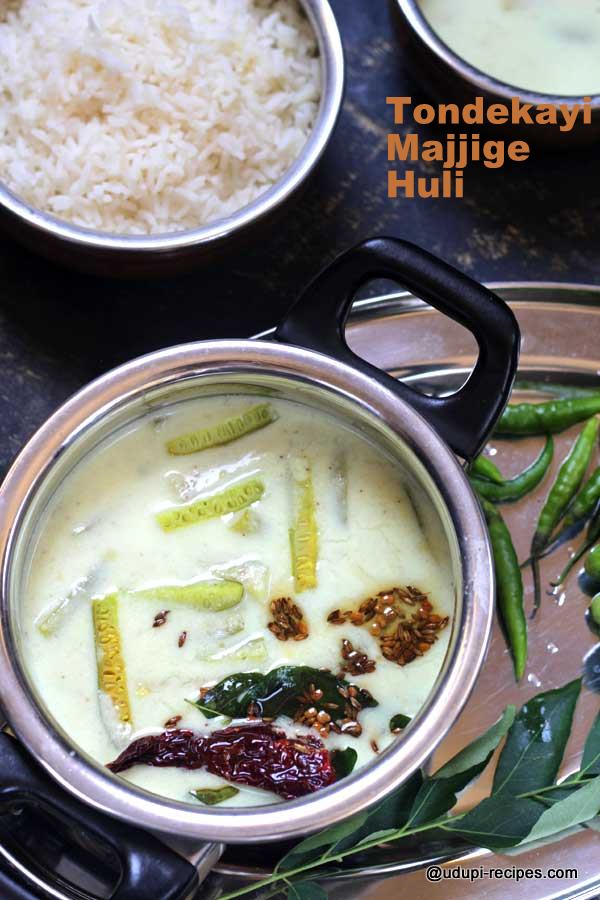 Tondekayi Majjige Huli | Tindora Yogurt Curry
Ingredients
Tindora (tondekayi)- 250gm
Fresh grated coconut- 1/2 cup
Whisked yogurt- 1/2 cup
Green chillies- 2 nos.
Uncooked rice- 1 tsp
Turmeric powder- 1/4 tsp
Salt- 1 tsp

To Temper

Coconut oil- 2 tsp
Cumin seeds- 1/2 tsp
Fenugreek seeds- 1/2 tsp
Curry leaves- few
Red chillies- 1 nos.
Instructions
Preparation

Wash the tindora(tindly) under running water and slit each of them in to quarters lengthwise.

Method

Take the chopped tindora in cooking pan adding water till immersing level. Add salt, turmeric and curry leaves. Cook in medium flame till soft.
After 10-15 minutes the veggie turns soft and pale in color. Meanwhile grind fresh coconut, green chillies and rice together to fine puree. Add little water for grinding.
Pour the coconut puree over cooked veggie and combine everything well. Bring this to boil. Finally add whisked yogurt and mix. Switch it off.
Heat a tempering pan with all the ingredients listed under "To temper" and as the cumin seeds splutter, pour the tempering over yogurt curry. Comforting rice side dish tindora yogurt curry is ready to serve.

Notes

Do not add too much water to cook the veggie. This rice side dish should be thick in consistency.
Use fresh coconut generously because it is the primary ingredient for curry.
After adding yogurt to the curry, do not cook much.
Do not skip tempering the curry. Fenugreek seeds in tempering give nice flavor to the curry.
https://udupi-recipes.com/2017/06/tondekayi-majjige-huli-yogurt-curry.html
All the content in this website are © Copyrighted to – Udupi-Recipes