Healthy food feelings are around here.  So a good-for-health yogurt based curry today. This rice side dish is inherently soul comforting and mind favoring as it evolves from beautiful, heart shaped green Brahmi leaves. The leaves are popular as "Timare" in Udupi and "Ondelega" in Karnataka. The uniqueness about brahmi is it has single leaf in single stem with no distinguishing taste of it's own. During Monsoon season due to heavy downpour, brahmi leaves grow everywhere like weed in my native place. It is said that "chewing few of these leaves every morning helps in improving one's ability to recollect or memorize."
Brahmi tambli is an age-old recipe that has passed on through my ancestors and it tops on high whenever anyone refers this sort of rice-side. The recipe is not a big deal, any naive cook can make it without mess.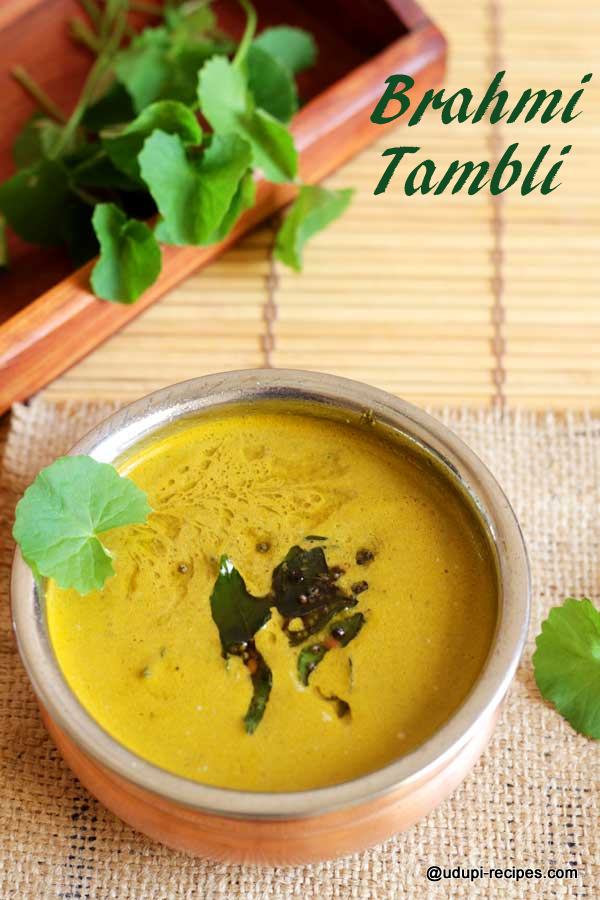 I paused for a while just now to check the tambli recipes that I have posted until now, what I see is all of them are either GREEN or PEACH or WHITE in color. From food photography perspective I have made a good decision of using red chilly in this brahmi tambli recipe which is apparent in the below picture and it looks gorgeously awesome.
But ladies!! you have the liberty of replacing red chilly by either green chilly or black pepper. You will not find much difference in the taste and goodness of brahmi leaves is not even altered.
It's an absolute food bliss, whip this up routinely and get your mind's recalling power doubled.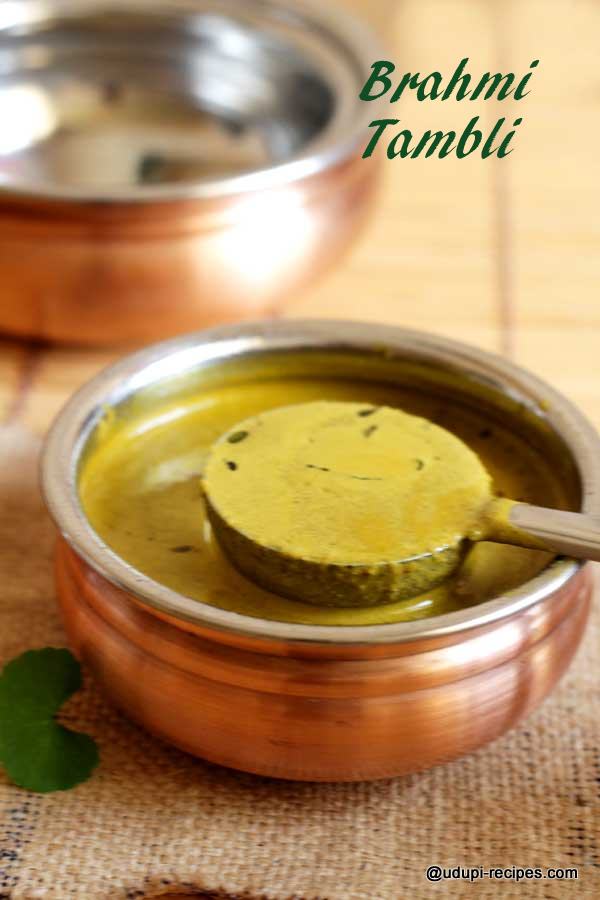 Brahmi Tambli | Timare Tambli Recipe
Ingredients
Brahmi leaves with stem- Half cup (pressed)
Fresh grated coconut- 1/4 cup
Buttermilk or whisked yoghurt- 1/2 cup
Cumin seeds- 1/2 tsp
Red chilly- 1 no.
Salt- 3/4 tsp
Cooking Oil-1/2 tsp

Seasoning ingredients

Cooking oil- 1 tsp
Mustard seeds- 1/2 tsp
Curry leaves- Few
Instructions
Method

Heat a pan with oil, cumin seeds and red chilly. Roast them till cumin turns little brown and red chilly crisp. Next add brahmi leaves to the same pan and roast till the leaves wilt and shrink in volume.
Next in a mixer take all the roasted ingredients, grated coconut and salt. Grind all these together to fine paste adding very little water. Transfer it to a bowl and combine it with buttermilk. Brahmi tambli is ready.
Finally heat a seasoning pan adding oil, mustard seeds and curry leaves. As the mustard seeds crackle pour it over the tambli.
Very very healthy brahmi tambli is ready to relish with rice.

Notes

I have purposely used red chilly in this tambli, as I wanted a unique color.
You can use green chilly too and you'll end up with completely green colored tambli.
Do not use sour buttermilk / yoghurt, instead use fresh one.
Don't roast the leaves for long, that may vanish the goodness totally.
Adjust consistency by adding little more water or buttermilk.
Always keep the leftover tambli refrigerated.
https://udupi-recipes.com/2016/01/brahmi-tambli-timare-tambli-recipe.html
All the content in this website are © Copyrighted to – Udupi-Recipes