Right now it's freezing winter weather but a row of chaat recipes that I anticipated a while back in my post dates tamarind sweet chutney have long gone. Meaning 60-70 puffed puris and  jar full of chutneys are just polished off only with pani puri and dahi puri chaats. It's the magic of lovely weather plus home made chaat and adorable family moments.
Down the memory lane, when we were in Bangalore we used to drive an extra mile to catch up a best chaat center. Weekend evenings were spent in indulging these yummy, crispy dahi puri, pani puri and most other chaats. When it comes to chaat, I really miss the silicon city.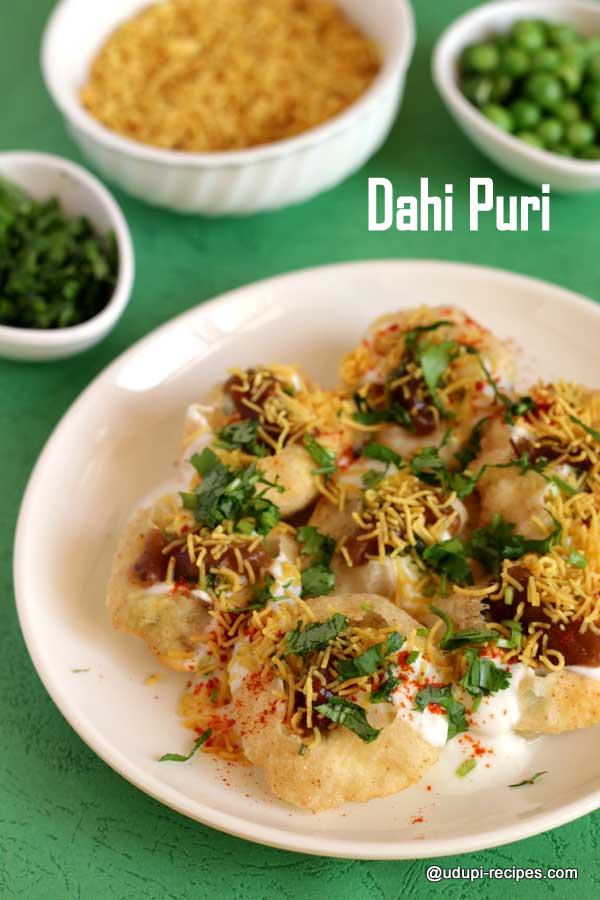 Here in UAE, specifically in my place where I am residing, don't have many options to eat out and almost no options for a good chaat. So often I take enough time and get it prepared at my own kitchen. It involves lot of work but it's worth the effort I know.
Learn the dahi puri recipe and make on your own, if you are a real chaat lover.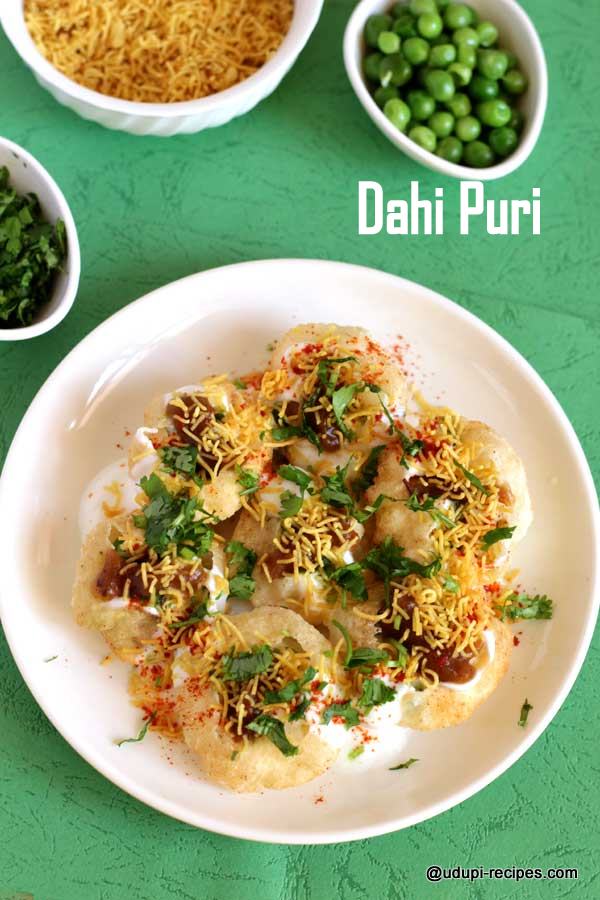 Dahi Puri Recipe | Chaat Recipes
Ingredients
Small Puri- 21
Cooked potato(medium sized)- 2 no.
Yogurt- 1.5 cups
Sugar- 1/2 tsp
Cooked peas- 1/4 cup
Green chutney- 6 tsp
Dates tamarind sweet chutney- 6 tsp
Chaat masala- 1 tsp
Red chilly powder- 1 tsp
Roasted cumin powder- 1 tsp
Chopped coriander leaves- 1/4 cup
Plain sev or nylon sev- 1/4 cup
Salt- 1 tsp
Instructions
Method

Peel off the cooked potato and chop it in to cubes. Add chaat masala powder, salt and let the cubed potatoes coat well with it. Meanwhile take yogurt in a bowl and beat it well with sugar, keep it ready.
Next break the puri by poking your finger and make hole. Keep 7 such puri's on a plate and stuff the boiled potato and cooked peas in each of the puri. Then pour yogurt, green chutney and sweet chutney over them.
Finally sprinkle red chilly powder and generously top them with nylon sev and chopped coriander leaves. Very addictive and wonderful chaat is ready.

Notes

Serve this dahi puri chaat immediately, if you let it rest, the puri loses the crispiness.
If you have the puri and chutneys handy, whipping this up would be easy.
Adjust chutneys and topping as per your preference. You can even stuff the sprouted green gram or chickpeas to make it healthier.
https://udupi-recipes.com/2016/01/dahi-puri-recipe-dahi-chaat-recipes.html
All the content in this website are © Copyrighted to – Udupi-Recipes