It's overwhelmingly delicious…
It's phenomenally easy…
Super delicious things don't always have extra long ingredient list and prolonged cooking in kitchen. Some times it's going to be pretty easy process with just handful of ingredients and minimum time like this nendra banana jamun. It took not more than 25 minutes in kitchen but I ended up with these melt in mouth, sugar drenched, intensely brown sweet things.
I felt it's pretty good option to name this sweet as jamun because just like traditional gulab jamun these are soaked up in sugar syrup, however if you land up here with the same gulab jamun shape in your mind, then it's quite disappointing. So sorry my dear friends!!! But I can assure you that it's relatively simple, fool-proof recipe which can never fail to satisfy your taste-buds.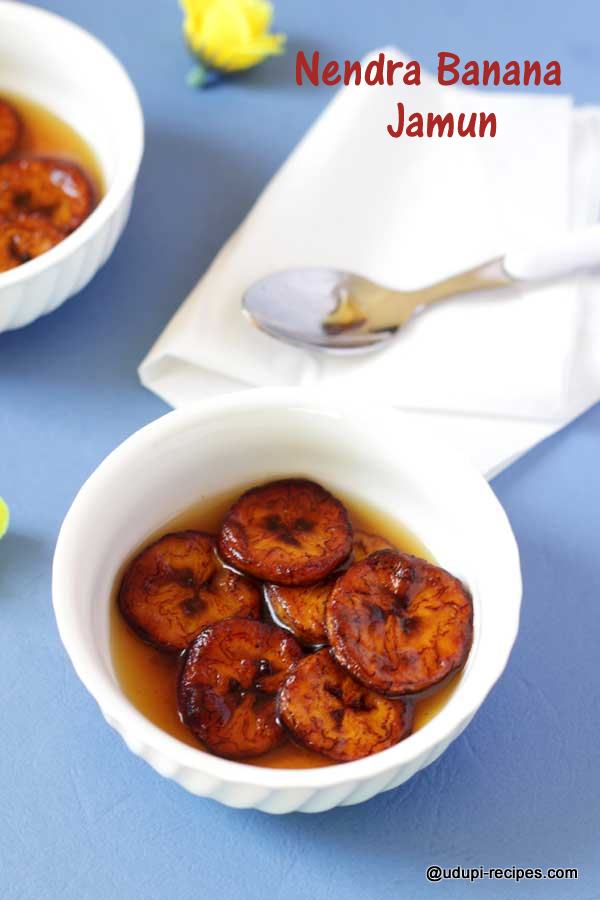 If you are a calorie conscious, white sugar hating person then no wonder you ever make them in your kitchen. Nendra banana jamun is pulpy, sugar dripping sweet which is deep fried in aromatic home made ghee until the banana slices turn intensely brown like caramelized ones. Deep frying should be done essentially in ghee which otherwise wouldn't give the extra flavor. If you select a over ripe banana for this recipe, it may mess up while deep frying itself and wouldn't hold the shape in sugar syrup. So I would suggest you to choose sweet, ripe and still firm nendra banana.
Go get the perfect banana right now to indulge yourself in nendra banana jamun wonderfulness.
Nendra Banana Jamun Recipe
Ingredients
Ripe nendra banana- 1 no.
Sugar- 1/4 cup
Ghee- 1/8 cup
Saffron strands- Few (optional)
Instructions
Method

Peel off nendra banana and chop it in to thin circular slices.
Heat ghee in a small seasoning pan and deep fry the banana slices till they turn intensely brown in color. Fry batch-wise 2 or 3 at a time and drain excess ghee on kitchen tissue paper.
Next add sugar and l/8 cup water in a pan, heat it up. Sugar dissolves completely and the syrup becomes thick after few minutes. Switch off flame. Add saffron strands now if adding. Soak deep fried banana slices in sugar syrup for about 2 hours.
Soft and sweet nendra banana jamun is ready to serve.

Notes

Do not use over ripe bananas. You need to select the one that is ripe but firm.
Deep frying in ghee gives nice flavor to jamun. But if you are calorie conscious, then you can fry in oil too or try shallow frying them in less ghee.
Once soaked in sugar syrup, give enough resting time so that banana absorbs sugar and becomes soft.
You can add cardamom powder also to the sugar syrup.
https://udupi-recipes.com/2016/02/nendra-banana-jamun-recipe.html
All the content in this website are © Copyrighted to – Udupi-Recipes