Healthy, strong and empowered start to my days is through kind of breakfasts like this one: green gram dosa. It's green, protein rich while being so very delicious with peanut chutney. And the best part is batter doesn't even require hours of fermentation. It's quite easy, simple and straightforward breakfast that can fit in any body's morning schedule.
It's the month of June, which reminds me of the fact that we are already half way through 2017. And it's time for me to pack my travel luggage for a month's long vacation to motherland. So pre-travel excitements are up high right now here at my home with me being clearing off the grocery. Yes, I am rushing around to cook some add-ons along with regular meal preparations in order to get my pantry clean. So this green gram dosa too happened last week in my kitchen as a result of emptying a jar full of green gram.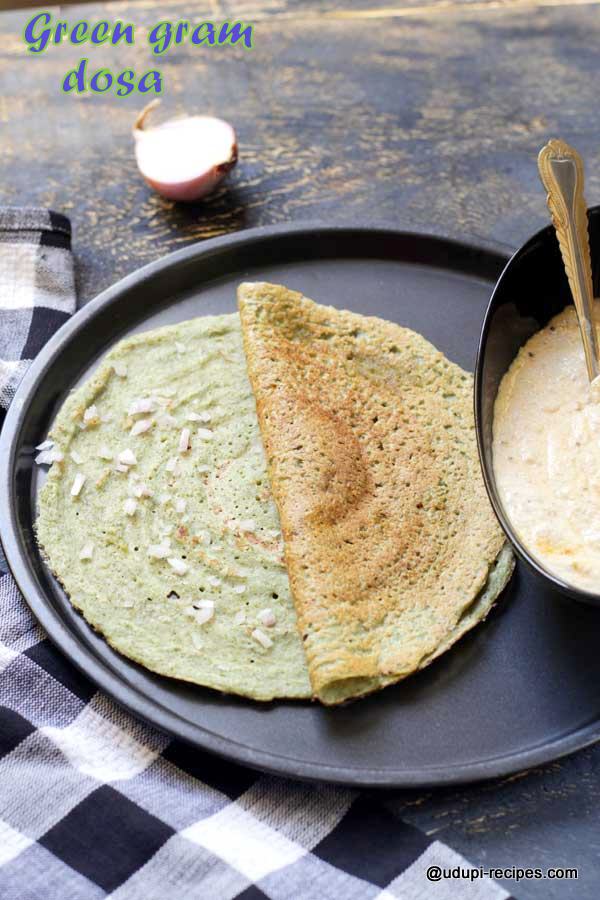 These tiny green grams are essentially rich in proteins and nutrients which would be transformed in to pancake form in less than 15 minutes of time. Soaking the green gram for 3 to 4 hours or overnight is what the most time demanding process. When the ground green gram batter is poured over a griddle, it gets nicely browned at the bottom. You can top it with some finely chopped onion and serve with peanut coconut chutney like I did.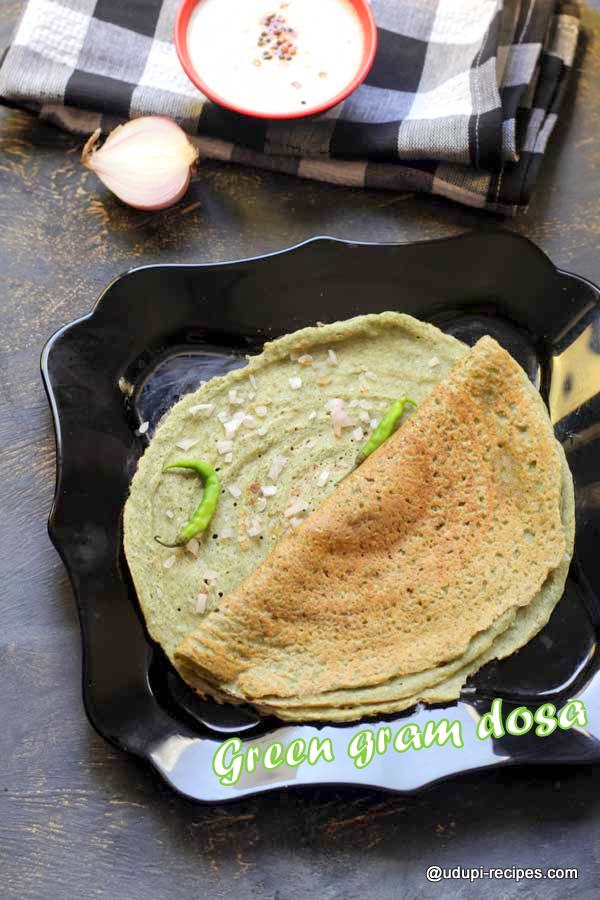 Green Gram Dosa | Protein Packed Breakfast
Ingredients
Green gram- 1/2 cup
Rice flour-1/8 cup
Green chillies- 2 nos.
Salt- 1 tsp or to taste
Instructions
Preparation

Soak green gram for 3 to 4 hours or overnight. They get doubled up in volume after soaking, so it will be 1 cup now.

Method

Grind the soaked and drained green gram along with green chillies and rice flour. Add required water while grinding to get it in to dosa batter consistency.
Transfer the batter to a container, add salt and mix well. Meanwhile heat a dosa griddle, smear some oil and get it ready. Pour a ladle full of batter at the center of the griddle and spread in circular motion like dosa. Cook until done and flip it over.
When both sides of green gram dosa is cooked to perfection, using flat spatula remove and serve with coconut chutney.

Notes

Soak the gram for good 3 to 4 hours otherwise the batter wouldn't be perfect.
You can sprout the green gram and then grind too. It will be more healthier.
Do not add much water while grinding, the batter would turn running. In that case you cannot spread it over griddle.
https://udupi-recipes.com/2017/06/green-gram-dosa-protein-packed-breakfast.html
All the content in this website are © Copyrighted to – Udupi-Recipes