Lot of excitement is happening right now in my kitchen. When you have queued up lot many yummy food for the blog with pretty good photographs, then you are a super happy person. Isn't it?  That is what I am now, right now. Guess what's the reason behind this happiness? I have been gifted with a wonderful, extremely sweet tasting ripe jackfruit by an awesome friend of mine. When life throws unbeatable tasty fruit like this, who in the world wouldn't be happy? That too, I am bringing in this super awesome fruit to my food blog after 2 long years(hello jackfruit payasa). It's a long interval. I know. The bounce back of jackfruit is happening now in 2017 as a melt in mouth halwa. The scrumptious jackfruit halwa has doubled my happiness indeed.
Though I can find lot of jackfruits around here in UAE supermarkets, it's difficult to find fresh and good ones. Sometimes out of irresistible cravings for this golden fruit, I end up buying a big packet full of it. The cravings are so high that the entire packet gets cleared off  even before I reach home. In such a  scenario, cooking something out of jackfruit doesn't even sound practical. And I look forward for a big, mammoth sized jackfruit which I can eat and cook to the hearts content.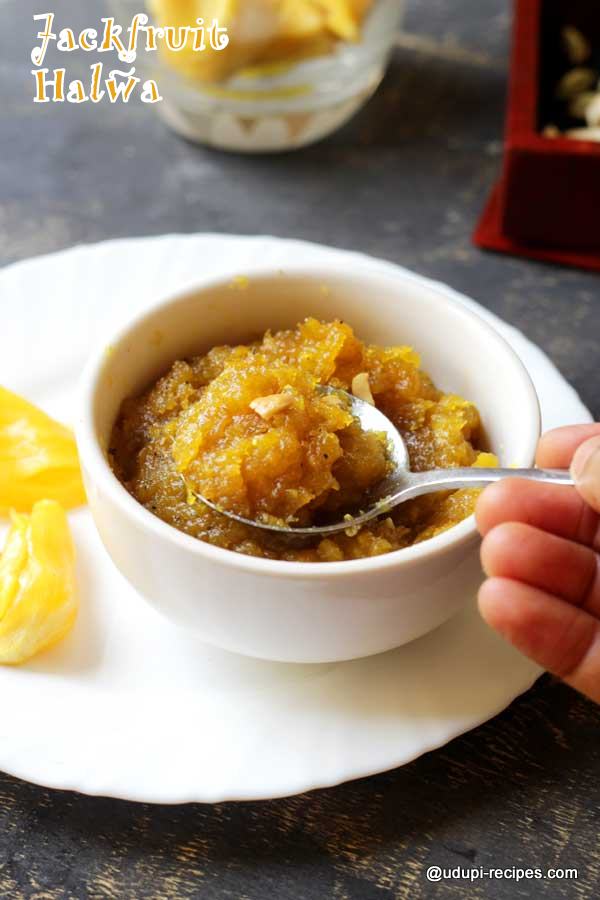 And it's that time where I am relishing jackfruit and preparing endless delicacies out of it. I appreciate the efforts in carrying the fruit all the way from India for the sole purpose of gifting it to a food blogger like me.
Jackfruit halwa is quite effortless, in fact it doesn't require much stirring and in flat 30 minutes you can finish up the process. The only time consuming task is separating the pods from fruit. As you finish making it, within no time it will be eaten up. I'll give you that assurance. 
Jackfruit Halwa Recipe | Seasonal Dessert
Ingredients
Jackfruit pods- 1.5 cup
Jaggery- 1/2 cup
Cardamom powder- 1/2 tsp
Cashew nuts- Few
Ghee- 4 tsp
Instructions
Preparation

Separate the jackfruit pods from the ripe fruit. Slit each pod and discard it's seed.
I preserved the seeds and collected the clean jackfruit pods together. Next chop these pods in to medium sized chunks. Measure and keep aside.
Pressure cook the chopped jackfruit pods for 3 whistles and in simmer for 5 minutes. Let the pressure subside naturally and grind the cooked jackfruit to little coarse mixture. You can add little water for ease of grinding. I haven't added.
I measured the jackfruit puree and accordingly I added half cup of jaggery. You can vary this based on the sweetness of jackfruit. Next heat a pan with jaggery and little water. Cook it in medium flame.
When the jaggery dissolves in water completely and the syrup starts bubbling, pour the minced jackfruit puree. Keep stirring and cook the mixture in medium flame.
After few minutes of cooking, the mixture thickens. Add ghee and continue stirring.
When the jackfruit mixture thickens further and leaves the pan, sprinkle cardamom powder and switch off.
Garnish the halwa with ghee roasted cashews. Relish the delicious dessert .

Notes

The quantity of jaggery highly varies based on the sweetness of jackfruit. So adjust accordingly.
The quality and kind of jackfruit decides the cooking time. It may be bit longer or shorter.
Pressure cooking the fruit helps in reducing the stirring time.
https://udupi-recipes.com/2017/06/jackfruit-halwa-recipe-seasonal-dessert.html
All the content in this website are © Copyrighted to – Udupi-Recipes