It's like this: I ♥ jackfruit.
I've always loved jackfruit and jackfruit dishes.  A huge single jackfruit can be turned in to number of amazingly delicious condiments. Just few weeks ago I've  posted Jackfruit appa using rava and now this jackfruit payasam. It's because I am enjoying vacation in India at my mother's place and she is cooking her signature recipes using this wonderful fruit.
Such authentic jackfruit recipes can be relished only at home because only few restaurants will ever serve them. Jackfruit season is surely that time of year when I make all possible condiments and also try some thing new out of it. Year awaited cravings for jackfruit dish is just in front of me, the incredibly good jackfruit payasam. As I am writing this, I can hear my kid's spoon+bowl clinking together at record speed  as they are devouring this in the next room.
Soft and sweet jackfruit pieces drowning in fresh coconut milk with crunchy almonds and cashews and the hint of rava thickening the jackfruit payasam is sooo appealing.. Right??? Go for it right now…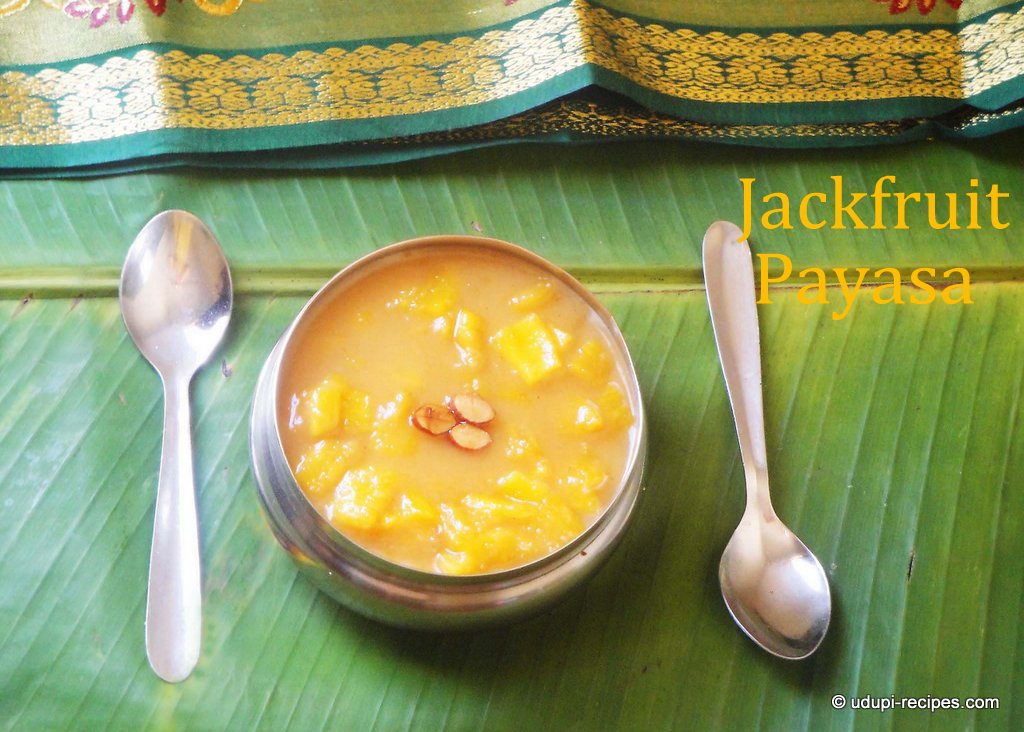 Jackfruit Payasam Recipe | Jackfruit Payasa
Ingredients
De-seeded jackfruit pods- 15 no.
Jaggery- 1/2 cup
Fresh grated coconut- 1 cup
Medium rava- 5 tsp
Cashews-Few
Almonds- Few
Raisins- Few
Cardamoms- 3 no.
Ghee- 1 tsp
Instructions
Preparation

Chop jackfruit pods in to small pieces.
Dry roast medium rava in low flame till nice aroma wafts out. Do not let it to turn brown.
De-seed cardamoms and powder them finely using mortar and pestle.
Chop almond and cashews in to fine pieces. Keep them aside till use.

Method

Heat cooking pan or vessel adding jaggery and quarter cup of water. When jaggery melts completely include chopped jackfruit pods and let it cook till soft.
Meanwhile add grated coconut in to mixer jar with half cup of water and grind it to fine paste. Then pour it on to strainer and squeeze to obtain first extracted coconut milk.
Add the squeezed coconut again in to mixer jar with little water and obtain second extracted coconut milk in the same manner as mentioned above.
Include first extracted coconut milk to the cooked jackfruit pods and mix well. Also include roasted medium rava to the jackfruit payasam. Stir well.
Finely add second extracted coconut milk, bring it to boil and switch off the flame.
In seasoning pan, add little ghee and roast dry fruits(cashews+almonds+raisins) one after the other and throw in to payasam.
Amazingly delicious jackfruit payasam is ready.

Note

Medium rava helps the payasam to thicken, so do not skip it.
This payasam doesn't thicken with time, so do not make it of running consistency initially.
Check the consistency of payasam before adding second extracted coconut milk, if it is of right consistency skip adding this coconut milk.
Adjust jaggery as per the sweetness of jackfruit.
https://udupi-recipes.com/2014/07/jackfruit-payasam-recipe-jackfruit-payasa.html
All the content in this website are © Copyrighted to – Udupi-Recipes
Meet you all with one more interesting recipe. Till then bye.