Indian cooking is not only about spices and taste,  it is also about nutrition and medicinal value.  The food that we intake should provide sufficient nutrients, minerals and should aid in recovering from sickness. The spices that are available in our pantry at any time of the day can act as medicine if we make use of them in certain way.
Our ancestors had enough medicinal knowledge which they incorporated in treating certain basic sickness through cooking certain dishes. One such dish is Tambli or tambuli, you can refer a list of tambli recipes from this blog if you desire.
Whenever a kid or grown up person has Diarrhea, it can be treated with pomegranate peels. Pomegranate peel tambli is made by roasting pomegranate peels with cumin seeds and black pepper corns, then grinding with fresh grated coconut and mixing with thinned yoghurt. Serve this tambli with steamed rice which will act as effective Diarrhea treatment. Best part is you are not forced  to take bitter tablets.
Pomegranate is a seasonal fruit and hence it is not available through out the year. You can sun dry the pomegranate peels during it's season and store them to make this healthy pomegranate peel tambli.  In order to sun dry them, make 1″ pieces of pomegranate and spread under under sun till they are hard and easy to break.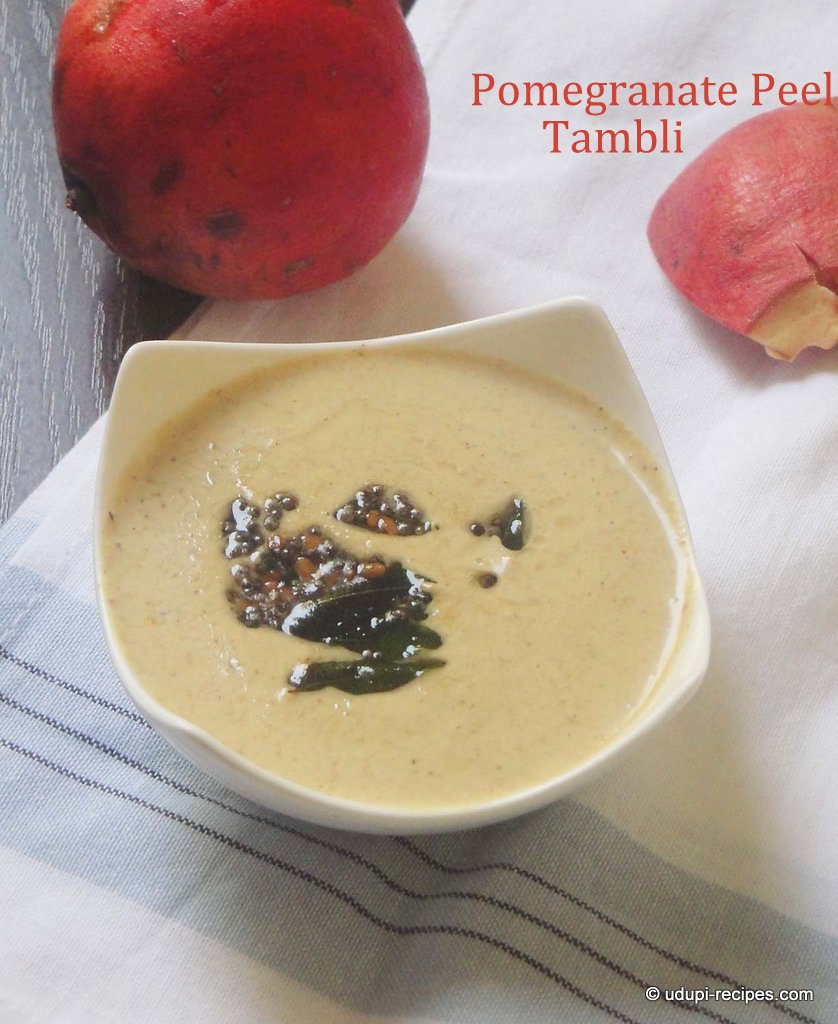 Pomegranate Peel Tambli Recipe
Ingredients
Pomegranate peels- 3 inch piece
Cumin seeds- 1/2 tsp
Pepper- 1/2 tsp
Thinned yoghurt- 1/2 cup
Fresh grated coconut- 1/2 cup
Salt-3/4 tsp

Seasoning ingredients

Cooking oil- 1 tsp
Mustard seeds- 1/2 tsp
Curry leaves- few
Instructions
Method

In a frying pan add little oil, pomegranate peels, pepper and cumin seeds. Roast them till pomegranate peels become slightly crisp or change in color.
In a mixer grinder add grated coconut and roasted ingredients of step 1. Include salt and grind them together to fine paste. Mix it with thinned yoghurt. Pomegranate peel tambli is ready.
Heat a seasoning pan adding little oil, mustard seeds and curry leaves. As the mustard seeds pop up transfer it to tambli.
Get the benefit of Pomegranate peel tambli as diarrhea treatment at home.

Notes

You can use green chilly or red chilly as substitute of pepper.
If fresh pomegranate peel is not available, you can use sun dried peels as well.
https://udupi-recipes.com/2014/07/pomegranate-peel-tambli-recipe.html
All the content in this website are © Copyrighted to – Udupi-Recipes
Meet you all with one more interesting recipe. Till then bye.