A perfect after school snack beautifully moist and deliciously sweet dry fruits ladoo is one of my recent addition to favorites list. A  healthy no sugar, no jaggery version of this dry fruits ladoo is all time treat for kids. It is always a bonus to eat ladoo which is sweet but healthy at the same time.
You do not need millions of ingredients and ample amount of time to make these nutrients packed balls. Dry fruits + Dates = dry fruits ladoo. Including desiccated coconut and khus khus enhances the look and enriches the nutrients.  Real TREAT for your eyes and to the mouth.
Do you remember the nutty peanut laddo recipe without using jaggery syrup? While making them, I had this dry fruits ladoo in my mind and I tweaked it to include only dates for sweetness avoiding jaggery/sugar. One more factor that attracts me to make these dry fruits ball is NO COOKING involved in the whole process. Grinding+Mixing+Making balls are the three easy steps results in such wonderfully moist and sweet condiment. Trust me you too ♥ them…Stock them for a month and relish as an evening snack or an instant energy ball.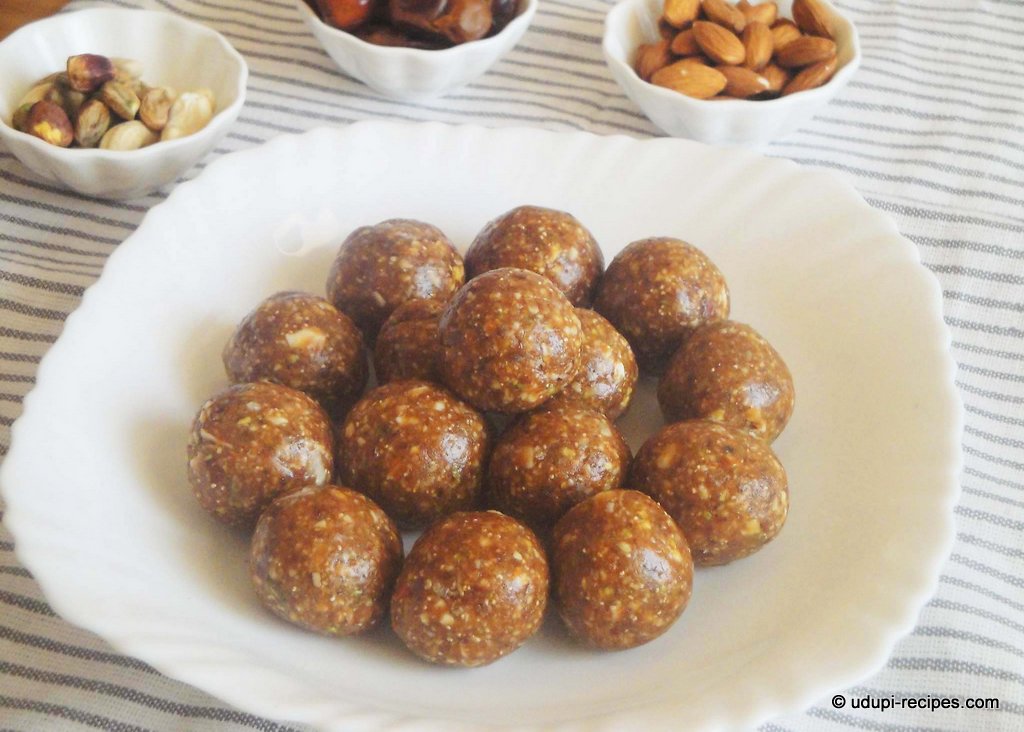 Dry fruits Ladoo Recipe | No Jaggery, No Sugar
Ingredients
Dates- 1 cup
Cashews+Pistachio- 1/2 cup
Almonds- 1/2 cup
Khus Khus- 2 tsp
Desiccated coconut powder- 4 tsp
Instructions
Preparation

De-seed dates and keep them ready.

Method

In a mixer grind de-seeded dates to fine paste and transfer it to a wide mixing bowl.
Add almonds, cashews and pistachios to the same mixer jar and grind them to coarse powder. Transfer it also to the mixing bowl and blend it well with dates paste.
Throw in khus khus and desiccated coconut powder too and mix well with your hands. Dry fruits ladoo mix is ready.
Take fistful of ladoo mixture and shape in to big lemon sized ladoos. Repeat this process with rest of the ladoo mixture.
Nutritious and protein packed dry fruits ladoo is ready.

Note

Do not reduce the quantity of dates as it is the only binding agent for this ladoo.
You can use any dry fruit of your choice but make sure the quantity of dry fruits is not more than that of dates.
Desiccated coconut powder and khus-khus are optional but using them enhances the taste and look.
https://udupi-recipes.com/2014/08/dry-fruits-ladoo-recipe-jaggery-sugar.html
All the content in this website are © Copyrighted to – Udupi-Recipes
Meet you all with one more interesting recipe. Till then bye.