My primary school going daughter is enjoying her mini vacation after final exams. Little toddler's  joy has reached no bounds when his sister is at home lazying around. Both of them play together, fight on silly matters,  eat together and even bath together. Now my sweet home is full of  kids laughter and cry, mess of toys and of course sweets and snacks.  After burning out their energy to some extent when their hunger pangs hit maximum, kids constantly demand snacks. I always look for some healthy snacks that is both nutritional, tasty and at the same time boost their energy.  It can be sprouted moong salad, peanut laddu  or a healthy juice for that matter.
Peanut ladoo can be made with or without jaggery syrup. I have already posted peanut ladoo with jaggery syrup, now it is without syrup.  This recipe of peanut laddu is very simple and straight forward. No hassle of syrup consistency is involved, instead jaggery is simply ground with peanuts to a coarse powder and rolled in to balls. Ghee, cardamom powder and cashews add extra flavor and crunchiness to the laddu. The sweetness with a slight hint of saltiness of jaggery and the crunch of peanuts gives us instant energy.  Peanut laddu, a favourite snack of kids needs just two basic ingredients but tastes twice better than any store bought candies. Read on the recipe and share your experiences through your comments.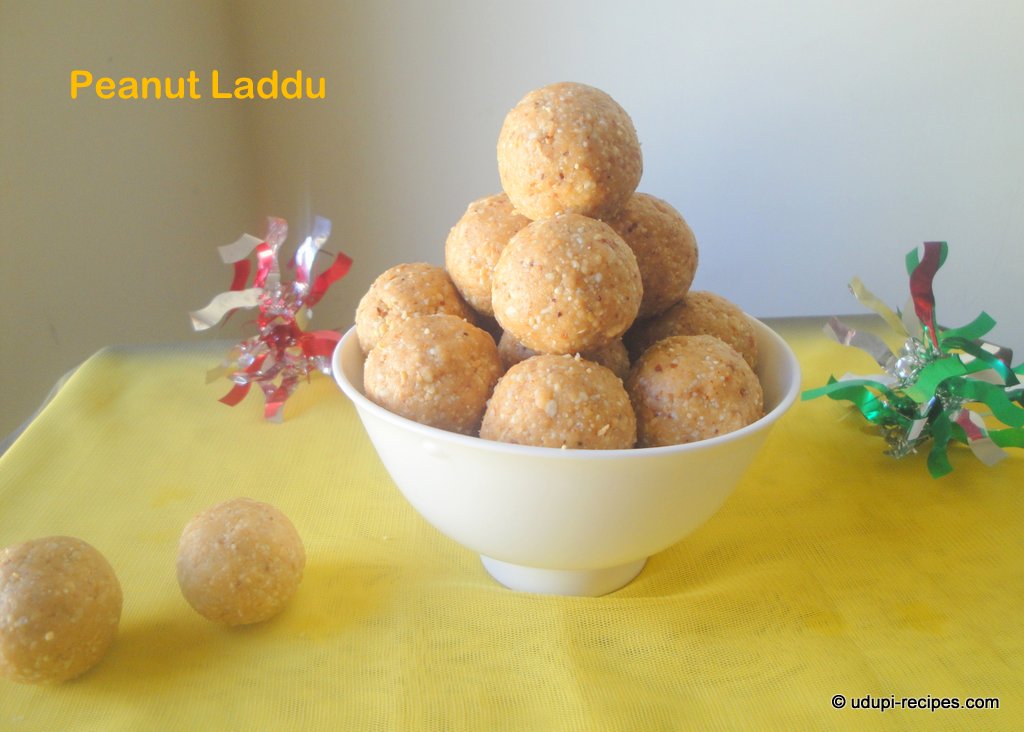 Peanut Laddu Recipe | Groundnut Laddu Recipe
Ingredients
Peanuts- 2 cups
Jaggery- 3/4 cup
Ghee- 3 tsp (optional)
Cardamom powder- 1/2 tsp
Cashews- Few
Instructions
Method

Dry roast peanuts in a heavy bottomed pan till you see dark brown spots on them. Peanuts just peel off when they are roasted right.
Switch off the flame and transfer the peanuts on to a wide plate. Let it cool. Once done, peel off the peanuts completely.
Add these peeled peanuts in to a mixer and pulse it 2 to 3 times to obtain coarse powder.
Include jaggery too and grind together so that jaggery blends well with powdered peanuts. You will get peanut-jaggery dough which is ready to roll in to balls.
Transfer the peanut laddu mix in to a wide bowl. Add ghee, cardamom powder and broken cashews.
Mix well. Take a handful of mix and shape in to laddu. Continue with rest of the laddu mix.
Peanut laddu is ready. Kids will enjoy this as a snack after school.

Note

The oil oozed out from peanuts is just sufficient to make balls. So ghee is optional. I have added it for nice fragrance.
Do not try grinding peanut and jaggery separately. If you try combining thus ground peanuts and jaggery, it will not form even dough.
These laddus can be stored for a fortnight under normal temperature.
https://udupi-recipes.com/2014/03/peanut-laddu-recipe-groundnut-laddu-recipe.html
All the content in this website are © Copyrighted to – Udupi-Recipes
Meet you all with one more interesting recipe. Till then bye.