Who doesn't like crunchies to munch during teatime, movie time or when one is lazying around? You'll hardly find anyone saying 'NO' to chips, fries, masala peanuts or stuff like that. Kids just love it and end up eating it as a meal. I always refrain from giving store bought crunchy snacks to my kids as it is quite unsure of ingredients and their quality used in making them.  But I just can't see them deprived of eating such crunchies, not often though.
A sweet potato was staring at me from my pantry since many days. I often make sweet potato palya | stir fry and relish it as side or a snack. Whole sweet potato simply cooked with little salt also serves as a filling snack at times. But this time I decided to make use of it in preparing these fries. Sweet potato fry is a deep fried crunchy snack, perfect to munch with tea. You can toss them with some spices also, but my kids relished them as is.  Kids couldn't control their urge till I finish my photo shoot and the bowl of sweet potato fries just emptied within minutes. Here goes the recipe for sweet potato fry.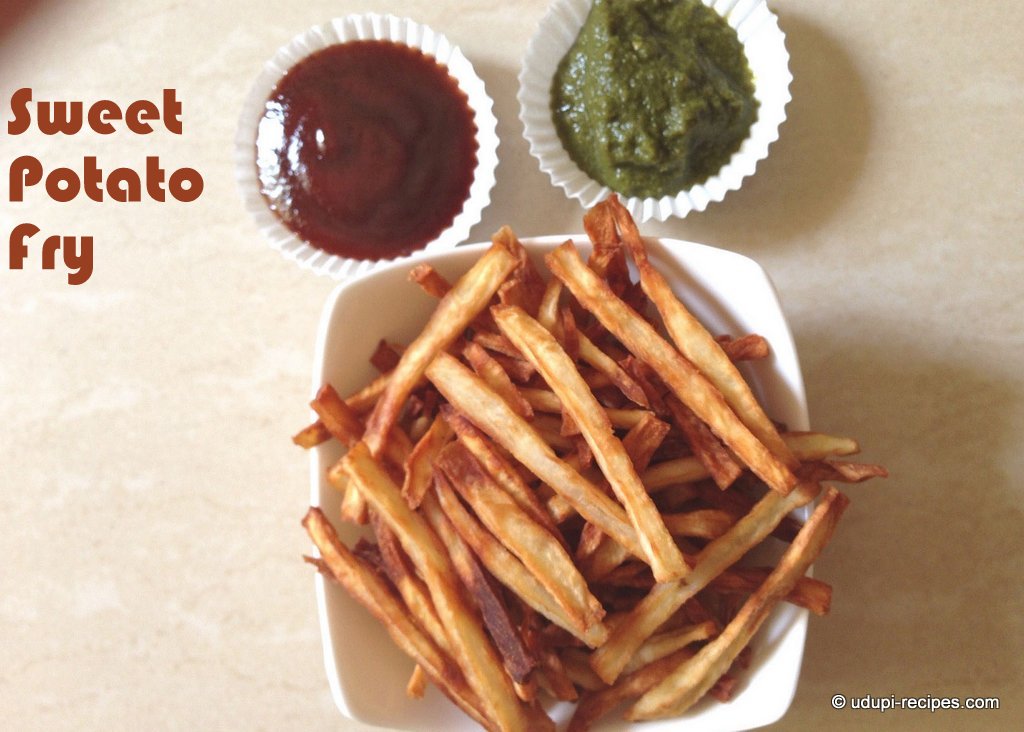 Sweet Potato Fry | Sweet Potato Fries Recipe
Ingredients
Sweet potatoes - 2 medium sized
Salt- 3/4 tsp
Cooking oil enough for deep frying
Instructions
Preparation

Use a sharp knife to cut the ends off sweet potatoes and also peel the skin off.
Cut each sweet potato into two equal halves, cutting from the top tip to the bottom, also cut the halves into quarters.
Slice the quarters into equal wedges. Each wedge should ideally be around 1/4-inch but the length of the wedges can vary depending on personal preference. Wedges between 3 and 4 inches in length are usually a pretty good size.

Method

Boil 3 cups of water and dunk the sweet potato wedges in the boiling water for few minutes. Add salt as well. The wedges need to be soft or half cooked. Make sure they are not overcooked or falling apart.
Once done remove from water and pat them dry under shade on a clean towel or paper towel. It may take 5 to 10 minutes.
Add a handful of sweet potato wedges to the hot oil. Fry the wedges for 3 to 4 minutes or until they just begin to brown. Remove from oil and drain on tissues
Sweet potato fries are ready. Serve it with green chutney and tomato sauce. They are emptied within no time I bet.

Note

The sweet potato wedges should be neither too thick nor too thin. If they are thick, remain uncooked and if they are thin, get burnt.
Cutting potatoes in to ideal wedges is the time consuming process of the entire recipe. Rest of the cooking is just a breeze.
You can sprinkle some red chilli powder after removing them from hot oil. I have not added, enjoyed the goodness without spice.
https://udupi-recipes.com/2014/03/sweet-potato-fry-sweet-potato-fries-recipe.html
All the content in this website are © Copyrighted to – Udupi-Recipes
Meet you all with one more interesting recipe. Till then bye.