Jackfruit, one of the summer and rainy season fruit that captivates me all the time with the huge spiky hard exterior containing  sweet golden yellow sheeths (pods). Peeling the  golden yellow jackfruit pods from it's sticky glue is  a daunting task, but I remember the days when we all kids would volunteer in paring the fruit and then happily  eating the sheaths one after the other.
My mother makes many sweet condiments from jackfruit and many savories from raw  one. Jackfruit dumpling, jackfruit payasa and jackfruit appa or muLuka are my favorite sweet condiments. Raw jackfruit palya, podi and curry are usually made when jackfruit is unripe and they make a filling meal.
Jackfruit muLuka or jackfruit appa is a deep fried sweet fritter made using rice, jaggery and jackfruit.  I have made them using rava or sooji replacing the rice from traditional version.  This one seems to be very easier version and I bet there is no compromise of taste at all. My family indulged in this marble sized jackfruit muLuka  which was a delicious affair with the flavors of cardamom and sesame seeds. You will not stop just after eating one jackfruit muLuka, trust me they are emptied within no time and you are paid for your loving cooking experiment. Read on the recipe now.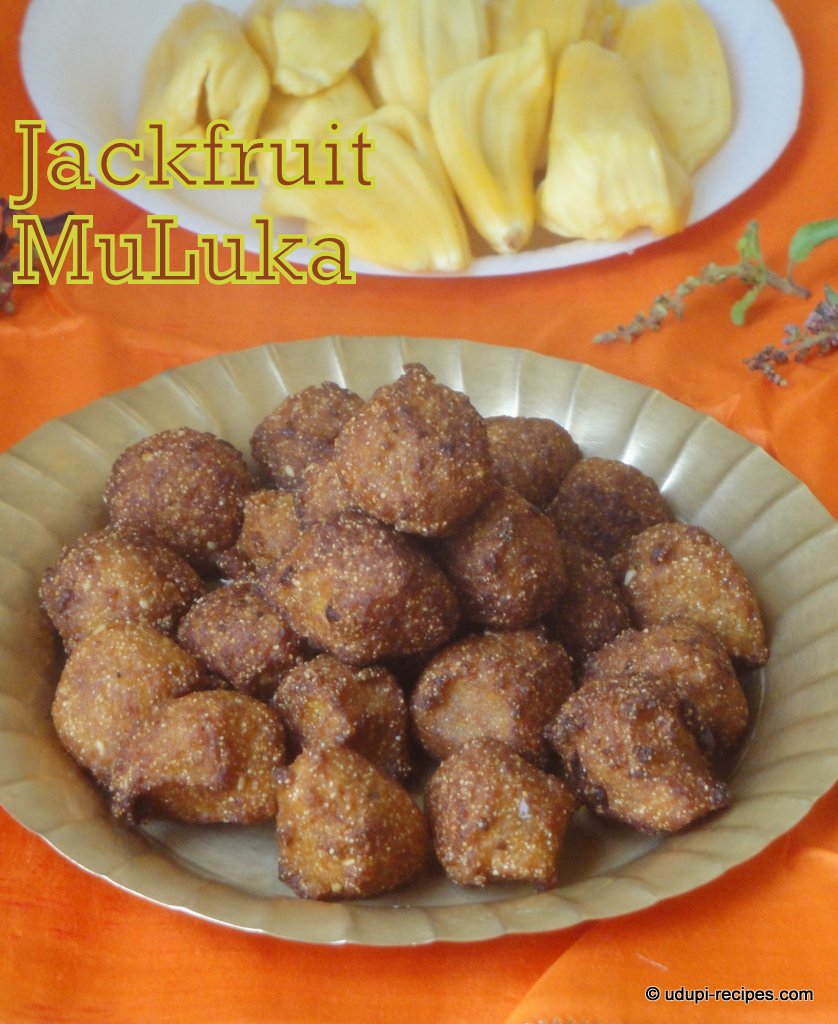 Jackfruit Appa using Rava| Jackfruit MuLuka Recipe
Ingredients
Jackfruit pods- 15-20 no.
Fresh grated coconut- 3/4 cup
Medium rava/sooji- 1 cup
Jaggery- 1/2 cup
White sesame seeds- 1 tsp
Cardamoms- 3 no.
Salt- A pinch
Cooking oil- Enough for deep frying
Instructions
Preparation

Chop each jackfruit pod in to small pieces. Keep them aside.

Method

In a mixer jar add chopped jackfruit pieces, grated coconut and de-seeded cardamoms. Grind them together in to semi coarse paste.
Transfer the ground paste in to a wide bowl. Include jaggery to the same and mix well.
Heat wok adding medium rava and roast it in low flame till it warms up and nice aroma wafts out. Transfer the roasted rava on to a container and now add white sesame seeds to the same wok and roast them till they slightly change color. Switch off the flame. Let the roasted rava cool down to room temperature.
Now add cooled rava, sesame seeds and salt to the ground jackfruit from step 1 and mix well using your hands. The dough should have medium thick consistency(thinner than chapati dough). You should be able to drop lemon sized balls of this dough in to oil. If you feel the dough thinner than required, then you can add some more roasted rava to get the right consistency.
Heat wok adding 2 cups of cooking oil, when oil is heated up drop small lemon sized balls out of the ready dough and fry them till they turn brown in medium flame. Once fried remove and drain on tissue paper.
You can fry jackfruit muLuka in batches like this till you finish with the dough.
Flavourful and tasty jackfruit muLuka is ready which can be served as sweet in meals or as tea time snack. Within no time they get emptied I bet.

Notes

Quality and kind of jackfruit you are using plays an important role in this recipe. Because some variety of jackfruit tend to be thinner when ground, that is when you need more rava to get the right consistency dough.
Keep some extra rava roasted for using when required to make dough.
Adjust jaggery depending on sweetness of jackfruit. If jackfruit is not sweet enough, you may need more jaggery.
https://udupi-recipes.com/2014/07/jackfruit-appa-using-rava-jackfruit-muluka-recipe.html
All the content in this website are © Copyrighted to – Udupi-Recipes