The most awaited month of the year, travel time has approached finally. Yes…You guessed it right, we all set to start our journey to beloved home town India for vacation. All Indian families here in UAE are enthusiastically involved in just two things. SHOPPING and PACKING. Same is the case with Udupi-recipes  home too. Apart from shopping and packing, I am engaged in more cooking, photographing and scheduling posts so that this food blog continue to grow without any break. Consistently posting good content and increasing ways to connect with readers (yes, it's you) is all that a blog needs after all.
Simple, quick vegetable stir fry or lightly sauteed vegetables are usually part of main meal at my home.  Ivy gourd also known as tindora is a little vegetable of the length of a thumb which is good to use when tender. These little green gems compliment the spices that are used in cooking it and I am sharing with you a simple ivy gourd stir fry which is tasty and takes just few minutes of your time.  The good thing about ivy gourd stir fry is that the veggie retains crunchiness and texture even after cooking. That is why cooking ivy gourd is always fun and this  ivy gourd stir fry is first in the list. Ivy gourd stir fry has thin strips of ivy gourd cooked in seasoning with jaggery and salt then topped with grated coconut masala.   Read on the recipe.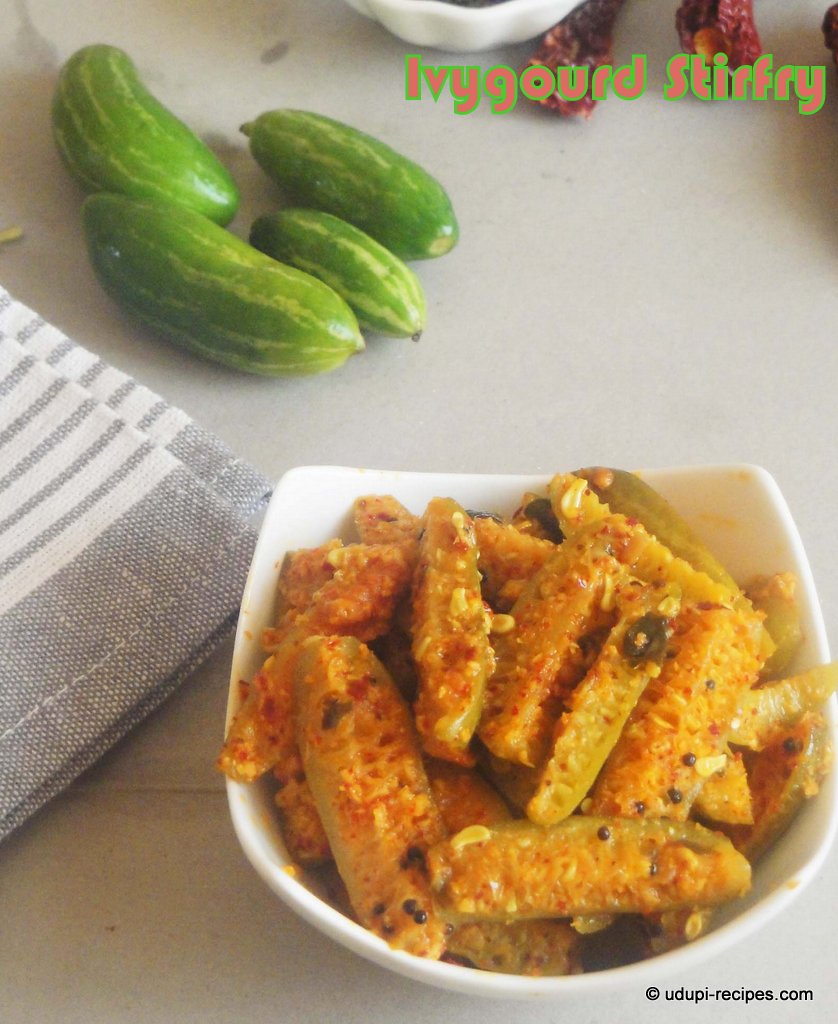 Ivy Gourd Stir fry | Tindora Stir fry Recipe
Ingredients
Ivy gourd/Tindora- 1/2 kg
Powdered jaggery - 1 tsp
Turmeric powder- 1/4 tsp
Salt- 1.5 tsp
Fresh grated coconut- 2 tsp
Red chillies(byadagi)- 2 no.
Mustard seeds- 1/2 tsp

Seasoning ingredients

Cooking oil- 3 tsp
Mustard seeds- 1/2 tsp
Split black gram lentil- 1/2 tsp
Broken red chilly- 1 no.
Curry leaves- few
Instructions
Preparation

Wash ivy gourd (tindura) using enough water and trim the edges, cut each of them lengthwise in to half and then in to quarter. If ivy gourd is big, then you can make thin strips out of this quarter. Keep them aside till use.

Method

Heat a wok adding all the 'seasoning ingredients' in the same order, when mustard seeds crackle and split black gram lentil turns slightly brown add the chopped ivy gourd pieces. Stir them for while so that flavor of seasoning infuses in to ivy gourd.
Add jaggery, salt, turmeric powder and a cup of water. Cover with lid and let the ivy gourd pieces cook till soft. It may take few minutes, keep stirring in between for even cooking.
Meanwhile add grated coconut, mustard seeds and red chilly in to mixer jar and grind it coarsely without adding water. Mix it with cooked ivy gourd pieces. Let it be on flame for a minute then switch off.
Ivy gourd (tindura)stir fry is ready. Serve it as side with rice-rasam.

Note

If you prefer more spiced stir fry, then add a slit green chilly while cooking ivy gourd.
Add coconut masala only when ivy gourd pieces are completely cooked.
https://udupi-recipes.com/2014/06/ivy-gourd-stir-fry-tindora-stir-fry-recipe.html
All the content in this website are © Copyrighted to – Udupi-Recipes
Meet you all with one more interesting recipe. Till then bye.