Banana dosa is light, it's delicate and it is filling because of wheat goodness. The fluffiness offered by over ripe bananas is amazing and it makes the dosa overwhelmingly delicious. I love to call this breakfast as minimalist as it does't require any fancy ingredients. So what do I need then? Essentially few bananas which are overly ripe, whole wheat flour and some jaggery.  And the best part that I love is, this banana dosa doesn't demand a spicy chutney. You could eat this with anything and your breakfast life would be good. I had my portion of banana dosa pairing with ghee. Dunking each bite in a dollop of ghee till it soaks up, then making it's journey towards mouth seemed perfect breakfasting as per me.
But having said about my breakfasting habits, I am bound to give some other options on eating this awesomeness. Because I honor you and your taste buds. If you happen to be a person who likes some moderately sweet things as breakfast pairing with a dip, then you can accompany it with regular coconut chutney or chutney powder too. It tastes equally good.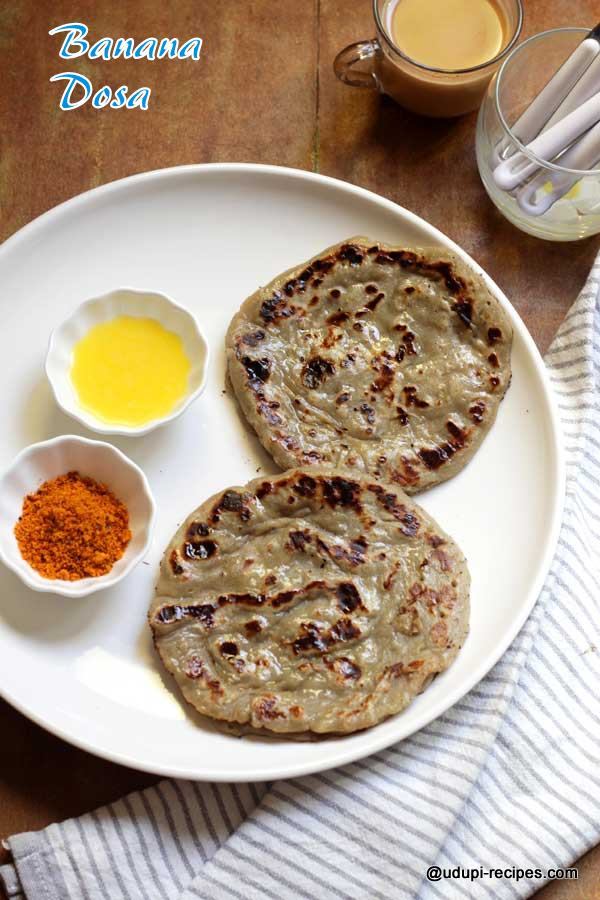 Towards the end of post, I keep some tricks to master the recipe. Though this is not a recipe which demands some expertise in cooking, few tips can help you in avoiding mess. As overripe banana has been used in this recipe, the dosa tends to be very delicate and soft. So please do not get tempted to spread dosa very thin. Keep it bit thick so that it doesn't stick to the griddle. Also loosen up the edges and carefully move the spatula to remove the dosa from griddle.
So why are you waiting? Do you already have few overly ripe bananas with wrinkled skin in your pantry? Then head towards kitchen for an amazing breakfast. Lets meet with a plate of banana dosa at the breakfast table. What say?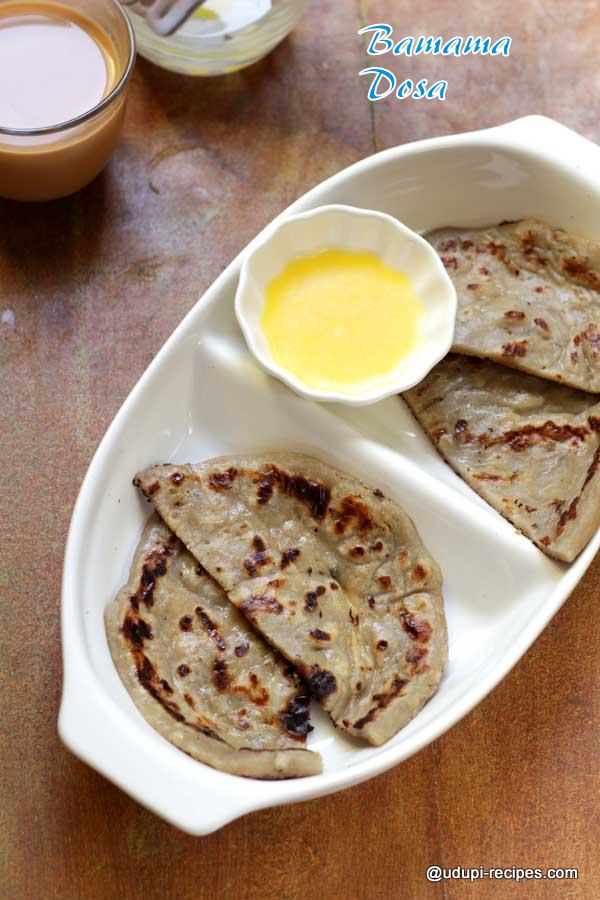 Banana Dosa Recipe | Sweet and Soft
Ingredients
Overripe bananas- 4 nos.
Wheat flour- 1 cup
Powdered jaggery- 1/4 cup
Salt- 1/4 tsp
Cardamom powder- 1/4 tsp
Instructions
Method

Peel off the bananas and mash them well. Ensure that there are no lumps.
Next add powdered jaggery, salt and cardamom powder. And combine everything together. Next include the wheat flour.
Combine wheat flour with banana mix and by adding water little by little, prepare dosa dough. The consistency should be slightly thicker than regular dosa batter.
Next heat a dosa griddle. When it heats up, pour a ladle full of batter at the center and cook for few minutes covered by lid. Once done, carefully loosen the edges and flip it over to cook the other side.
Repeat the process till you are done. Soft and delicate banana dosa is ready to serve with a dollop of ghee. It's YUM.

Notes

You can use potato masher to mash the bananas or you can even use mixer too.
Adding water in steps help you to control the consistency as needed.
Do not make the batter thin, it may cause the dosa to be sticking to the griddle.
As banana dosa tend to be delicate and soft, gradually loosen the edges to remove it from griddle.
https://udupi-recipes.com/2017/05/banana-dosa-recipe.html
All the content in this website are © Copyrighted to – Udupi-Recipes