Bread dahi vada is the thing that is happening right now here. Is this not the most perfect evening snack on any sunny day? Yes it is. Because you have most comforting yogurt in it. Above all, you can whip up this awesomeness instantly. This no-cook(or min-cook), extremely easy and instant snack wonder can come very handy during snack-emergencies of any kind (assuming a loaf of fresh bread and big container of yogurt lie in your pantry already).  Instant version of any recipe excites me like no other because less cooking, less time in kitchen is good sometimes. I am having a flashback to the dahi vada and remembering how much we love comforting snacks together.
Bread slices immersed in several litres of whisked yogurt seem very bland. You guys second on that? I tried to make the snack little more interesting and healthy. The magic things like cashew pieces, raisins and ginger gratings are tucked in between bread roundels. It gives much required crunch and yummy flavors in your mouth.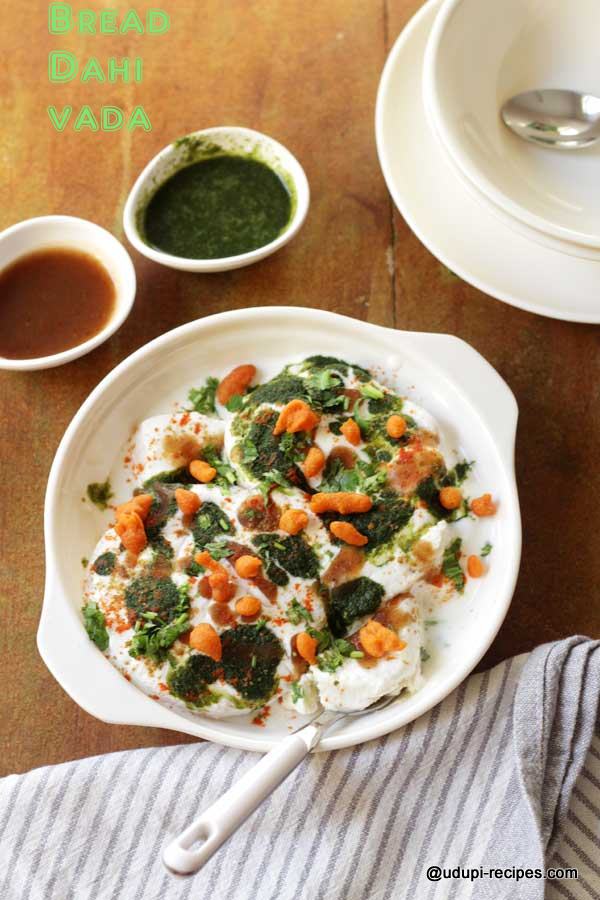 The toppings over the bread dahi vada are just endless. You can wear a good innovation cap on your head to make the snack extremely scrumptious. While the sweet tamarind chutney and spicy green chutney help to balance the bland-ness of yogurt, the toppings like kara boondi, nylon sev and even pomegranate seeds  take the snack to another world of palate.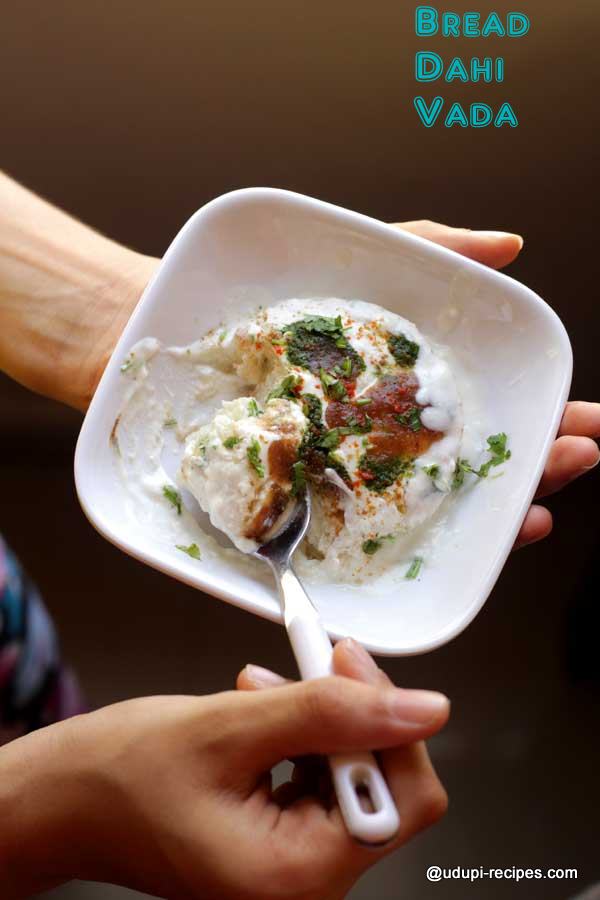 As the title of the post says, bread dahi vada is instant. Meaning you can prepare it instantly and you need to eat instantly too. No resting time please. The snack cannot wait on table for someone to eat it. That is because bread slices become too mushy and taste weird absorbing lots of liquid. So keep all the stuff ready and serve instantly by pouring whisked yogurt and toppings on each serving plate.
Bread Dahi Vada | Instant Recipe
Ingredients
Bread slices- 8 nos.
Yogurt- 1 cup
Salt- 1/2 tsp
Sugar- 1 tsp
Cashews- 8 nos.
Raisins- 12 nos.
Grated ginger- 1 tsp
Sweet chutney- 1/8 cup or to taste
Spicy green chutney-1/8 cup or to taste
Red chilly powder-1/2 tsp
Cumin powder- 1/2 tsp
Chat masala powder- 1/2 tsp
Finely chopped coriander leaves- Handful
Instructions
Method

Take yogurt in a wide bowl along with 1/2 cup of water and whisk to nice pouring consistency. Add sugar,salt and combine.
Next take a bread slice and cut it in to roundels. You can use cookie cutter or a lid for this purpose. Toast one side of each roundel and keep aside.
Next in a serving bowl keep a bread roundel with toasted side facing down. Pour some whisked yogurt, top it with chopped cashew, few rasins, grated ginger and chopped coriander leaves. Put one more bread roundel now.
Pour enough yogurt to cover the bread slice, sprinkle cumin power, red chilly powder, chat masala, sweet chuntey and spicy green chutney. Add your preferred toppings like kara boondi or sev. Serve this bread dahi vada instantly.

Notes

Toasting bread roundels can be done over hot skillet. You can even skip this step. But toasting gives some crunch to the dish.
Let the yogurt be of pouring consistency but not too watery.
Fresh yogurt is preferable than sour one.
Toppings are endless. You can top it with kara boondi, sev and even pomegranate seeds.
https://udupi-recipes.com/2017/05/bread-dahi-vada-instant-recipe.html
All the content in this website are © Copyrighted to – Udupi-Recipes