For my food self, this is a yummy, yummy food week. Mostly because I have little collection of leftover snack like this biscut roti and a power packed, nuts loaded pancharatna halwa. When I get to the middle of week and remember some amazing food is waiting right there, excitement buzz up. Kids with their intermittent hunger pangs would always demand for something to eat. I can relax to be on this internet world with you guys posting and editing the drafts, if and only if some snacks, edibles are stocked for them to eat. That is the reason it was an amazing week for me and my kids as well. Otherwise I have to complete the blog chores amidst of million interruptions. Which is how I do my most recipe posts 😛 .
Having jar full of snacks doesn't really indicate that I can stay away from kitchen. My food blog is always hungry for awesome food, so on a way back from dropping kids to school bus I thought of this Avial in Karnataka Style. I should honor myself for the decision because the avial was extra satisfying and super delicious.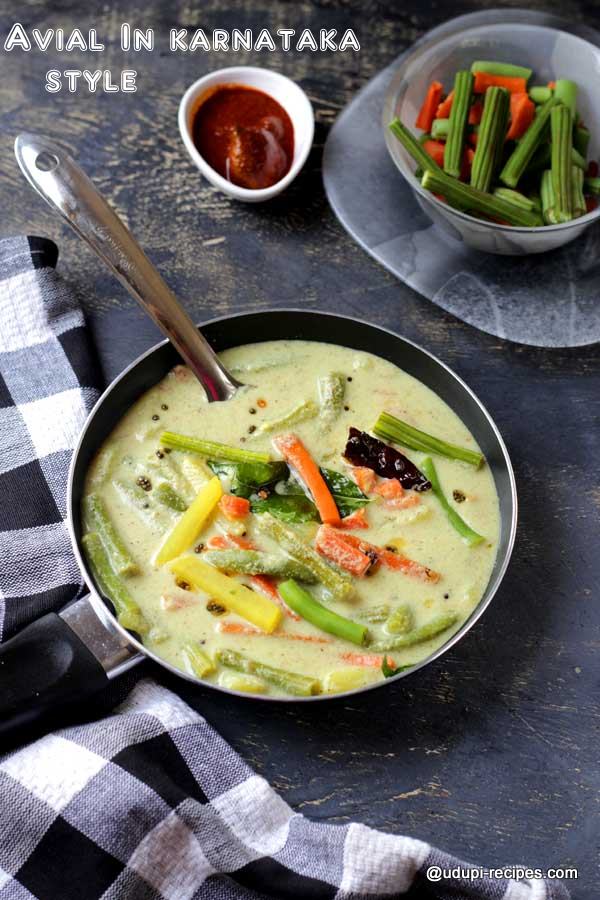 Just handful of veggies of kind potato, yam, carrot, beans, drumstick are best match for this avial. You need to include all such veggies in limited quantity. All the distinct vegetables chopped to uniform size make the curry pretty much appetizing visually. The vegetables cooked retaining some crunch and then combined with curry paste. The curry paste for avial has fresh coconut, cumin and green chillies which are minced to flavorful puree. All the said vegetables infuse the flavors from this coconut puree to the maximum extent and end up to a comforting, super tasty curry. Do not forget to temper it using coconut oil which enhance the aroma.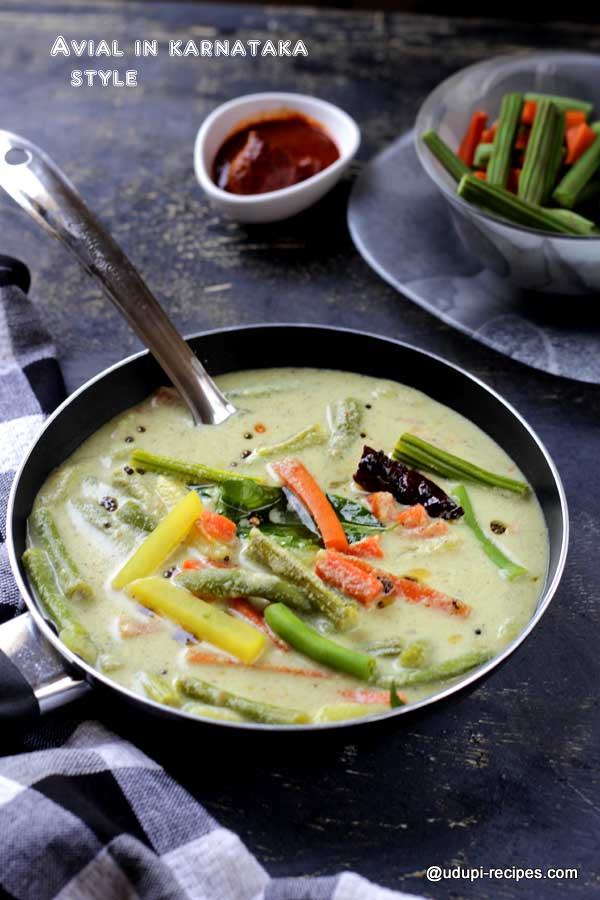 Video:


Mixed Vegetable Avial in Karnataka Style
Ingredients
Vegetables- 2 cups
Fresh grated coconut- 3/4 cup
Turmeric powder- 1/4 tsp
Salt- 1.5 tsp or to taste
Green chillies- 2 nos.
Cumin seeds- 3/4 tsp
Yogurt- 1/8 cup

To temper

Coconut oil- 3 tsp
Mustard seeds- 1 tsp
Split black gram lentils- 1/2 tsp
Curry leaves- Few
Broken red chillies- few
Instructions
Preparation

Beans, carrot, potato, drumstick, raw banana, yam are the vegetables that are preferred for this curry. Take some or all of these veggies and chop them in to 2" long pieces.

Method

I had potato, drumstick, carrot and beans which together measured 2 cups. Put the chopped veggies in a cooking pan with water, salt and turmeric powder. Let them cook in medium flame till soft but not mushy.
Meanwhile take grated coconut, cumin and green chillies in a mixer and grind together to fine puree. For ease of grinding you can add little water too. Add this coconut puree to the veggies that are cooked.
Adjust consistency and salt. This curry needs to be thick, so do not add much water. Bring this to boil and finally add yogurt. Mix and switch off. After adding yogurt, do not boil the avial.
Next heat a tempering pan with oil,mustard seeds, lentils, curry leaves and red chillies. When the mustard sizzle pour it over gravy. Very delicious and comforting avial with veggie goodness is ready to serve.

Notes

Do not use vegetables like lady's finger, pumpkin, cabbage or brinjal to prepare avial. Such veggies are not at all suitable.
Do not overcook the veggies and gravy. The veggies with some crunch tastes better.
It's not advised to boil the avial after adding yogurt. You can just warm it up.
Use of coconut oil to temper enhances the flavor.
https://udupi-recipes.com/2017/05/avial-karnataka-style.html
All the content in this website are © Copyrighted to – Udupi-Recipes