Summer delights are in high demand at my home right now. The latest trend: after-school-snack for kids is coming straight out of refrigerator. It's mango sorbet or chocolate popsicle or pista kulfi. These chilled summer treats are making the kids to appreciate sunshine and heat. Because it is this season which gives them the liberty of eating chilled and frozen desserts to the hearts content.  With Air condition switched ON, holding an adorable popsicle in hand licking and devouring, they keep their body cool from inside. And I see a loving and satisfied smile on their face which keeps me content as a MOTHER.
After homemade chocolates which I made early this year, it is these frozen popsicles that are making the kids to cherish food. In fact those chocolates were a kind of inspiration for me to try this chocolate popsicle. As a jar of cocoa powder was peeping up from the pantry, I took it for some good use.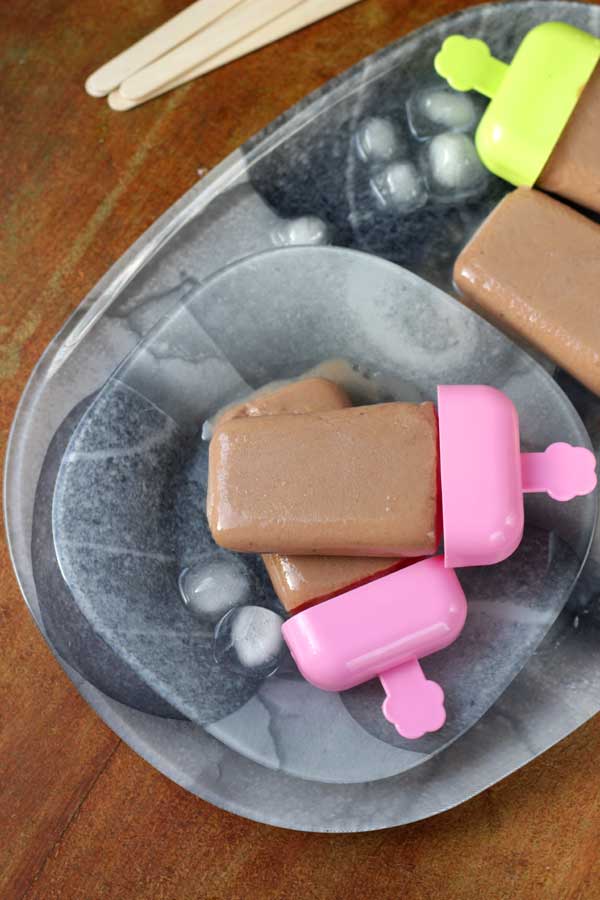 Chocolate popsicle essentially has 4 ingredients. Well ripe banana, milk, cocoa powder and sugar. Put everything in blender and pulse it for few seconds. You would get a milk-shake kind of consistency where you have to dilute it. Meaning, pour in some water and adjust the density so that you can pour in to popsicle mould. Also if your bananas are little more sweet then you can even skip sugar and enjoy the pure bliss of natural sweetness.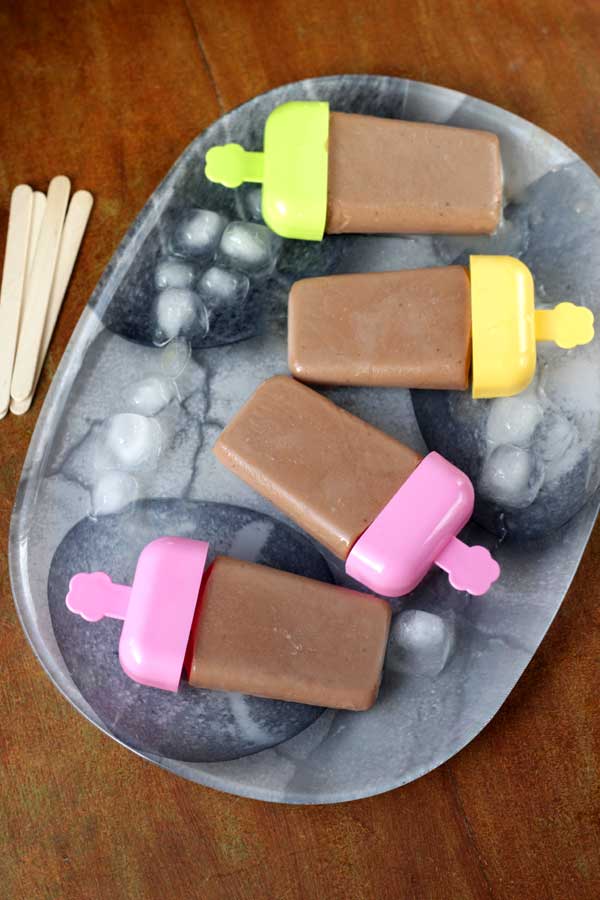 Chocolate Popsicle Recipe | Summer Delight
Ingredients
Ripe banana slices- 1/2 cup
Milk- 1/2 cup
Cocoa powder- 2 to 3 tsp
Sugar- 5 tsp
Water- As required
Instructions
Method

Take banana slices, cocoa powder and sugar in a blender/mixer. Grind together to fine puree. Include milk and pulse it once again.
Next adjust consistency by adding some water and then pour in to popsicle mould. Freeze it for at least 8 hours or overnight.
After the freezing time, take out the popsicle mould and hold under running water. Let it be outside for 5 minutes. Then slowly pull out the popsicle from mould and enjoy. Kids favourite chocolate popsicle is the actual summer delight.

Notes

Adjust the sugar depending upon the sweetness of banana.
Do not overuse the cocoa powder as it may turn the popsicle bitter.
As we are using milk here the consistency will be thick. So include water to get it in pouring consistency.
https://udupi-recipes.com/2017/04/chocolate-popsicle-recipe-summer-delight.html
All the content in this website are © Copyrighted to – Udupi-Recipes