When summer food marathon is going on right now, I am showing up today with a gorgeous frozen dessert. It's creamy and soft but doesn't even have dairy product in it. It's nothing like Popsicle or candy or ice cream but falls somewhere between Popsicle and ice cream. Yes I am talking about Sorbet. Have you heard about this before? I wasn't familiar at all till last week when I tasted it. But I admit I was instantly in love with mango sorbet for its tang plus sweet plus creaminess. Because mango sorbet is too yummy to devour  in the summer when you religiously search for something chilled.
If you are VEGAN and hate to include dairy products in your food, then here comes a treat for you. You can easily become a super fan of this and enjoy it like a velvety ice cream for sure.  On top of it, you never feel that you are deprived of something  rich creaminess in you summer food life.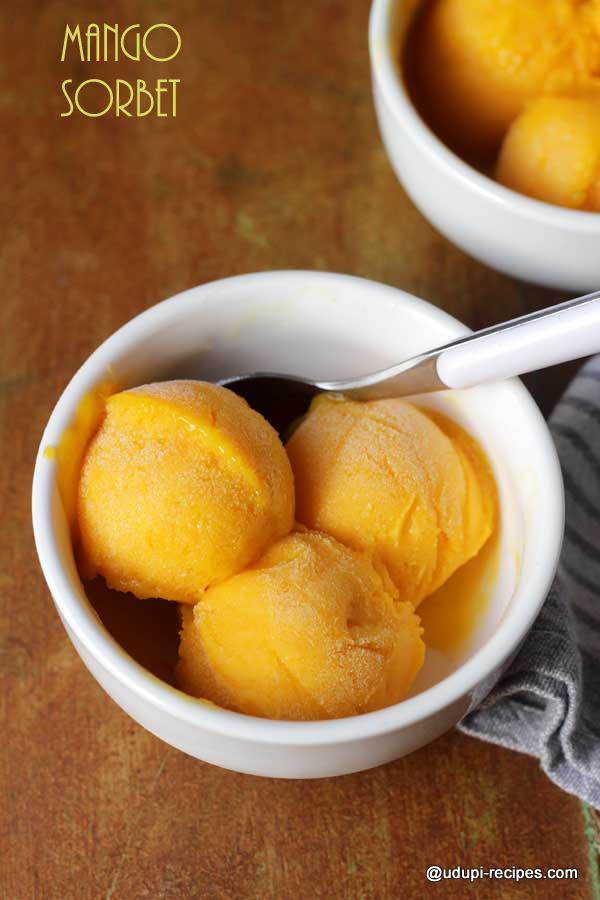 A day before the weekend I could whip up this drool-worthy  mango sorbet which was in the freezer for almost 24 hours. I had to take that out every couple of hours in order to churn it in blender. It's the churning process which brings in the creaminess and awesome texture in mango sorbet. Otherwise it can turn like rock solid, hard candy.
My kids were in happy heaven to find such an awesome mango sorbet in the freezer which was all ready  to eat. Meaning when they came home from school, the churning process was almost finished. Scooping a cup of the sorbet and devouring it to the heart's content was all they did in the weekend. I guess this mango sorbet is the BEST CHOICE for all your weekend dessert needs. Do try yourself to know.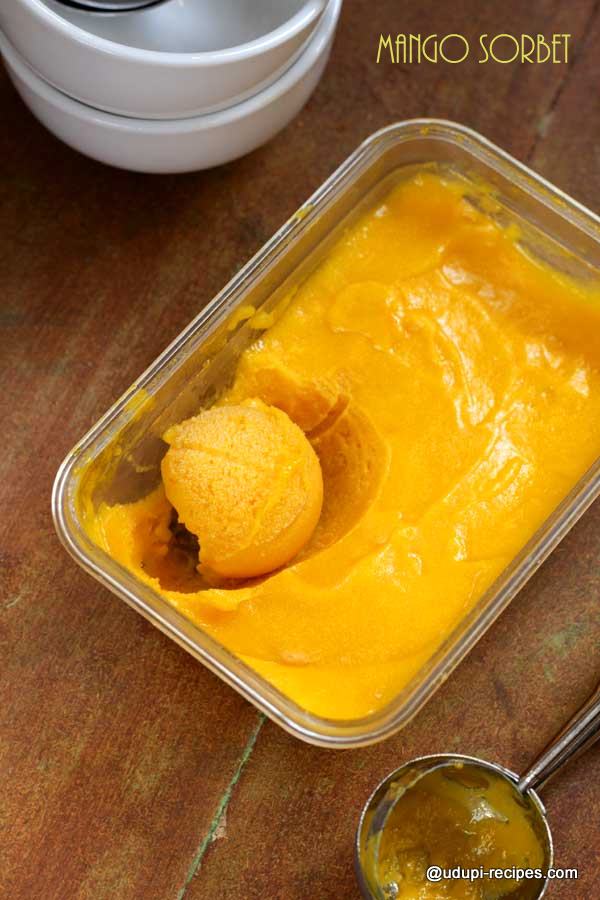 Mango Sorbet Recipe | Summer Recipes
Ingredients
Mango pulp- 1 cup
Sugar- 1/4 cup
Water- 1/4 cup
Lemon juice- 1.5 tsp
Instructions
Preparation

Peel off the mangoes and chop the pulp in to pieces. Put these pieces in to blender and puree it.

Method

Heat a pan with sugar and water, let it boil in medium flame. When the sugar dissolves completely, switch off the flame (No need to check the consistency). Let the syrup cool down to room temperature.
When the sugar syrup is cooled down, measure 1 cup of mango puree and add it to the syrup.
Include lemon juice too and mix well till everything blends well. Transfer it over freezer friendly container and freeze it for 2 hours.
After two hours of freezing take it out and blend it once again using blender or mixer. Put it back in freezer for next couple of hours.
Repeat the process of blending and freezing for about 4 times. Finally freeze it for 6 to 8 hours or overnight. The texture improves with every churn in blender.
Scoop out the mango sorbet and serve it immediately.

Notes

You can reduce the quantity of sugar depending upon the sweetness of mango.
Do not skip lemon as it enriches the texture.
I loved the sweet plus tangy deliciousness of mango sorbet.
https://udupi-recipes.com/2017/04/mango-sorbet-recipe-summer-recipes.html
All the content in this website are © Copyrighted to – Udupi-Recipes