Do you love making fryums and papad at home? Are you a kind of person who love to stock some crackers for good use in Rainy season? Well, then you have landed on to a right page at the right time(Hi summer). And lets together make some fryum which we can relish during cold season. Rava fryums, a fastest possible option to try out your own home made crackers. Because you know me well that I can easily succumb to easiest and fastest recipe on hand. Just like this.
Now, I am obliged to convince you on the fact that the recipe is quite easy. I will start with ingredients. Just dig in your pantry and refrigerator, you probably find each and every thing that goes in to this recipe. Am I right? We'll proceed to the actual process then. In a nutshell, cooking rava(semolina) in lots of water with few minced spices is all that you have to make in kitchen.  So now, what is in front of you is a pan full of rava fryum batter. This batter now has to take little fryum form on a cotton cloth or plastic sheet (whichever you feel convenient).  Spooning this batter over the cloth like cute fryums is what I love the most in the entire process. Because I have been doing this step since my childhood.
After spooning the fryum, they are let to dry under SUN for 3 successive days. May be after the first day, you need to peel the fryum off from cloth or plastic sheet. For ease of peeling the fryum from cloth, I sprinkled water generously and let them dry for 2 more days outdoors.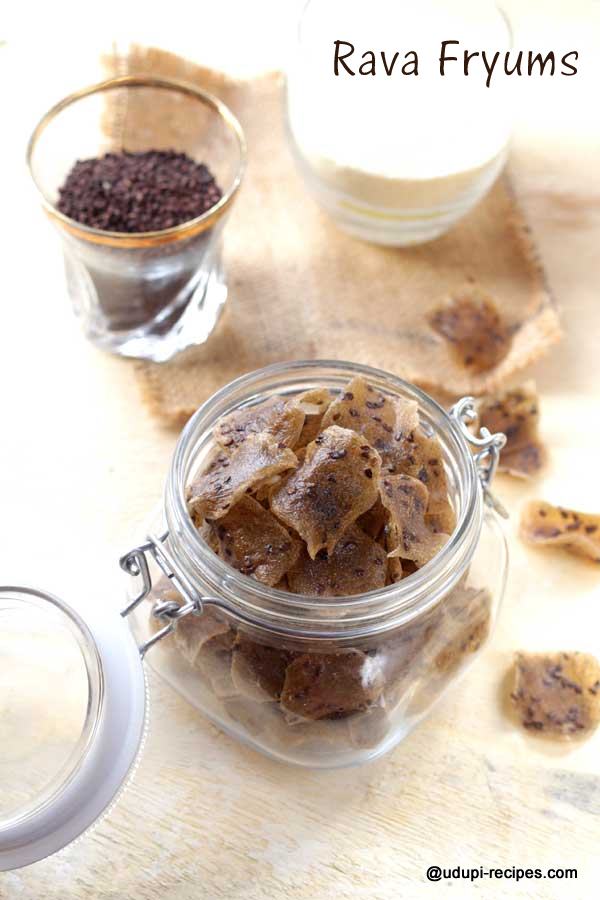 A big jar full of rava fryum stocked in summer come very handy during Cold season. Because it's the season when your appetite for deep fried goodies goes high. They can even take your simple meal to the next level. It feels like feast to me.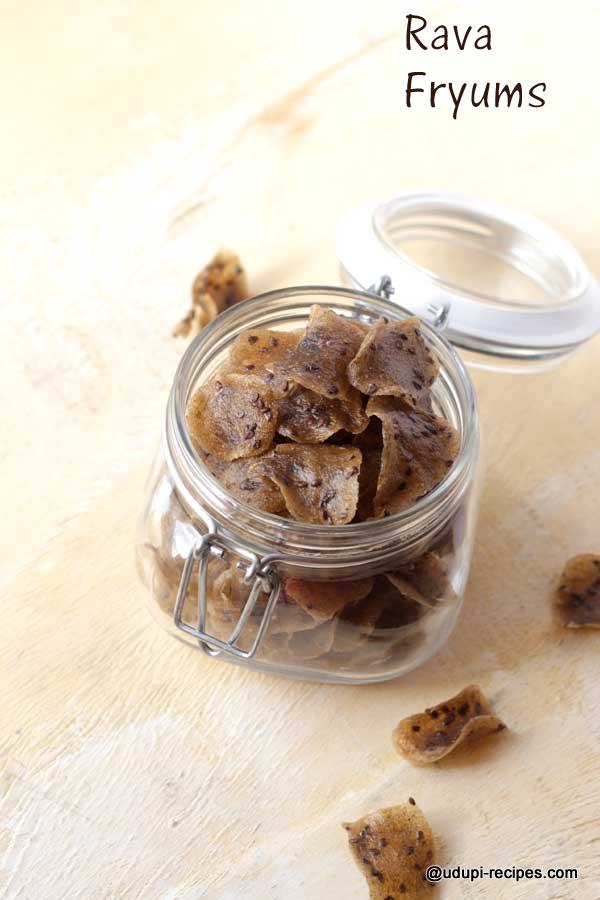 Rava Fryum | Rava Sendige Recipe
Ingredients
Medium rava/chiroti rava- 1/2 cup
Coriander leaves- 1/4 cup
Curry leaves- Handful
Salt- 1 tsp
Green chillies- 3 nos.
Asafoetida- 1/4 tsp
Black sesame seeds- 3 tsp
Water- 3+1 cup
Instructions
Preparation

Take coriander leaves, curry leaves, green chillies, salt and asafoetida in a mixer and grind together in to fine puree.

Method

Heat 3 cups of water in a pan and bring it to rolling boil. Next add the ground green puree and sesame seeds. Let it boil for couple of minutes.
Meanwhile soak rava in a cup of water and mix well. Add this rava to the pan with constant stirring and ensure no lumps are formed.
When rava gets cooked and the mixture thickens, switch off the flame. Now the fryum batter is ready. On a clean cotton cloth pour a spoonful of this batter at equal distance. Continue this step till you are done with the batter.
Let these fryums dry under SUN for a day. Then sprinkle water generously behind the cloth, so that you can peel off the fryums from cloth. After peeling dry these fryums again for two more days or till they turn crisp and moisture free.
Rava fryums are ready which can be stored in a airtight container for a year. You can deep fry them as and when required and pair with rice-rasam.

Notes

Rava to water ratio is 1:8 cups, I have halved the quantity here.
The coriander leaves and curry leaves enhance the taste of fryum, so do not skip it.
You can replace green chillies by red ones too. In that case the color of the fryum differs.
https://udupi-recipes.com/2017/04/rava-fryum-rava-sendige-recipe.html
All the content in this website are © Copyrighted to – Udupi-Recipes