In summer, temperature rises very high in UAE making it impossible to get out from the house during the day. The outdoor activities are to be forgotten during this time which extends from June to October.
Scorching sunlight shining outside triggered the idea of making a batch of fryums all by myself. Yes…every year I get the parcel of papads and fryums from my mother who makes a large batch of them just to distribute among her daughters.  I still remember how all of us were helping her in the process of pressing papads, dropping fryums, pickling tender mangoes and such summer special food preparation.  The mere thought of fryum preparation in me ended up making sago fryums last Saturday along with step by step pictures. They are known  as "Sabakki Sendige" or "Sabudana Sendige" in Tulu and Kannada respectively.
Though making fryums seems a lengthy process but believe me nothing can beat the taste of home made fryums. Spending few hours on such summer special food can benefit you through out the year and come to your rescue when unexpected guest knock your door at lunch time. A plain meal like rice-rasam can also feel as heaven when accompanied by crispy, crunchy munchies as sago fryums. These fryums bloomed like flower in hot oil and were  instant hit, every family member gave a thumbs up to it.  Go through the sago fryums recipe….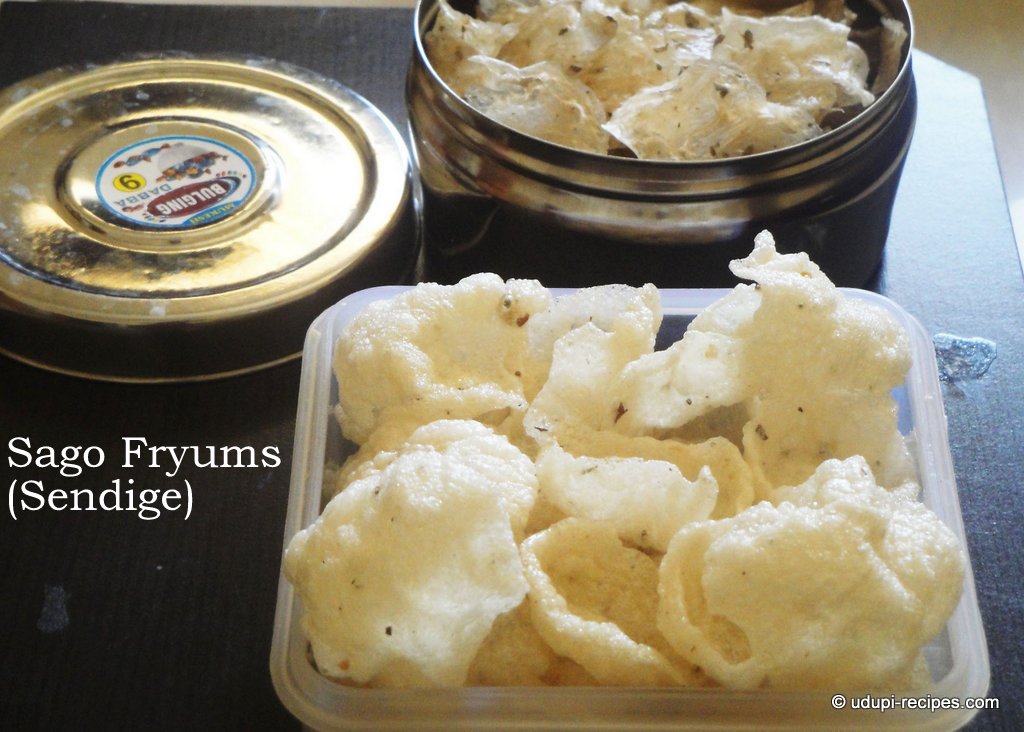 Sago Fryums Recipe | Sabudana Sendige | Sabakki Sendige
Ingredients
Sagu | Sabudana - 1 cup
Thin rice flakes(Aval)- 1 cup
Salt- 1.5 tsp
Green chillies - 3 to 4
Curry leaves- few strands
Asafoetida - Chickpea size
Instructions
Preparation

Soak sagu in enough water for 8 hours or overnight.

Method

Grind sagu to coarse paste adding water as needed. Transfer it to a thick bottom pan. Meanwhile soak thin rice flakes in water for about 10 minutes.
Now prepare green chilly paste by coarsely grinding green chillies and curry leaves together.
Heat pan containing sago paste in low flame, keep stirring as it cooks. Add green chilly paste, salt, asafoetida and soaked rice flakes to the fryums mix.
Bring it to boil adding enough water. Make sure the consistency of this mix should be same as dosa batter. Switch off the flame once it is done.
Spread a clean white cloth or plastic sheet and start dropping a small spoonful of fryums mix on it at equal distances till the fryums batter gets over. Let these sagu fryums get sun dried under bright sunlight.
After drying them for a day, turn each of the fryum to the other side. If you cannot remove the half dried fryum from cloth, then sprinkle some water on it and carefully loosen the edges, then inward to the center until the fryum releases from the cloth or plastic sheet.
Allow the sago fryums to sun dry for two more days. Ensure fryums are completely dry and crisp. Store them in airtight container.
As and when required deep fry the sago fryums and serve as side with rice-rasam, lemon rice or tamarind rice.

Note:

The fryums batter should neither be thick nor too thin. It should be of dosa batter consistency, so add water accordingly. I have added around 4 cups of water, it may vary with the quality of sago.
You can substitute green chillies by red chilly powder too.
1 to 2 teaspoon of black sesame seeds can also be added which I forgot to include.
I prefer dropping fryums on white cloth rather than on plastic sheet (which is not so safe and hygienic). I recommend the same to you too.
While cooking fryums batter in low flame,stirring it constantly is must. Otherwise the batter will stick to pan.
https://udupi-recipes.com/2014/05/sago-fryums-recipe-sabudana-sendige-sabakki-sendige.html
All the content in this website are © Copyrighted to – Udupi-Recipes
Meet you all with one more interesting recipe. Till then bye.