What to cook for dinner?
Day started with simple but filling breakfast, had an appetizing full meal at a ceremony but on return to home in the evening puzzled with what to cook for dinner?? I bet every one of you have faced the scenario?? Right guys…I am sure  no one would be in mood to cook an elaborate meal like rice-rasam or rice-curry spending hours in kitchen in the evening.  There may be options like eating out or parceling food from restaurants, but as per me dinner should be very simple, nutritious, not filling and tasty at the same time. In such situations I usually go for quick side dish recipes like curry leaves tambli, udnittu or aloo raita, which need just few minutes of my time in the kitchen.
Udnittu or uddina hittu is one of the signature side dishes of Udupi prepared with urad dal flour and yoghurt as main ingredients.  Combining urad dal flour (split black gram lentil flour) with thick yoghurt and tampering it in coconut oil with green chillies and ginger along spices makes a bowlful of creamy, spicy udnittu. Biting a fried sun dried green chilly with each gulp of rice-udnittu mix tastes superrrr. If you have not tasted it yet, go for it right now….Do not forget to use coconut oil topping with rice-uddina hittu mix. Just 5 minutes recipe..go on…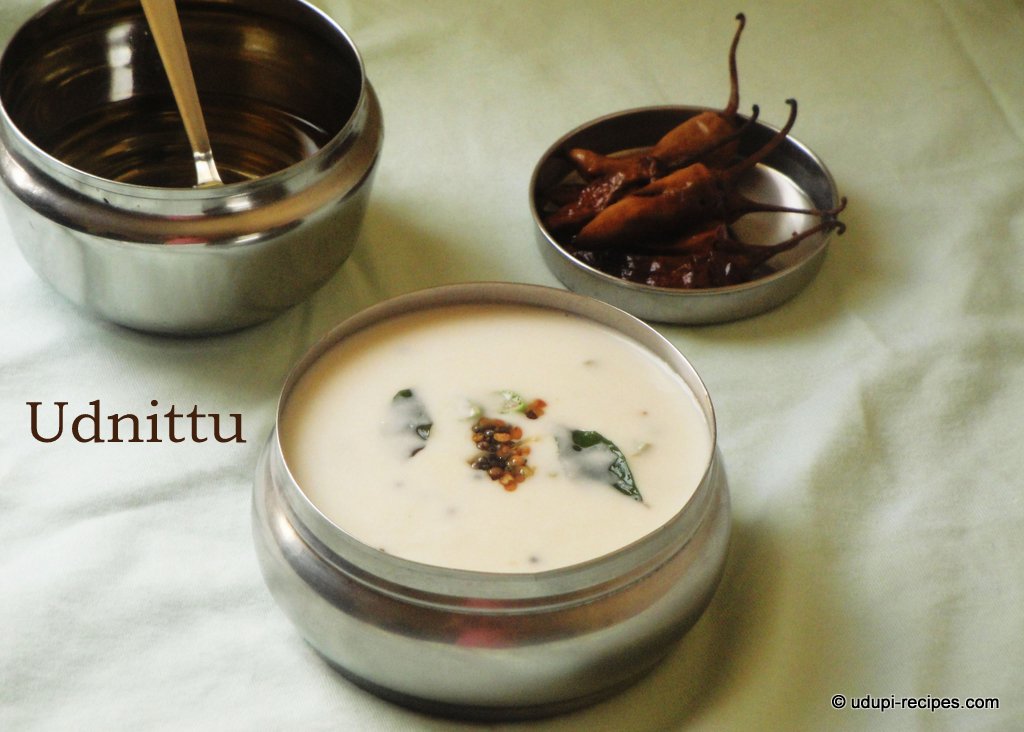 Uddina Hittu | Udnittu Recipe
Ingredients
Split black gram (urad dal) flour- 6 to 7 tsp
Thick yoghurt- 1/2 cup
Salt- 3/4 to 1 tsp
Ginger- 1" piece
Green chillies- 2 no.
Asafoetida- Chickpea sized or 1/4 tsp

Seasoning ingredients

Coconut oil- 2 tsp
Mustard seeds- 1/2 tsp
Split black gram lentil- 1/2 tsp
Curry leaves- few
Instructions
Preparation

Finely chop ginger and green chillies, keep them aside.

Method

Take a bowl adding thick yoghurt,split black gram flour, salt and dissolved asafoetida. Stir it well so that flour gets blended well with curds.
Heat a seasoning pan adding coconut oil, mustard seeds, split black gram lentil and curry leaves. As the mustard seeds start popping, throw in finely chopped ginger and green chillies. Saute for while and transfer this seasoning to yoghurt and urad dal flour mix.
Creamy, thick rice side dish

uddina hittu

is ready. Serve it with hot steamed rice, topping it with coconut oil, Fried sun dried green chillies are a great side with

Udnittu

.

Note

Thick, creamy yoghurt is recommended, not thin running curds. Also use fresh, not sour yoghurt for udnittu preparation.
You can use additional water while mixing flour with yoghurt. But ensure the dish is of pouring consistency and not running.
Use of coconut oil is must in this dish which enhances the taste. Seasoning and topping with coconut oil gives additional taste.
You can use store bought urad dal flour or you can make it at home using mixer.
https://udupi-recipes.com/2014/05/uddina-hittu-udnittu-recipe.html
All the content in this website are © Copyrighted to – Udupi-Recipes
Meet you all with one more interesting recipe. Till then bye.