Spicy, sour, astringent or salty pickle is one thing that has the power to awaken taste buds reminding hot summer days spent  in the company of my  grand mother, mother who lovingly filled dozens of jars with variety of pickles. The summer season, the season of pickles, fryums and  papads  keeps everyone of the family member in certain tasks of such preparations.  In childhood, we kids were active participants of making fryums but never got involved in pickling process though. May be just because pickling is a kind of sacred ritual requiring patience, devotion and extra care.  Even a small ignorance or mistake would reduce the pickle's shelf life.  The whole mango pickle called as "Midi Uppina kayi", cut mango pickle known as "Kette uppinakayi" or "Adangayi" and Mango thokku known as "Mango Hindi" are most demanding varieties of mango pickles in Udupi-Mangalore region.
Today I am posting cut mango pickle(Adangayi) in this space  which I made few days ago.  You can carry out this pickling process in two days. On the day one you can prepare the mangoes and roast the spices. On day two you can make salt water, pickle sauce and combine with mango cubes to finish the pickling process.  Spicy, salty, sour mango pickle can be paired with curd rice, rosamatta ganji, Idli or dosa, it can win with everything. When I find no right side dish, I directly go for pickle and relish.  A small batch of mango pickle with step by  step picture demonstration  can help you  when summer is still on. So get ready for your own batch of mango pickle.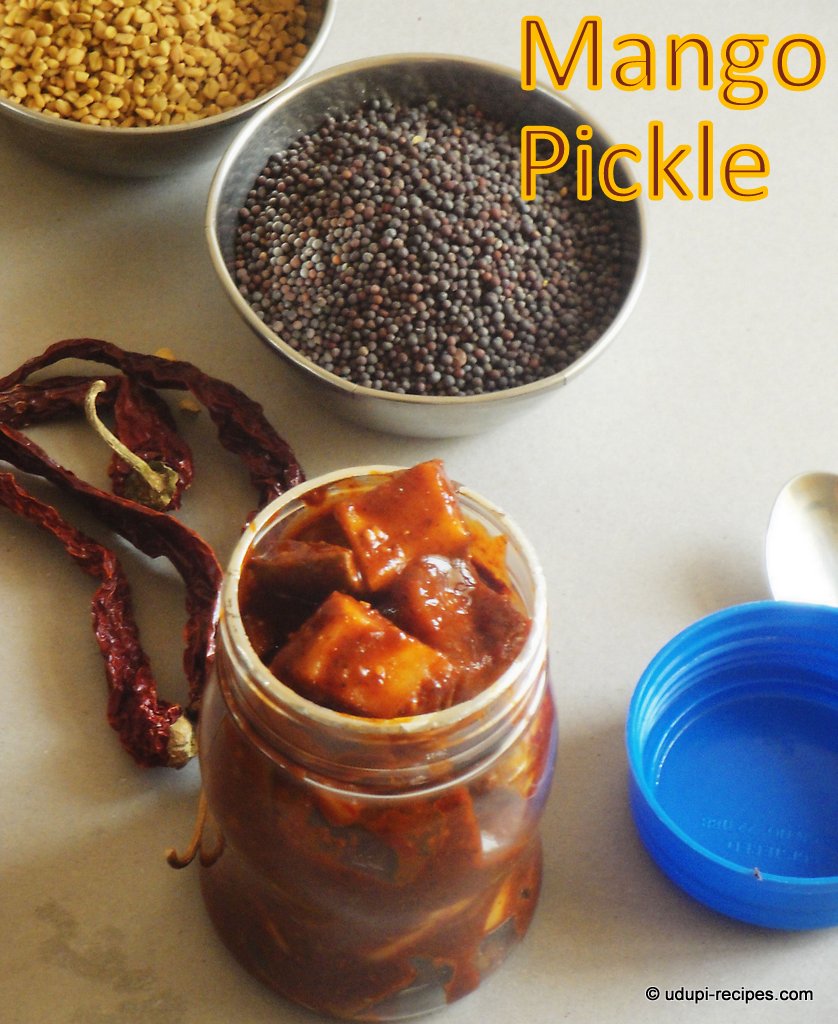 Mango Pickle | Mango Pickle Recipe in Udupi Style
Ingredients
Sour unripe mangoes - 2 no. (medium sized)
Salt- 1/4 cup
Mustard seeds- 1.5 tsp
Fenugreek seeds- 1 tsp
Cumin seeds- 1/2 tsp
Red chillies(Byadagi)- 25 no.s
Turmeric powder- 1/4 tsp
Asafoetida- Chickpea sized
Coconut oil- 4 tsp
Instructions
Preparation

Wash and pat dry the mangoes using a kitchen towel. Any moisture left out may reduce life of pickle. So it is important to ensure this. Chop mangoes in to medium sized cubes.

Method

Take a dry storage jar and add a layer of mango cubes and then a layer of salt. Repeat the process till you are done with all the mango cubes and salt. Tightly close the lid and keep aside for a two to three days for marination.

On the third day

By now the mango cubes might have oozed out water, Open the container and using a dry spoon remove all the mango cubes one bye one and spread them on dry white cloth. Let them dry their moisture out. Meanwhile transfer the salt water left in storage jar to a clean vessel. Add one more cup of water and bring it to rolling boil. It should reduce to half only then switch off the flame. Let the boiled salt water to cool down.
Mean while heat a heavy bottom wok and roast mustard seeds and cumin seeds one after the other till they splutter. Transfer it to a plate, then roast fenugreek seeds till they slightly change color and aroma spreads out. Remove them and now roast red chillies in 4 tsp of oil. As the red chillies puff up remove them. Now roast asafoetida for a while and remove that too. Switch off the flame. Let all the roasted spices to cool down completely.
Add in all the roasted, cooled spices and turmeric powder in to mixer jar. First place the roasted chillies in the bottom, followed by other roasted spices for ease of grinding. Grind them together to fine paste adding the salt water prepared earlier. Now pickle sauce is ready.
In a wide bowl mix in pickle sauce and moisture free mango cubes from step 2.
Store thus prepared mango pickle in an airtight container and start using them after two to three days when the mango cubes would have turned soft and absorbed all the spices.
The shelf life of this mango pickle can extend up to several months if used properly.

Note

The first word of caution while preparing pickle is all the utensils, spoon, knife, container, cutting board should be completely dry and moisture free. A bit of moisture may spoil the pickle. So ensure this.
You can mix bydagi+Guntur variety red chillies to get too spicy and red colored pickle. I have used byadagi chillies alone and the pickle was spicy enough matching our taste buds.
All the spices should be roasted in low flame stirring continuously and make sure they are not burnt.
As per your preferences pickle sauce can be made thick or thin using boiled salt water accordingly.
Once you start pickling process always use dry spoon to transfer mango cubes, pickle sauce etc. Do not use your hands in any case.
It is also possible to boil the mango cubes along with salt water and then can be mixed with pickle sauce after cooling. But shelf life of such mango pickle will reduce considerably.
https://udupi-recipes.com/2014/05/mango-pickle-mango-pickle-recipe-udupi-style.html
All the content in this website are © Copyrighted to – Udupi-Recipes
Meet you all with one more interesting recipe. Till then bye.