The energy and fresh mood one gets after a good nights sleep is non comparable.  Ah!..the creativity that flows is irresistible.  There are plenty who cannot get a sound sleep in the night and turn their sides till they do. Though Sunday is a working day here in UAE, today it is a special official holiday and all my family members are taking a good afternoon nap at this moment but I am in front of computer moving my fingers on keys to draft today's post of Khus khus Payasam. Co- incidentally these  Khus khus can also be related to sleep, it is said that it has the unique property of making one sleepy.  🙂
I have stock of poppy seeds from India as I don't get the same Indian quality here. Few days back while cooking,  the box of khus khus caught my eye and instantly I made this creamy, delicious Khus Khus payasam for lunch. The recipe for this payasam is very simple with very few ingredients that will surprise you when you taste the first spoonful of this creamy delight. Well roasted khus khus and almonds are ground with grated coconut and cooked in jaggery syrup. Crunchy roasted cashews and cardamom flavor takes this khus khus payasam to the next level.
You can refer other payasam recipes here.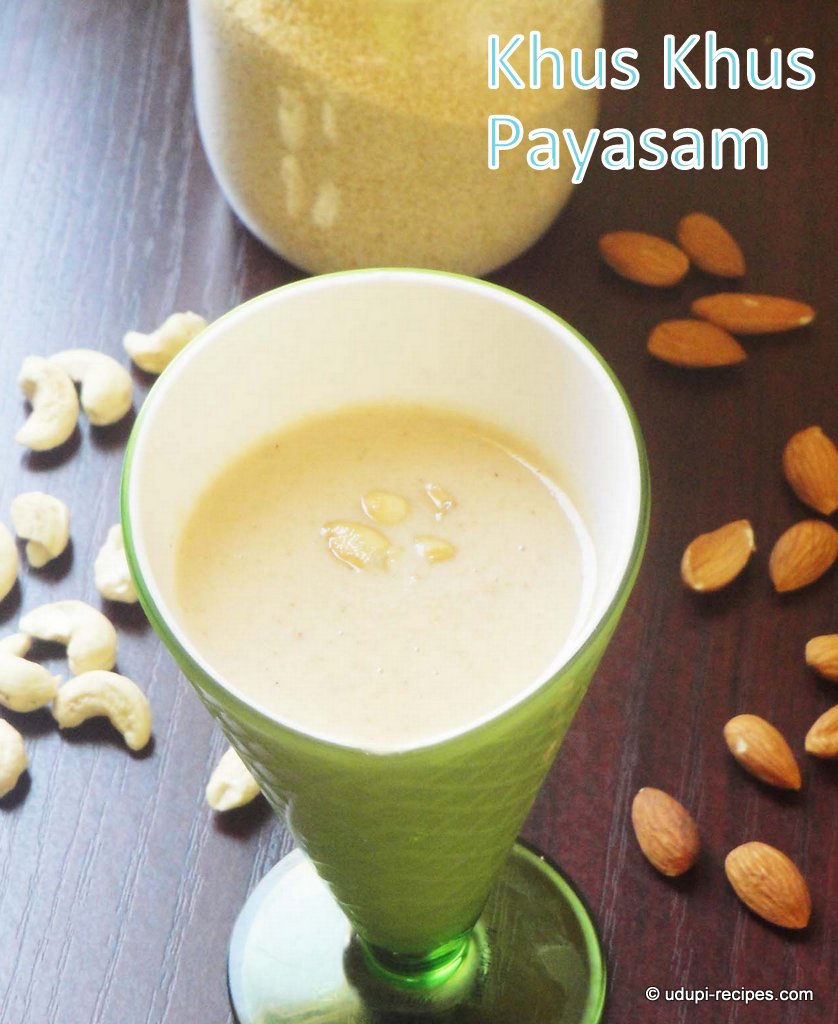 Khus Khus Payasam | Poppy Seeds Kheer Recipe
Ingredients
Khus Khus (Poppy seeds)- 1/4 cup
Fresh grated coconut- 3/4 cup
Jaggery- Medium mango sized or 1/2 cup
Almonds- few
Cashew nuts- few
Cardamom- 1 no.
Ghee- 1 tsp
Instructions
Method

Heat a wok adding poppy seeds and almonds. Roast them till the poppy seeds slightly change color and nice aroma spreads out. Switch off and let it cool.
In a mixer jar add roasted ingredients and grind to fine paste without adding water. Now to the same paste include grated coconut and cardamom seeds, grind together to fine paste adding water as required.
Meanwhile in a pan/vessel add jaggery and 1/4 cup water. Bring this to boil and stir till jaggery melts completely. At this stage strain this jaggery syrup to remove impurities.
Mix in jaggery syrup with ground poppy seeds and bring it to boil. Switch off the flame.
Heat a seasoning pan adding ghee and cashews. Fry the cashews till they slightly change color. Put off the flame and garnish khus khus payasam with fried cashews.
Khus khus payasam is ready. Relish it after lunch or dinner.

Note

Be careful when roasting the poppy seeds as they get burnt easily. Remove them from flame as soon as they slightly change color.
Do not try to grind roasted khus khus and coconut together, the khus khus will not turn in to fine paste in this case.
Adjust jaggery as per your preferences.
Almonds are added to give some thickness to payasam, if you don't have it then you can use 2 tsp of raw rice too.
This payasam doesn't thicken with time, so adjust consistency when you add water.
https://udupi-recipes.com/2014/05/khus-khus-payasam-poppy-seeds-kheer-recipe.html
All the content in this website are © Copyrighted to – Udupi-Recipes
Meet you all with one more interesting recipe. Till then bye.