Every once a while when I sit down in front of computer to write a post, my brain becomes literally empty. What to write????? Zero words…No thoughts….Even though it is so simple, it can be surprisingly hard many times. It's like I get the recipe, write step by step instructions, the pictures are in place, make collages using pictures to represent the procedure but…what do I have to say? Ummm. The end.
Food blog and Food thought
Though food is the face of blog, I hope it always tells the story of our lives and people around us. I usually narrate in detail about how the recipe turns after each step, it's color, the ingredients to be added, precautions to be taken to avoid mess etc. Some other times an interesting story connected with the food from my memory lane is revealed. Thinking out of the box once a while I do write about a general topic and relate to the dish at the end.
Bottom line:  Food blogging is not only about sharing recipes, it's also about connecting with readers authentically through your stories and your voice.
Today is Vishu(souramana yugadi) and though I am on a short trip to India, have scheduled this post of Moong with Sabudana payasam on the eve of festival. Also this recipe makes 150th post of my food blogging journey. Wish you Happy Yugadi, move on with recipe.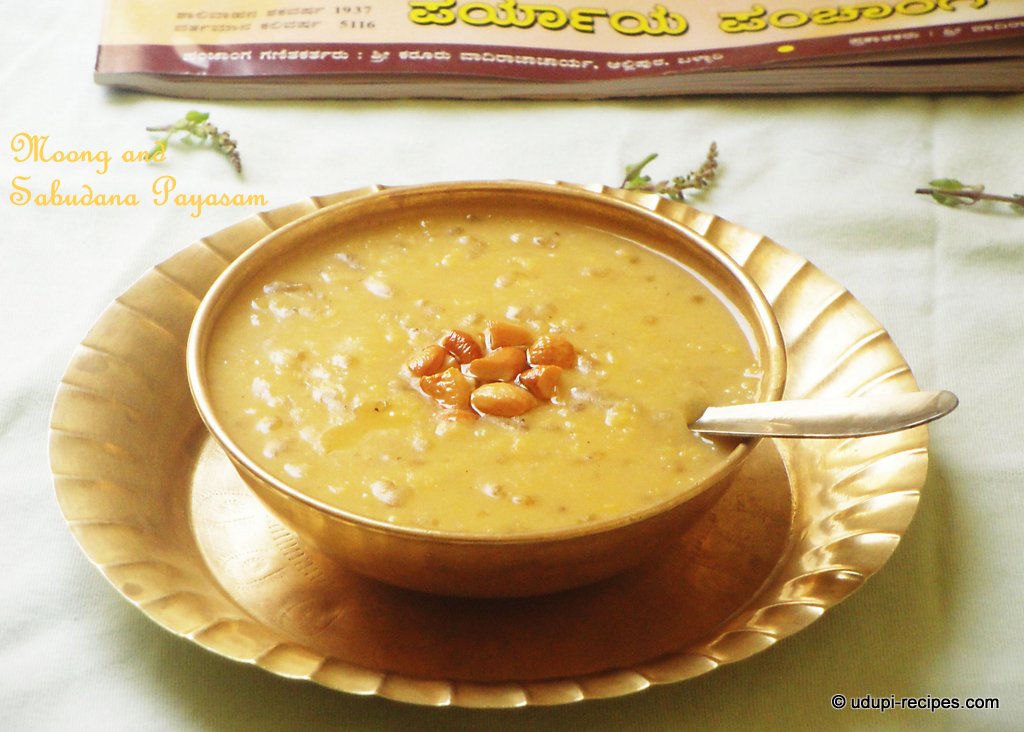 Moong with Sabudana Payasam
Ingredients
Moong dal(Split green gram lentil)- 1/2 cup
Sabudana(Tapioca)- 1 to 2 fistful
Jaggery- 1/2 cup
Fresh grated coconut- 1 cup
Cashews- few
Cardamom powder- 1/2 tsp
Ghee- 2 tsp
Instructions
Preparation

Finely grind fresh coconut along with 1/2 cup of water. Pour on to strainer squeezing a cup of first coconut extracted milk.
Again transfer the squeezed coconut in to mixer with 1/2 cup of water and strain second extracted coconut milk. Keep them aside.

Method

Wash and cook moong dal in second extracted coconut milk till the lentils turn mushy.
Meanwhile in a separate vessel cook sabudana in 1/2 cup of water. The sabudana turns transparent, soft and mushy. That is when switch off the flame.
Add powdered jaggery in to cooked moong lentil. You need to be careful as chances of moong dal getting burnt are more now. So keep stirring till the jaggery dissolves.
Once jaggery dissolves, include cooked sabudana and first extract coconut milk. Bring it to boil and switch off.
Heat a seasoning pan with ghee and broken cashews. Fry till they turn slightly brown. Add cardamom powder and cashews to the payasam.
Moong with sabudana payasam is ready. Make it on

Vishu

for lunch and relish with your family.

Note

After adding jaggery,keep stirring till end to avoid getting burnt.
Raw cashews are added to this payasam when prepared on

Vishu(Yugadi)

. As I did not get them here, added dry cashews itself.
If you are unsure of jaggery purity, you can first cook it in little water and strain once it dissolves in water. Then it can be added to payasam.
Store bought coconut milk can be substituted if you cannot prepare fresh one.
https://udupi-recipes.com/2014/04/moong-with-sabudana-payasam.html
All the content in this website are © Copyrighted to – Udupi-Recipes
Meet you all with one more interesting recipe. Till then bye.