Lady's finger – a slim looking vegetable with a crown is really a queen of all veggies. Most of them don't like this so called Bhindi (Bende in Kannada) because of it's clinging nature or sticky nature. As you chop them it clings to knife, cutting board and your hand. Also when you cook them, if you don't handle the sticky nature in proper way then whole dish turns to be clingy. I cook these bhindi in tamarind water to remove the sticky thing. Yes, the dish becomes absolutely cling free …you bet.
I have already posted bende bolu huli and lady's finger palya here in this space, today it is Bende Kayirasa or Bhindi gravy.  The fascinating thing about bhindi gravy is that the  bhindi pieces absorb all flavorful spices in them and transform in to smooth, silky in texture. The colorful bhindi gravy is so inviting isn't it? Read on the recipe now.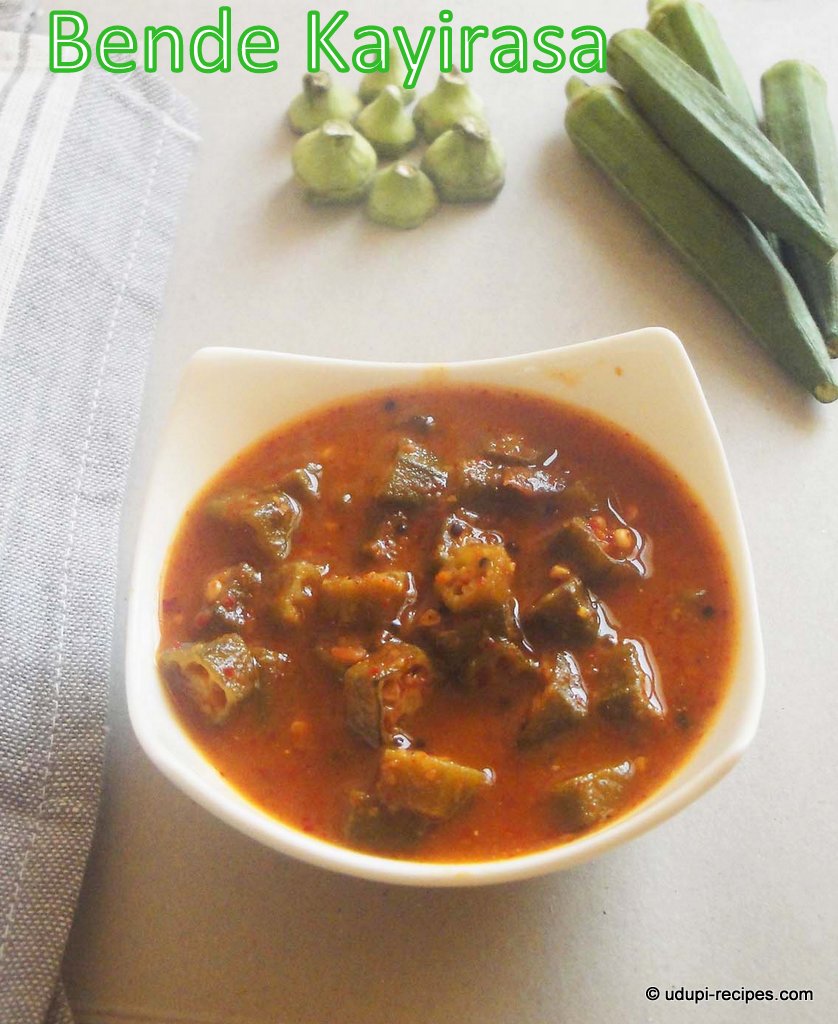 Bende Kayirasa | Bhindi Gravy Recipe | Rice side dish
Ingredients
Lady's finger (Bende kayi)- 10 to 15 nos.
Tamarind- Small lemon sized
Jaggery- 4 to 5 tsp or Lemon sized
Salt- 1 tsp
Turmeric powder- 1/4 tsp

For Powdering

Split bengal gram (chana dal)- 1 tsp
Split black gram (Urad dal)- 2 tsp
Fenugreek seeds - 1/2 tsp
Red chillies- 2 to 3 no.
Cooking oil- 1 tsp

For seasoning

Cooking oil- 3 tsp
Mustard seeds- 1/2 tsp
Split black gram lentil- 1/2 tsp
Curry leaves- few
Instructions
Preparation

Wash lady's fingers under running water and pat dry them. Chop dried lady's fingers in to 1/4 inch thick circles. Keep them aside.
Soak tamarind in half cup of water, extract it's juice and discard the residue.

Method

Heat a wok adding all the seasoning ingredients one by one in the order mentioned. As the mustard seeds crackle and splutter include chopped bhindi (lady's finger). Fry them for few minutes.
Now mix in tamarind extract, jaggery and turmeric powder in to the roasted bhindi. Let it cook in simmer till soft.
Heat a separate wok/kadai and dry roast split bengal gram, split black gram and fenugreek seeds one after the other till they turn slightly brown. Remove them and roast red chillies in a tsp of oil. When they puff up remove them too. Switch off the flame. Let all the spices to cool down and then powder them together finely. Keep it aside.
When the bhindi turns soft, add the ground spice powder to it. Add salt as well. Combine them together with little water. Switch off once it is boiling.
Sweet, sour and spicy

bhindi gravy

authentic to Udupi called

bende kayirasa

is ready. Relish it as side dish with rice.

Note

Ensure the spices are evenly roasted. Do not get them burnt.
You can increase red chillies to make the bhindi gravy more hot. What I prepare is mildly spiced.
Do not chop lady's fingers in to big chunks.
The gravy thickens once you add spice powder to it. So add water to get desired consistency.
https://udupi-recipes.com/2014/05/bende-kayirasa-bhindi-gravy-recipe-rice-side-dish.html
All the content in this website are © Copyrighted to – Udupi-Recipes
Meet you all with one more interesting recipe. Till then bye.