Okra is a popular health food being high in fiber, calcium, potassium and vitamin C. Okra curry using toor dal/split pigeon peas is prepared in two ways, one using sambar powder another without using it. Generally when my sambar powder has run out of stock, I go for latter. But let me make you clear that both type of Okra curries taste simply superb.

T

oday I am posting Okra curry recipe without using udupi sambar powder.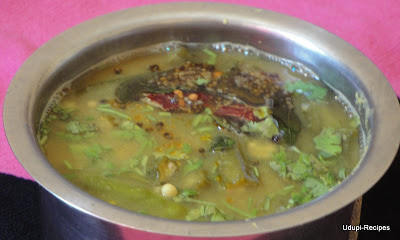 Okra recipes- Okra curry/ladies finger curry/Bende Bol Koddel
Ingredients
Okra/lady's finger- 25 to 30 no.
Split pigeon peas-1/2 cup around 50gm
Tamarind- Small lemon size
Jaggery- Big lemon size
Turmeric-1/2 teaspoon
Green chillies- 2 no.
Salt- 1 to 2 teaspoon or as per taste

Seasoning ingredients

Cooking oil- 2 teaspoon
Mustard seeds- 1 teaspoon
Urad dal- 1 teaspoon
Broken red chilly- 1 no.
Curry leaves- 1 strand
Instructions
Preparation

Wash and wipe dry the okras and then chop them in to medium sized pieces.
Pressure cook toor dal/split pigeon peas till mushy. I cooked for 3 whistles and 5 minutes in simmer.
Soak tamarind in water for about 15 minutes. Extract juice and discard the pulp.

Method

Heat a cooking vessel adding tamarind extract and a cup of water. When it starts boiling add the chopped okra. Adding okras to boiling tamarind juice is mandatory, otherwise the okras will become sticky.
Now add jaggery, turmeric powder,a strand of curry leaves, slit green chillies and a table spoon of salt. Let okras cook till soft.
Once okras are soft, add mashed toor dal/ split pigeon peas. Add water as per the consistency required and bring it boil.
Check for salt, if necessary add salt at this step. Add asafoetida and mix well. Switch off the flame.
Now in a seasoning pan add 2 tbsp of cooking oil, mustard seeds, urad dal, broken red chilly and curry leaves. When mustard seeds splutter add the seasoning to okra curry.
Okra curry/Bende bol koddel is ready to serve. It goes well with hot steamed rice.

Note

If the okras get sticky, then the curry will not taste good. So make sure you add okras to boiling tamarind extract to avoid stickiness.
This curry should not be of running consistency, so add water accordingly.
Increase green chillies if you need more spiciness.

Other Okra recipes
https://udupi-recipes.com/2013/03/okra-recipes-okra-curryladies-finger-currybende-bol-koddel.html
All the content in this website are © Copyrighted to – Udupi-Recipes
Meet you all with one more interesting Udupi recipe. Till then bye.