" Yum" is the only word that comes to mind when I think of these deep fried sins.  A plateful of these tiny, little, golden brown cuties will vanish within no time… You can serve them on their own or as side with rice-rasam they are going to satisfy you either way.
Yes..you guessed it right. Today it is a deep fried tea time snack that is getting posted in this space. I had kept a bunch of long beans just to make these pakodas. Long beans is a delicate veggie having black eyed beans covered with green skin which normally cooked at my home as avial or long beans stir fry. This time I deliberately reserved a bunch for making long beans pakoda. During auspicious occasions and ceremonies of Udupi, cooking does not involve onions. Other vegetables like long beans, lady's fingers or plantains are used in making such pakodas which are usually served as side dish with rice and rasam.
I was absolutely fascinated to cook long beans pakoda for the lunch yesterday, which looked amazingly cute in golden brown color  with green long beans popping out in between.  Believe me,  photographing these little cuties made me forget my lunch and my hands were itching to see and edit the snaps. Move on with the simple and straight forward recipe of long beans fritters.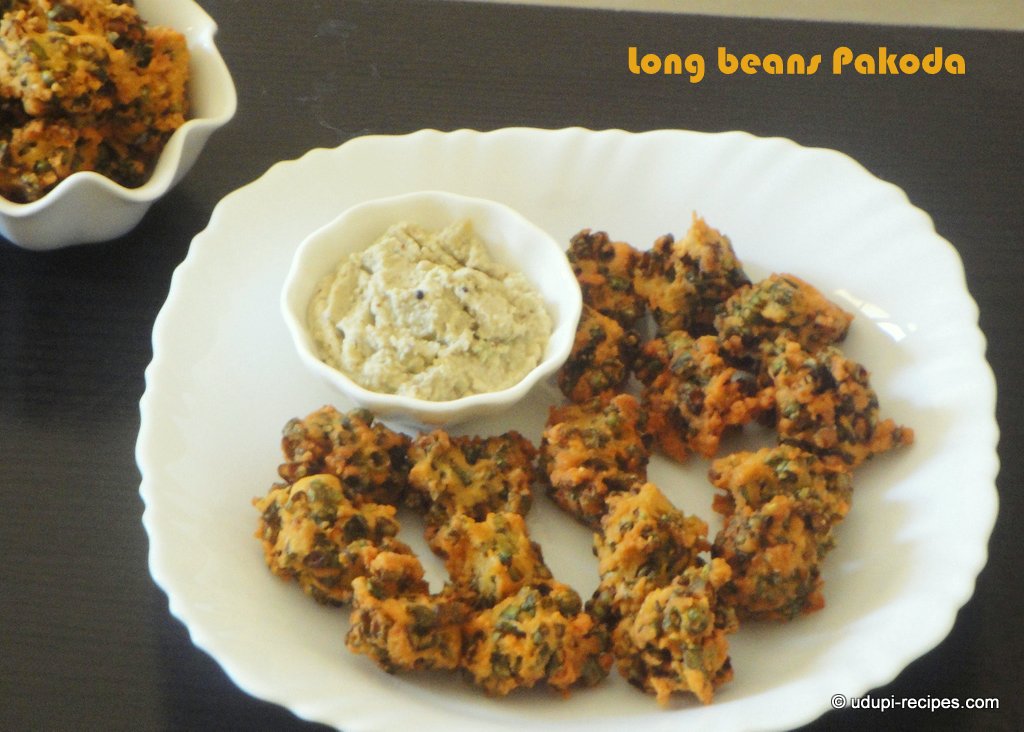 Long beans pakoda | Long beans fritter Recipe
Ingredients
Long beans- 1 bunch or 20 25no.s
Chick pea flour (Besan gram flour)- 3/4 cup
Salt- 1 tsp
Green chillies- 3 nos.
Asafoetida- Chick pea sized
Oil enough for deep frying
Instructions
Preparation

Wash and pat dry the long beans, nip the ends and chop them finely.

Method

Combine finely chopped long beans, chickpea flour, salt, dissolved asafoetida and chopped green chillies. Mix everything well so that chickpea flour coats on chopped long beans. Do not add water. The moisture present in veggie is enough to make the dough.
Heat oil in a wok in medium flame. Take a lump of pakoda dough and drop gooseberry sized dough in to hot oil. No need of making any shape.
Fry these long beans pakodas till they turn slightly brown in color. Once done, remove from oil using slotted ladle on to kitchen tissue paper to drain excess oil.
Crispy long beans pakodas are ready. Serve them as tea time snack with coconut chutney or as side dish with rice-rasam combo.

Note

Do not add additional water while making dough, the pakodas will become soggy.
If you are using asafoetida powder add it directly. I use asafoetida paste so that needs to be dissolved.
Red chilly powder can also be added in place of chopped green chillies.
To check whether oil is heated enough or not, just drop a pinch of dough in to oil. If it raises to the surface immediately then the oil is ready for frying.
https://udupi-recipes.com/2014/05/long-beans-pakoda-long-beans-fritters-recipe.html
All the content in this website are © Copyrighted to – Udupi-Recipes
Meet you all with one more interesting recipe. Till then bye.