I don't know exactly why this particular vegetable is called as "Mangalore cucumber". I had an assumption that probably this veggie is grown only in Udupi-Mangalore region, hence the name. But to my astonishment I get this so called Mangalore cucumber or yellow cucumber here in UAE, that too grown locally.  So I am still curious about the name !!!!
Believe me this yellow cucumber is amazing as it finds it's use in all varieties of side dishes that are  prepared in Udupi like peel it's skin and make chutney, cube it's rind to make curry or stir fry, scoop out it's seeds to make rasam or tambli. You can refer my earlier posts of peel chutney and mangalore cucumber seeds rasam to  recreate the same magic at your homes.
Today I am sharing the traditional way of making Mangalore cucumber stir fry using ground masala of coconut and cumin. Half inch length sliced yellow cucumber is seasoned, cooked with salt and jaggery then followed by topping it with ground coconut masala. Though the process seems so simple, taste is not so.. Mildly spiced yellow cucumber dry curry with flavor of cumin and appealing color makes you lick your fingers for sure. Serve it as side dish with rice-rasam or chapati. Seals the deal in either way. Go through the recipe of Mangalore cucumber stir fry now.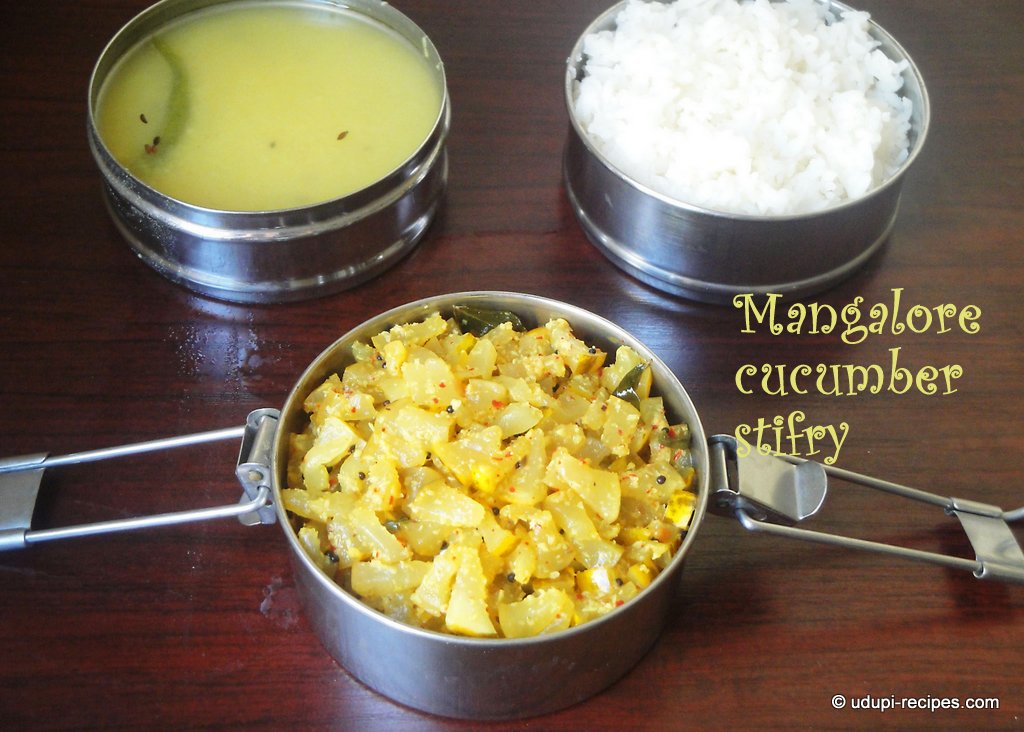 Mangalore cucumber stirfry | Southekayi Palya
Ingredients
Mangalore cucumber(Southekayi)- 1 medium sized
Jaggery- small lemon sized
Salt- 1 tsp
Turmerice powder- 1/2 tsp
Grated coconut- 5 tsp
Cumin seeds- 1/2 tsp
Red chilly- 1 no.

Seasoning ingredients

Cooking oil- 4 tsp
Mustard seeds- 1/2 tsp
Split black gram lentil (urad dal)- 1/2 tsp
Curry leaves- few
Instructions
Preparation

Wash and pat dry the Mangalore cucumber. Cut it in to equal half, then from top tip to the bottom cut halves in to quarter. Make wedges of 1/2 inch out of these quarters. Then slice each of the wedge in to small pieces as shown in picture below.

Method

Heat oil in a pan adding all the seasoning ingredients one by one in the same order as mentioned. When mustard seeds start to pop and lentils turn slightly brown, add chopped Mangalore cucumber.
Mix in turmeric powder, jaggery and salt. Give a good stir. Add 1/4 cup of water and let it cook covering with lid on low flame. Keep stirring the vegetable to ensure it is not sticking to the pan.Do not overcook the veggie as the pieces should retain their shape and shouldn't turn mushy.
Meanwhile add in grated coconut, cumin seeds and red chilly in to mixer. Grind it coarsely without adding water. Mix well this ground masala to the cooked stir fry and turn off the flame.
Mangalore cucumber stir fry is ready. Serve this delicious palya with rice or chapati.

Note

The veggie should not be overcooked i.e Mangalore cucumber pieces should not turn mushy.
Add in a slit green chilly while cooking, if you like more hot stir fry.
https://udupi-recipes.com/2014/05/mangalore-cucumber-stir-fry-southekayi-palya-yellow-cucumber-dry-urry.html
All the content in this website are © Copyrighted to – Udupi-Recipes
Meet you all with one more interesting recipe. Till then bye.