Today I am bringing one of traditional genuine Udupi recipes to the blog. Rasam made up of Mangalore cucumber seeds!!! Yes, you heard it right Mangalore cucumber seeds rasam. I attempted the recipe few days back referring a cookbook and  was wondering why I didn't try such a palatable rasam till the day.  Rasam is always my favorite side dish and I love rice rasam combo with papad, chips or boondi mixture. Rasam, curry and a stir fry forms the comfort family meal for us on any day. When you buy Mangalore cucumber it's seeds, peel and of course it's kernel can be used in making side dishes for rice. Nothing is wasted from this veggie. It is known as "Southe beejada saaru" in Kannada. Here goes the recipe.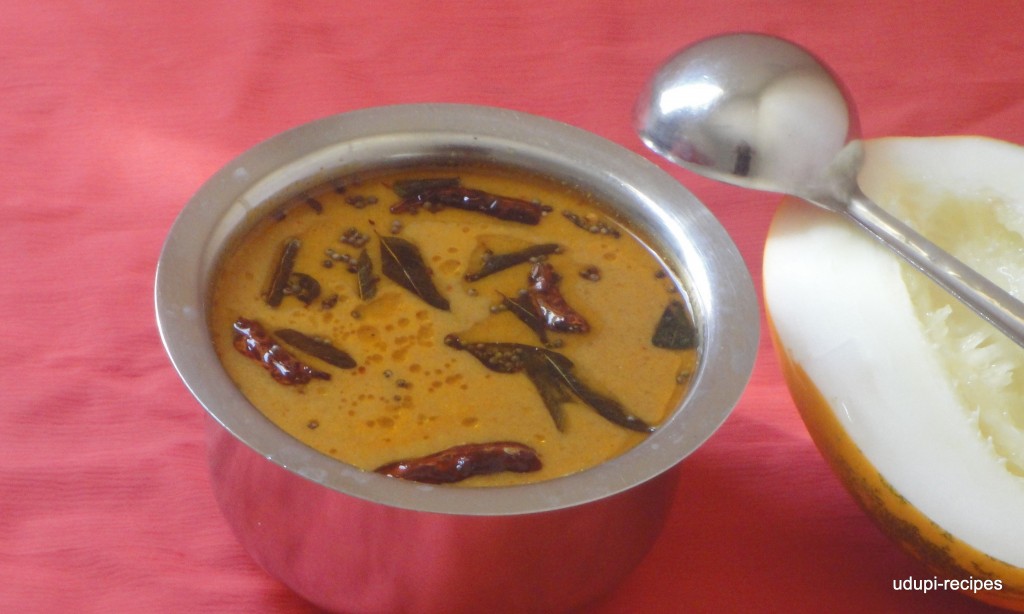 Mangalore Cucumber Recipes | Mangalore Cucumber Seeds Rasam | Southe Beejada Saaru Recipe
Ingredients
Mangalore cucumber seeds- 1 bowl
Grated coconut- 1 bowl
Turmeric powder- 1/2 teaspoon
Salt- 1 teaspoon
Rasam powder/saaru pudi - 1 teaspoon
Powdered jaggery- 1 teaspoon
Tamarind- Small gooseberry size
Asafoetida- A pinch

Seasoning Ingredients

Coconut oil- 1 teaspoon
Mustard seeds- 1/2 teaspoon
Split black gram lentil- 1/2 teaspoon
Curry leaves- few
Broken red chillies- 1 no.
Instructions
Preparation

Scoop out the Mangalore cucumber seeds and keep it ready.
Soak tamarind in some water for 15 mins and extract it's juice discarding the residue.

Method

Add Managlore cucumber seeds and grated coconut in to a mixer and grind it to fine paste. Add water as required.
Strain the ground paste in to a vessel and bring it to boil adding 2 cups of water.
Now add all the spices like turmeric powder, salt, jaggery, tamarind extracted juice, dissolved asafoetida and rasam powder. Let it boil for 5 minutes in simmer. Then switch off.
Finally heat a seasoning pan adding coconut oil, mustard seeds, split black gram lentil, broken red chillies and curry leaves. When the mustard seeds splutter and split black gram lentil turns brown add the seasoning to southe beejada saaru.
Mangalore cucumber seeds rasam/southe beejada saaru is ready to serve with rice.

Note:

Mangalore cucumber seeds and grated coconut in equal quantity yields the perfect tasting rasam.
If you need more spiciness, use some slit green chillies while boiling the rasam.
https://udupi-recipes.com/2013/11/mangalore-cucumber-recipes-mangalore-cucumber-seeds-rasam-southe-beejada-saaru-recipe.html
All the content in this website are © Copyrighted to – Udupi-Recipes
  Meet you all with one more interesting Udupi recipe. Till then bye..