Guess what! Obbattu (holige) a traditional sweet from the state of Karnataka is what I have for you today!!
This is 100th post on udupi-recipes food blog and it truly has been interesting journey till here. It's been 1.3 years since I am blogging on food and I am very much delighted to put together my 100th post. This journey of blogging started when some transitions led my life to new era and I could get some time to spend in kitchen. So I decided to record recipes from traditional specialities to everyday, easy to make delicacies and juices unraveling diverse range of udupi cuisine. Now I desire to evolve this online repository constantly and grow it professionally.
Udupi recipes blog has been a great learning curve for me where I have assimilated blog set up, monetization, food arrangement, food photography, editing and many more. I have attempted countless recipes some turn out better than others, but lot of recipes are behind the scenes than what meets your eye. Yes, only the successful recipes by look and taste will see light of the day and reach you.
All in all I loved my culinary adventures and will continue. Thanks ! Without you this slice of web that you call as udupi-recipes wouldn't exist. I really appreciate you stopping by and joining me in what I am doing here. Stay tuned for next 100.
Holige | obbattu | Puran poli is the special Udupi sweet that I am putting together today in celebration of my 100th post.  Enjoy it.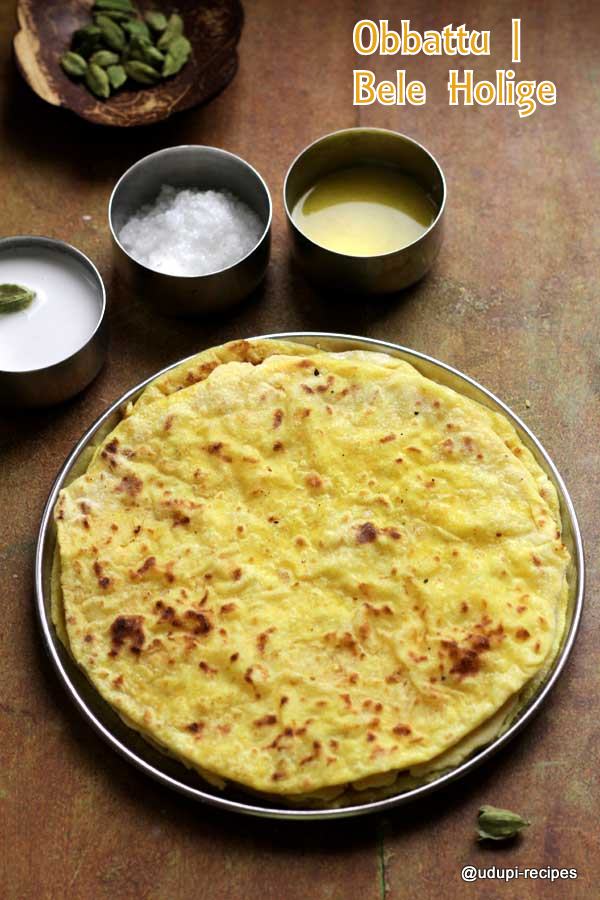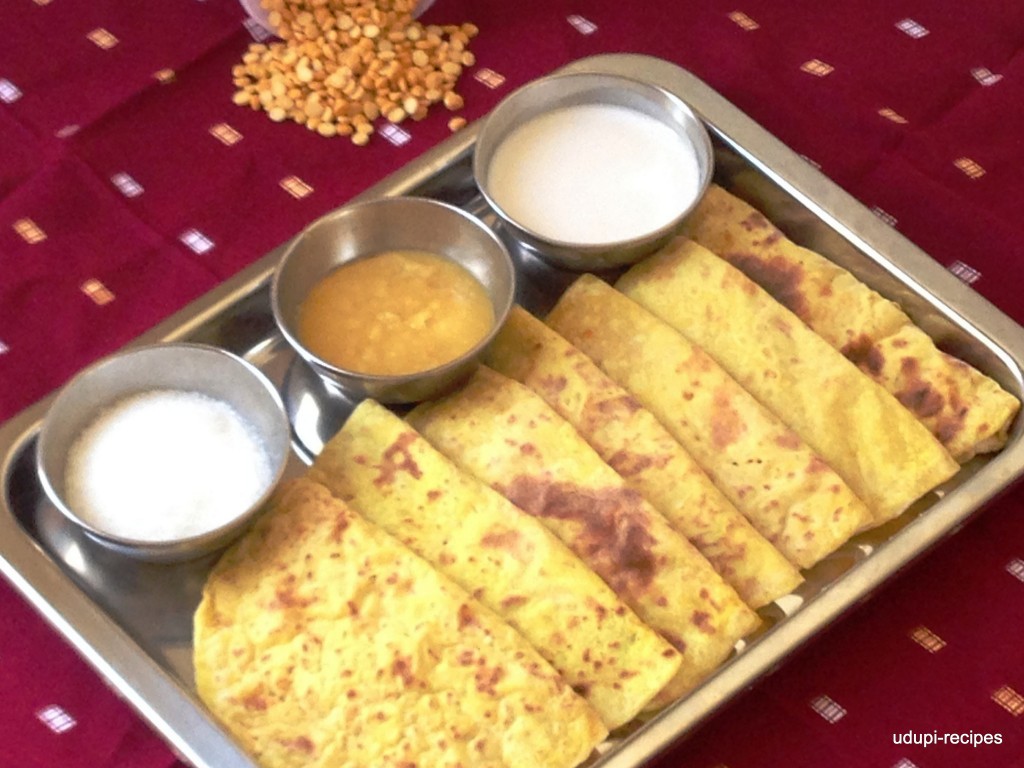 Watch the video:
Puran Poli | Holige | Kadale Bele Holige Recipe
Ingredients
Ingredients for Dough

All purpose flour/Maida- 1 cup
Salt- 3/4 tea spoon
Turmeric powder- 1/2 tea spoon
Coconut oil- 3 tea spoon

Puran/Hoorana Ingredients

Split bengal gram- 1 cup
Sugar- 1 cup
Cardamom- 4 no.s
Instructions
Preparation

Take all purpose flour in a wide bowl. Add turmeric powder and salt to it.
Give a quick mix. Next adding water little by little knead loose and smooth dough.
The dough is sticky now. Add oil and knead again such that dough becomes non sticky. Let this dough rest for at least 20-30 minutes.
Next add (chana dal) to pressure cooker. Include 2.5 cups of water. Pressure cook for 4 whistles. When the pressure subsisides, drain all the water from cooked lentils.
Add cooked lentils to mixer and include sugar to it.
Grind them together to fine paste. Ensure there are no broken lentils. Transfer it to a wide plate and take lemon sized ball and shape it elliptically. Keep all the stuffing balls (pooran) ready.
Next take lemon sized dough and place on a dusting flour. Stuff lentil pooran in to the dough and bring it on top to cover stuffing completely.
With enough dusting, roll this gently in to 6" disc approximately. Transfer it over hot skillet and cook both sides till some dark spots appear.
Obbattu (bele holige) is ready serve with coconut milk and ghee.

Note:

Hoorna (puran) should be of the right consistency, if puran is watery then it is not possible to stuff it and roll it. Puran should be of thick enough to make balls.
You can use wet grinder to grind lentils. You would get soft, smooth puran. Mixer may some time leave broken lentils. Which may cause difficulty rolling.
You can keep the stuffing ready for a batch. And then rolling and cooking can be done in parallel.
When preparing in bulk, you need helping hands for stuffing and cooking.
https://udupi-recipes.com/2013/11/puran-poli-holige-kadale-bele-holige-recipe.html
All the content in this website are © Copyrighted to – Udupi-Recipes