Avial is a type of curry in which more than one vegetable is used. Most common veggies used in this curry are yam, long beans, potato and raw banana. Legumes like black eyed beans, chickpeas can also be used in avial  along with veggies.
This recipe is requested by one of my blog readers.

So I am posting on priority. Let us see the recipe for Avial.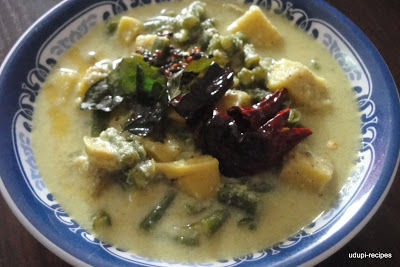 Avial/Avial Recipe in Udupi style
Ingredients
Yam- one medium size or 1 cup yam pieces
Long beans- 20-25 no. or 1 cup long beans pieces
Grated coconut- 1 cup
Cumin seeds- 3/4 teasp
Green chillies- 2 no.
Whisked curds- 1 bowl(bowl size shown in image)
Turmeric powder- A pinch
Salt- 2 teasp or to taste

Seasoning ingredients

Oil- 2 teasp
Mustard seeds- 1/2 teasp
Urad dal- 1/2 teasp
Red chilly- 1 no.
Curry leaves- few
Instructions
Preparation

Chop yam and long beans in to medium sized pieces and keep it aside.

Method

In a vessel half cook the yam pieces adding little water. When it is half cooked, add long beans pieces, turmeric powder and little salt. Cook both the vegetables till they become tender in medium flame.
Grind the grated coconut, cumin seeds and green chillies in to medium fine paste adding little water.
Add the ground masala to the cooked vegetables. Mix well. Avial should be thick in consistency compared usual curries. So add water accordingly at this stage.Add additional salt needed and bring it to boil.
At the end add the whisked curds and mix it well. Do not cook after adding curds.
Now in a seasoning pan add a tbsp of oil, mustard seeds, urad dal, broken red chilly and curry leaves. when the mustard seeds splutter add the seasoning to avial. Now avial is ready to be served. It tastes awesome with hot steamed rice.

Note:

Adding turmeric is optional. It gives nice color to avial if added.
https://udupi-recipes.com/2013/01/avialavial-recipe-in-udupi-style.html
All the content in this website are © Copyrighted to – Udupi-Recipes
Meet you all with one more interesting Udupi recipe. Till then bye.