I have literally grown up eating fresh, light and unbelievably healthy yet really tasty food all my life. Thanks to my mother who always made sure that all kids at home ate meals which are not only good for taste buds but also good for their stomach.  It is a staple food during hot summer season in Udupi region as it is known to keep your body cool. Curry leaves tambli, Shunti tambli and timare tambli are more common here than others.
Curry leaves tambli, a coconut and yoghurt based gravy can be prepared just within few minutes, surprises you with it's comforting taste. The heavenly aroma of roasting curry leaves along with few cumin seeds is something you really enjoy when you cook it. These roasted ingredients are then added to grated coconut and ground to paste along with salt and green chilly. Later, this ground paste is mixed with buttermilk or whisked yoghurt. That's all you need to do to create a bowlful of simple, healthy and comforting side dish.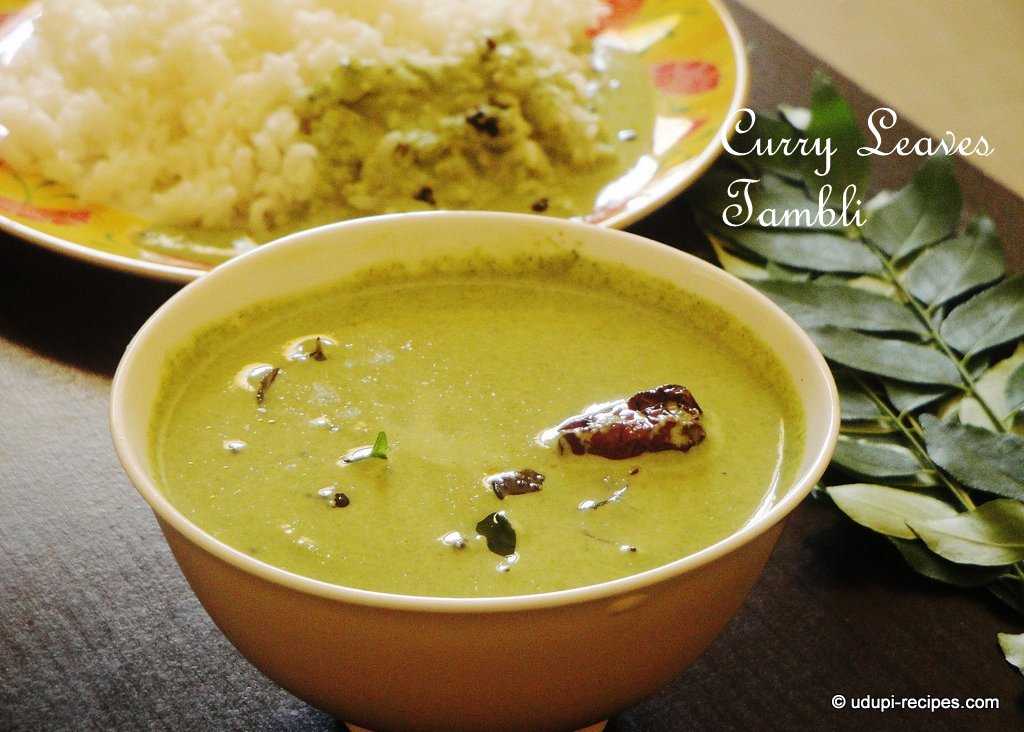 Curry Leaves Tambli | Karibevina Tambli | Besappu Tambli Recipe
Ingredients
Curry leaves- 6 to 8 big strands
Cumin seeds- 3/4 tsp
Green chilly- 1 no.
Grated coconut- 2 fistful
Salt- 1/2 tsp
Buttermilk/Whisked yoghurt- 1/2 cup
Coconut oil- 1 tsp

Seasoning Ingredients

Coconut oil- 1 tsp
Mustard seeds- 1/2 tsp
Split black gram lentil- 1/2 tsp
Broken red chilly- 1 no.
Curry leaves- few
Instructions
Method

Heat a wok adding oil, cumin seeds and curry leaves. Roast curry leaves along with cumin seeds till they turn crisp.
Transfer roasted ingredients in to a mixer, also include green chilly, salt and grated coconut with it. Finely grind them adding little water.
Shift the ground paste in to a bowl. Add buttermilk to it and mix well.
Heat a seasoning pan adding all the items under "seasoning ingredients" list in the order mentioned. When mustard seeds start spluttering add the seasoning to curry leaves tambli.
Cool, cool curry leaves tambli is ready. Serve it as side dish with rice and enjoy the goodness.

Note

You can substitute green chilly by pepper corns which gives it's own unique flavor. Make sure you roast them along with curry leaves and cumin.
Adjust consistency of tambli adding water or buttermilk. It should be thinner than regular chutney.
Fresh yoghurt is preferred for making tambli, do not use sour one.
https://udupi-recipes.com/2014/04/curry-leaves-tambli-karibevina-tambli-besappu-tambli-recipe.html
All the content in this website are © Copyrighted to – Udupi-Recipes
Meet you all with one more interesting recipe. Till then bye.