I am super happy to bring you this pretty mango puliyogare gojju. Right now, as I type the post facing my laptop I am missing cozy winter season. Those of you living under HOT SUN would know how cozy the winter season feels. As I live in UAE, which is a hub of  SAND and SUN, I realize and appreciate the cold and chilly weather. Without such seasonal cozy feelings of weather, life here is very much suffocating and dry. So as I am bracing myself for May/Summer/hot days ahead, I'm feeling 99% grateful for those cozy, cold months.
The most unpleasant thing in the summer months is to cook inside the kitchen which literally feels like sitting inside the oven. The heat from the stove, the sweat and sultry feeling is going to be absolutely unmanageable. In order to brace the situation, dusting, cleaning and servicing the Air Conditioner have already begun. Because it is the AC that works 24×7 and keeps us shielded from scorching SUN.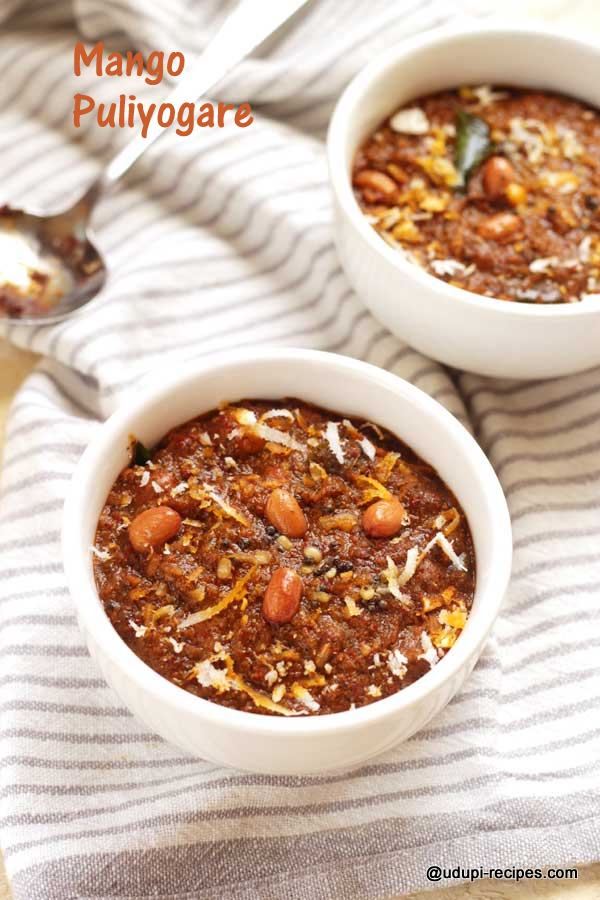 Much has been said about summer and sun, lets turn towards summer produce that make our food life palatable. Yes it's the Raw mango that  has transformed in to delicious spice paste(mango puliyogare gojju) here. Traditionally this is prepared using tamarind and I have replaced it by sour grated mango. The mango, king of fruits has played it's trick in this recipe and puliyogare tastes way too yummy. I would say it's a meal builder because if you have a jar full of this masala paste in your refrigerator, then quickly whipping up a meal is easy like a breeze. Though it takes 40 minutes of your kitchen time, believe me you would feel the time spent is worth ever. I usually stock such meal builders (like this vegetable bhath mix) to make my cooking life hassle free.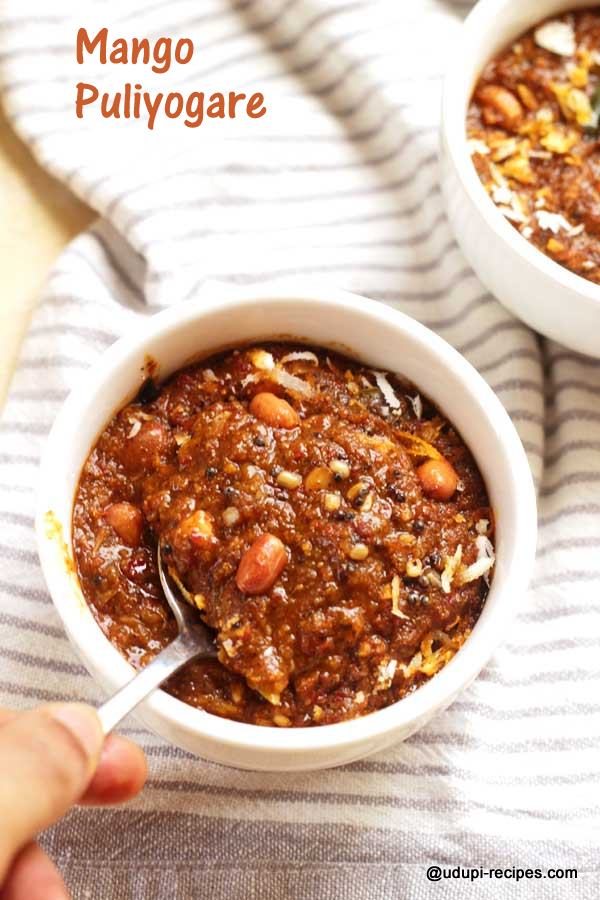 Video:
Mango Puliyogare Gojju Recipe
Ingredients
Raw mango - 1 nos.
Black sesame seeds- 1/4 cup
Mustard seeds- 1 tsp
Red chillies- 10-15 nos.
Coriander seeds- 1/4 cup
Fenugreek seeds- 1 tsp
Black pepper- 1 tsp
Cumin seeds- 2 tsp
Jaggery- 1/4 cup
Cooking oil- 4 tsp

To temper

Cooking oil- 4 tsp
Mustard seeds- 2 tsp
Split black gram lentils- 1 tsp
Split chickpea lentils- 2 tsp
Curry leaves- Handful
Peanuts- 1/8 cup
Instructions
Method

Peel off the raw mango with a peeler and grate it. It should measure around 1 cup.
Next heat a pan to roast the black sesame seeds. As you saute constantly, it will splutter. Take it out and keep it separated from other roasted spices. Next roast the mustard seeds and transfer over a plate.
Now add some oil to the pan and roast the red chillies followed by coriander seeds. Transfer them over the plate. Next adding some oil, roast the spices like fenugreek, cumin and black pepper and combine them with other spices.
As the roasted spices cool down to room temperature, powder them finely in a mixer.
Next powder the roasted sesame seeds and take it out in a separate bowl.
Take the grated mango in a mixer and puree it along with 1/4 cup of water. Transfer the puree over a pan along with some oil.
Saute the mango puree in medium flame for few minutes and include the jaggery. The mixture becomes thin and let it boil for 5 minutes in simmer. Then add the spice powder prepared in step 3.
Mix well. Add salt,some more water and continue cooking. Next add the sesame powder and cook till the mixture thickens.
Finally it's the tempering. In a seasoning pan add all the ingredients listed under "to temper" and as the peanuts turn little brown pour it over the puliyogare gojju.
Yummy and uniquely flavored mango puliyogare gojju is ready. You can store it for a fortnight in refrigerator and whip up meal in a jiffy.

Notes

Choose a raw mango which is sour because it is the tangy taste that should overpower.
Ensure all the spices are roasted evenly and do not let them burn. It ruins the taste.
You can increase red chillies or black pepper as per the spice your taste buds demand.
Adding the sesame seeds powder at the end retains it's flavor. Do not overcook after adding it.
The puliyogare gojju lasts longer if you store it in refrigerator. At room temperature, the shelf life is just limited to 2 days.
https://udupi-recipes.com/2017/04/mango-puliyogare-gojju-recipe.html
All the content in this website are © Copyrighted to – Udupi-Recipes