Life changingly delicious vegetable bhath mix that too home made!! Does it sound exciting? It is super exciting guys..
Vegetable bhath mix is actually a masala paste and is really intense to eat since it's loaded with vegetables, tamarind, red chillies, lentils, cinnamon, cloves and to be precise every possible flavor item in your kitchen. So we are not eating this vegetable bhath mix straight way, instead it is used to whip up an instant meal which I call as vegetable bhath.
My goal with making this masala paste is to have something that would land at that perfect intersection between ready in 15 minutes/rocking tasty food to eat/easy to make. I also wanted to put this as it's own recipe because it is always possible build meals around such masala paste right??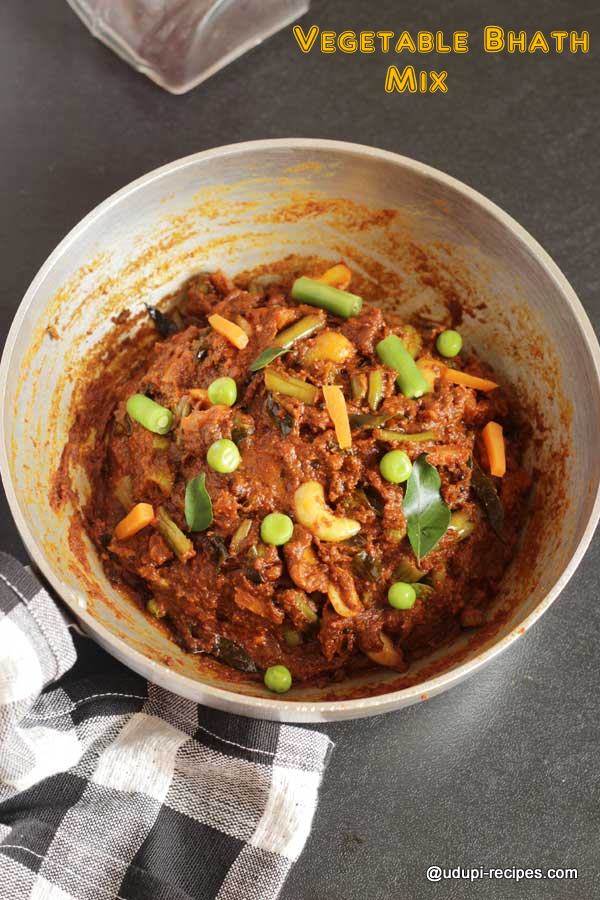 I also would like to dedicate this super fantastic vegetable bhath mix recipe to all the pretty busy women in the world who manage office and home simultaneously. I honor your dedication dear ladies and this is my sincere effort to make your life less hectic and more relaxing. As you find some time may be around 30 to 40 minutes, make this vegetable bhath mix from the scratch which involves mainly roasting, grinding and cooking. It gives a whole jar full of masala paste and your lunch for the week is done. It's TRULY exciting. Right?
And in the morning when you don't really have time, cook only rice. Mix rice with a big tablespoon of masala paste and your delicious food for the afternoon is ready in NO time. Now you cannot deny the fact that a jar full of vegetable bhath masala is the best possible self gift that could ever exist for YOU, for ME and for EVERY ONE.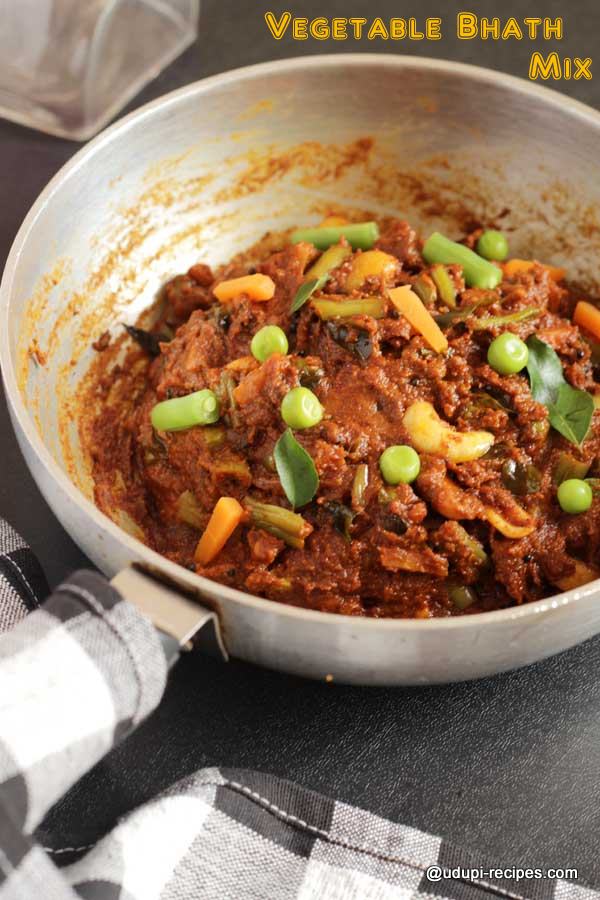 Homemade Vegetable Bhath Mix Recipe
Ingredients
Beans- 8 nos.
Carrot- 1/2
Fresh or frozen green peas- handful
Tamarind- Small lemon sized
Jaggery- Half lemon sized or 3 tsp

To powder

Coriander seeds- 1/4 cup
Desiccated coconut- 1/3 cup
Split blackgram lentils- 3 tsp
Fenugreek seeds- 3/4 tsp
Cloves- 5 nos.
Cardamoms- 2 nos.
Split chickpea lentils- 1 tsp
Cinnamon sticks- 2" piece
Red chillies- 4 nos.

Seasoning ingredients

Cooking oil- 1/4 cup + 3 tsp
Mustard seeds- 2 tsp
Split blackgram lentils- 2 tsp
Split chickpea lentils- 2 tsp
Curry leaves- Generous handful
Cashews- Generous handful
Instructions
Preparation

Wash the vegetables under running water, trim the edges of beans and chop it in to half inch pieces. Also chop the carrot lengthwise in to 1" piece. Peel off the green peas and take all the chopped veggies in a vessel and cook them halfway adding a cup of water.
Soak tamarind in half cup of water for about 15 minutes. Extract it's juice and discard the residue.

Method

In a pan add desiccated coconut and roast in medium flame till they turn little brown. Transfer to a plate and next add 3 tsp of oil and lentils plus red chillies. Get them roasted for a minute and then include coriander seeds.
The lentils turn little brown, then include cinnamon, cloves and cardamom. Saute for few seconds and switch off. Transfer all these roasted ingredients also to the same plate. Let them cool down to room temperature and powder them together finely.
Next heat the same pan adding 1/4 cup oil, mustard seeds, both lentils and curry leaves. Saute for few minutes till the lentils change in color, then include cashews.
Next add tamarind juice, jaggery and salt. Bring this to boil.
When the tamarind plus jaggery water is boiling, add cooked vegetables and powdered spices from above step. Combine everything well and cook till it turns thick sauce like consistency.
Vegetable bhath mix is ready which makes your lunch ready in no time. Mix 4 tsp of this mix with a bowl of cooked rice and the meal is ready.

Notes

It is advisable to be cautious and careful while roasting the spices. Because burnt spice can easily ruin the taste of vegetable bhath.
Keep the flame in medium and constantly stir for even roasting of spices.
Do not overcook the vegetables to mushy, let them retain some crunch.
Include the vegetable stock also to the seasoning which will help the powdered spices to turn saucy.
Once cooled, transfer this bhath mix to a jar and keep in the refrigerator. It lasts more than a fortnight.
https://udupi-recipes.com/2016/09/homemade-vegetable-bhath-mix-recipe.html
All the content in this website are © Copyrighted to – Udupi-Recipes