White chickpea sundal – Welcome back to snack time food cravings.
Sometimes the basic, the simple snacks just go out of my food-memory that I never make them in my REAL life for many months. Now it's time to recall such recipes from the back of my mind. Because reality of my life right now is to feed my kindergarten going son with a series of snacks which he demands like give-something-to eat once every hour. He likes to eat anything from a salad to a vegetable or biscuit to boiled potato or payasa to sundal. His cravings are totally unique and special like the kids in that age normally be. Practically I should keep some really healthy, nutritious food things like this white chickpea sundal or sweet corn chaat which is acceptable and edible by him.
I choose to make some really easy and simple snacks for him which come together within minutes. Like all super mothers of this world I opt for including his favorite veggies like carrot, cucumber with legumes which can satisfy his cravings and help him grow healthy too.
Probably the one and only thing I have to keep in mind is to soak the white chickpeas the previous day. Overnight soaked chickpeas would get cooked well and can easily  be transformed in to vitamin-rich snack. And now let me ask you, what you normally cook for your kids snacking??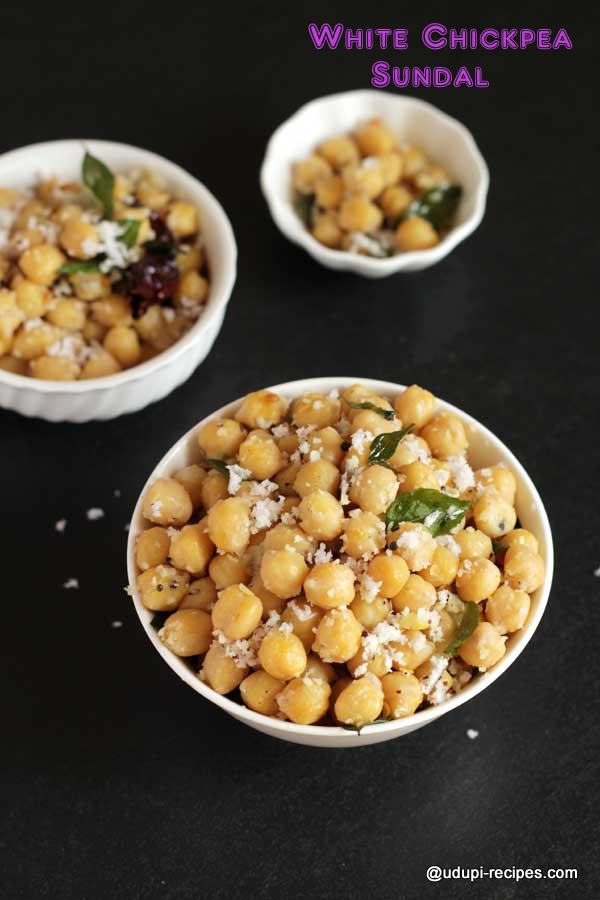 White Chickpea Sundal | Bili Kadale Oggarane Recipe
Ingredients
White chickpeas- 1 cup
Fresh grated coconut- 1//4 cup
Salt- 1/2 tsp
Green chillies- 1 or 2

Seasoning ingredients

Cooking oil- 2 tsp
Mustard seeds- 1/2 tsp
Split blackgram lentils- 1/2 tsp
Broken red chilly- 1 no.
Instructions
Preparation

Soak white chickpeas for 6 to 8 hours or overnight in enough water.

Method

Pressure cook chickpeas for about 3 whistles and in simmer for 5 minutes. The chickpeas should turn soft and not mushy.
In a cooking pan add all the seasoning ingredients, as the mustard sizzle and lentils turn brown include pressure cooked(drained) chickpeas, salt, slit green chillies and grated coconut. Combine and cook for 3 to 5 minutes.
Healthy snack chickpea sundal is ready to serve.

Notes

The white chickpeas shouldn't be overcooked which makes the sundal mushy.
Fresh coconut added in generous quantity would boost up the taste.
You can skip adding green chillies while preparing for kids.
Drain up the water from cooked chickpeas before including in to seasoning. Otherwise you have to cook till all the water evaporates
https://udupi-recipes.com/2016/09/white-chickpea-sundal-kadale-oggarane-recipe.html
All the content in this website are © Copyrighted to – Udupi-Recipes