It's end of September and we are rolling in to a month which witnesses the two gorgeous festivals Navaratri and Diwali both in sequence. Which actually means most incredible things happening at the food department. As I write this post, little voice in me is certainly asking my preparedness for the upcoming festivals. Am I ready ?? It's big NO guys.. I am yet to prepare potential list of delicious stuff that are going to hit the internet through this space. It's going to be kind of cooking-clicking-posting marathon and this rice bengal gram payasa comes as the first dessert for Navaratri.
This luscious dessert has lentils and rice both. The addition of rice is quite appropriate here because bengal gram or lentils alone can make the payasa dis-integrated or liquid separated. I mean the lentils tend to be isolated from syrup making payasa doesn't seem to be payasa. It's always best practice to include a binding ingredient in such desserts like semolina or tapioca or rice.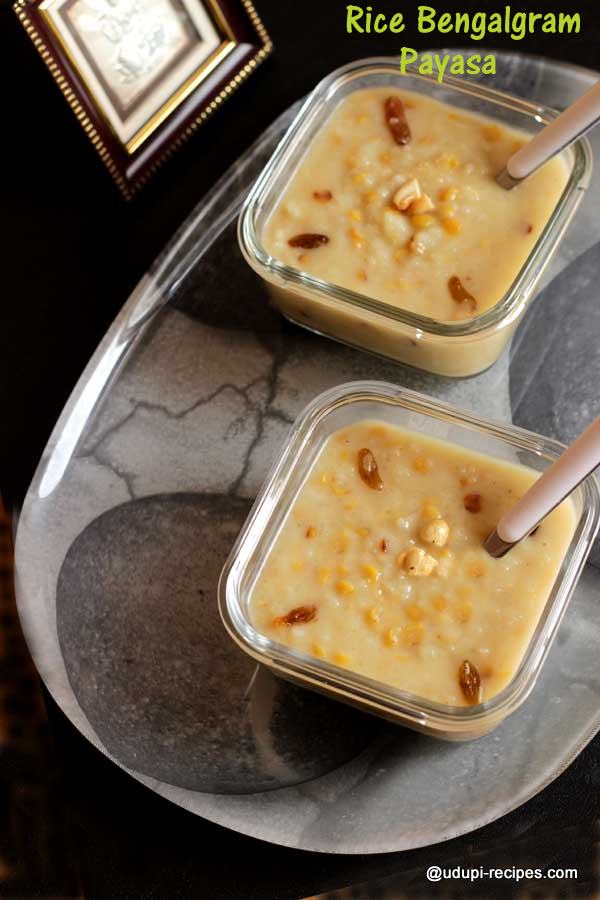 Rice bengal gram payasa is amazingly delicious and rice binds the lentils plus syrup making it thick like actual dessert should actually look. I loved this payasa as it doesn't flow like water in my plate and has dessert like consistency.
A bowl of rice bengal gram payasa in my hand while favorite music playing over FM and me working on the list of sweets and snacks for the festival is how you are going to find me in my house right now.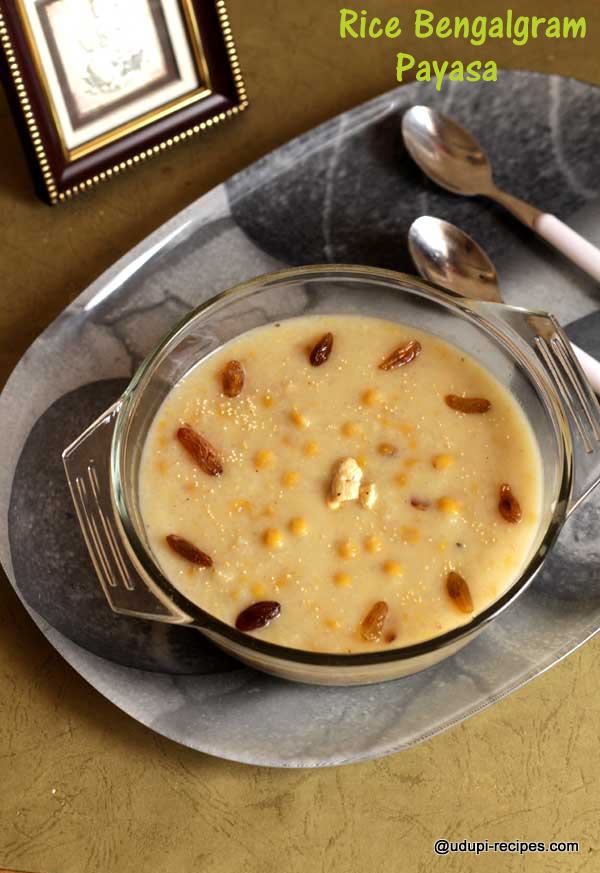 Rice and Bengal gram Payasa Recipe
Ingredients
Bengal gram (Chickpea lentils)- 1 cup
Uncooked rice-1/4 cup
Powdered jaggery- 1 cup
Fresh grated coconut- 1 cup
Cardamoms- 2 nos.
Ghee- 2 tsp
Instructions
Preparation

Peel off the skin from cardamoms and powder it finely using mortar and pestle.
Take fresh coconut in a mixer and add a cup of water. Grind this to very fine puree. Pour it over a strainer and squeeze to extract coconut milk.

Method

In a pan add bengal gram and dry roast it till the lentils warm up. Subsequently roast the rice too.
In a cooking vessel add roasted bengal gram and rice together and add 1.5 cups of water. Pressure cook it for about 3 whistles and in simmer for 10 minutes. Meanwhile in a cooking pan add jaggery and 1//2 cup of water. Cook it till jaggery dissolves.
If the jaggery syrup has impurities, filter it and add to the same pan. Next include cooked lentils and rice. Let it cook for 5 to 10 minutes in simmer and absorb sweetness from jaggery. Then include coconut milk. Adjust consistency by adding some water. Continue cooking for few minutes and add cardamom powder.
Finally in a seasoning pan add ghee and cashews. Fry them till little brown and subsequently fry raisins till they puff up. Top these fried nuts over payasa. Yummy dessert rice bengal gram payasa is ready to serve.

Notes

Rice thickens the payasa over time, so let payasa be running when you cook initially.
Adjust consistency by adding more coconut milk or water.
I have used homemade coconut milk, you can use store bought one too.
Ensure bengal gram has cooked till soft before adding to jaggery syrup.
Keep stirring the payasa to avoid burning at the bottom.
https://udupi-recipes.com/2016/09/rice-bengal-gram-payasa-recipe.html
All the content in this website are © Copyrighted to – Udupi-Recipes