The glory of my weekend lunch that had the delicious blackeyed peas gravy along with sorghum flatbread is making my mouth watering even now. I sort of obsessed of eating North Karnataka food mainly sorghum flat bread i.e Jolada Rotti as any meal of the day. It's because I was related to that region of Karnataka for most years of my life. Even today I feel so much connected to the same place when it comes to FOOD. The people of northern part have Sorghum as their primary cereal and use it's flour to make a flatbread which absolutely requires no OIL to prepare. I feel so happy and proud to love the food which has zero unhealthy factors in it.
Having said about my food-madness, I just try to put together a weekend lunch or dinner that includes most Northern flavors of Karnataka. Unlike chapati, sorghum flatbread is quite tricky that demands more time and patience to handle elaborated cooking. Seriously.. But the desire to have such a earthy flavored, spicy and green-leafy side dishes with rotti pushes me to take the risk of long, sweaty hours in kitchen. Trust me, I totally forget the laborious cooking when I devour rotti with side dish like blackeyed peas gravy.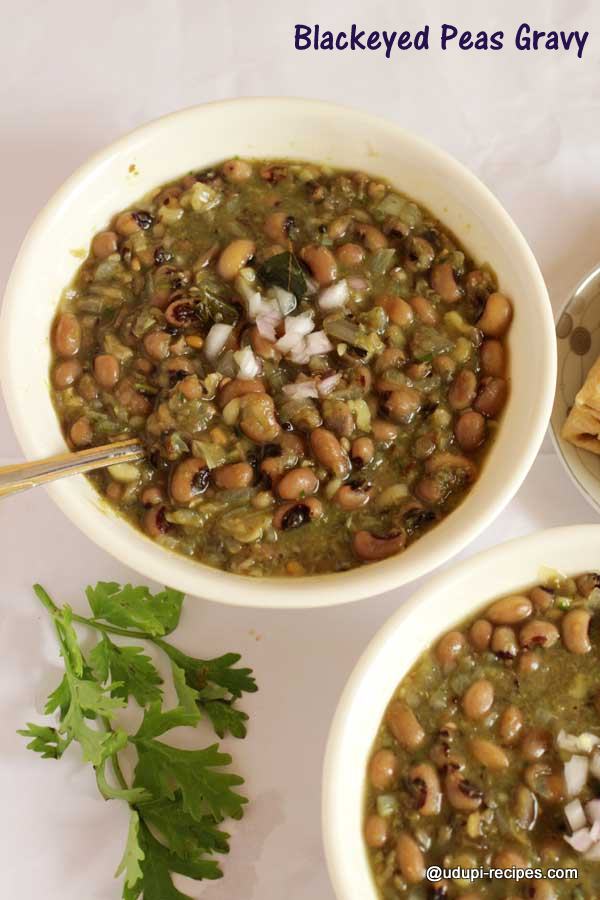 Impressed by my narration, if you look for the picture of blackeyed peas gravy with rotti, you'll end up disappointed. I couldn't photograph this rocking side dish with rotti as the SUN had long gone when I finished preparing the flatbread. Never mind, it gets along with chapati too and you can completely relish with it.
Refer black eyed peas masala which I posted sometime back.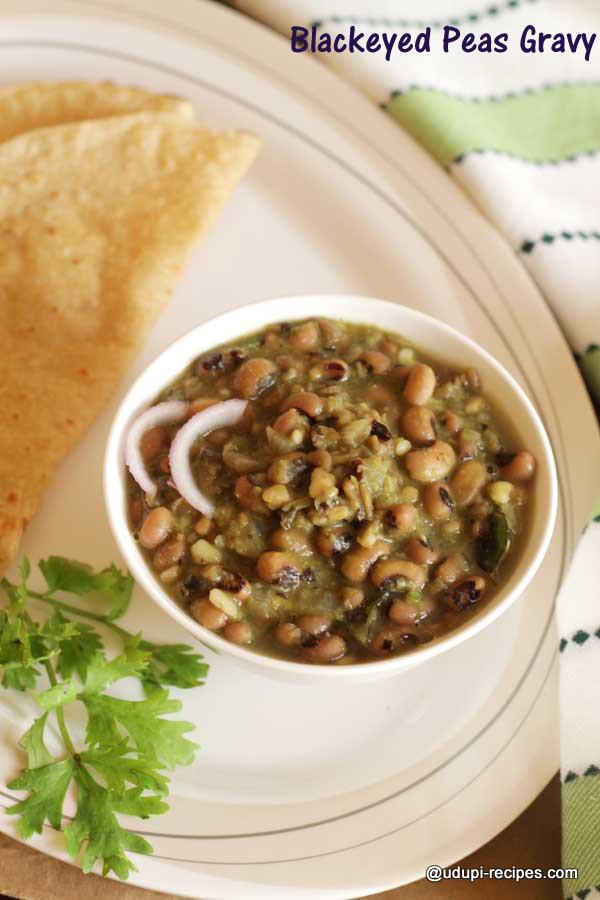 Blackeyed Peas Gravy | North Karnataka Style Side dish
Ingredients
Blackeyed peas- 1 cup
Chopped coriander leaves- 1/4 cup
Green chillies- 2 nos.
Onion- 1 no.
Garlic - 2 to 3 cloves
Turmeric powder- 1/4 tsp
Salt- 1 tsp
Coriander powder- 1 tsp
Cumin powder- 1 tsp

Seasoning Ingredients

Cooking oil- 2 tsp
Mustard seeds- 1 tsp
Split blackgram lentils- 1 tsp
Curry leaves- Few
Instructions
Preparation

Pressure cook blackeyed peas with a cup of water till they are almost mushy. I cooked for about 3 whistles in medium flame and then simmered for 5 minutes.
Peel the skin off from onion and chop it finely.

Method

Mash the cooked legumes coarsely using back of the ladle. Next in a mixer add coriander leaves, garlic pods and green chillies. Puree them coarsely adding little water and Keep aside.
Next heat pan adding oil, mustard seeds, blackgram lentils and curry leaves. Saute till the mustard seeds splutter then include chopped onion. Continue sauteing till the onions turn translucent.
Next add the pureed green chillies plus coriander leaves and saute. The raw smell subsides in a while then include turmeric powder, coriander powder, cumin powder and salt. Finally add cooked legume along with water. Combine everything well.
Black eyed peas gravy in north Karnataka style is ready to serve along with chapati or sorghum rotti.

Notes

Soaking blackeyed peas is not necessary. If you do, it requires less time to cook as the legumes would have turned soft after soaking.
The coriander leaves flavor really enhances the gravy taste. So use the greens generously.
As the gravy thickens with time include little more water than needed initially.
You can add red chilly powder for extra spicy-ness.
https://udupi-recipes.com/2016/10/blackeyed-peas-gravy-north-karnataka-style-side-dish.html
All the content in this website are © Copyrighted to – Udupi-Recipes