It's a deep golden, rich and sweet besan ladoo that just melts in your mouth and it's coming to you right now. Ready?? If so, scroll down to see the drool-worthy balls that are begging to be picked up from the plate straight in to your mouth.
I always love the food which is deep golden in color because that looks awesome in the eyes of camera and the picture looks as good as it tastes. For a food blogger there is no better moment than this when her food gets captured as delicious as it is. And this luscious besan ladoo gets all the credit in meeting the expectations of a true food blogger. Thank you sweet thing.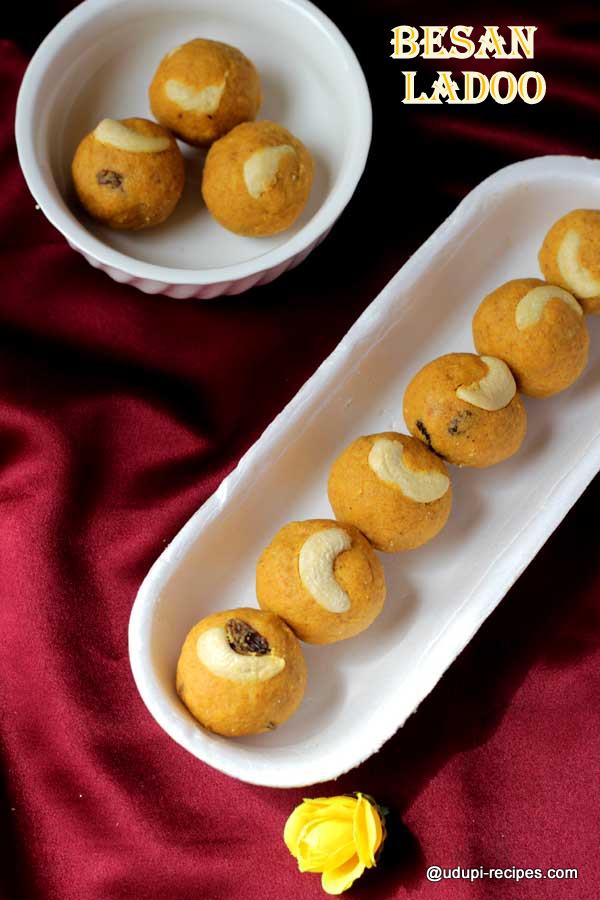 This is a recipe that mom has been making for years, and she got it from one of her friends who has been making it for years before that. It's a typical North Karnataka style recipe and mostly popular one too. In Udupi, the way it is prepared is totally different. So when I compared the two, I inclined towards the best, quick, easiest and yummiest recipe ever.
The trick to get the besan ladoo to the dessert perfection is roasting the chickpea flour with constant stirring. I stress enough on the word "constant" here, because you can never let it unattended while roasting. If you miss it for a single second, there are all chances of getting burnt and tasting bitter. So keep yourself distraction free while roasting the flour. When you are done, the nutty flavor that wafts out your home makes you appetite for a dessert for sure. It's that good.
Lastly, powdered sugar is what we use for this recipe, along with I sometimes include 3 to 4 tsp of granulated sugar too for the nice crunch while biting the ladoo.
I can't wait for you to love this one, hope you start your Diwali preparations with this rocking sweet thing.
Quick Besan Ladoo | Besan Laddu Recipe
Ingredients
Chickpea flour(Bengal gram flour)- 1 cup
Powdered sugar-1/2 cup
Ghee-1/4 cup + 3 tsp
Cashews and Raisins - Handful
Cardamom powder- 1/2 tsp
Instructions
Method

Sieve the chickpea flour so that there are no lumps in it. Take it in a cooking pan, with constant stirring roast the flour in medium flame. Continue stirring for about 10-12 minutes which subsides raw smell considerably.
Next add melted ghee and stir further. Initially the flour would absorb the ghee and looks like crumbled in texture. As you continue roasting, gram flour leaves a nutty flavor and becomes almost golden in color. This is the time you need to switch off the flame and transfer the flour to a wide bowl.
Add powdered sugar, raisins, cashews and cardamom powder to the bowl. Using a ladle combine everything well and our besan ladoo mix is ready. When the mixture cools down to room temperature, add the reserved 3 tsp of ghee and mix. Scooping a lime sized mixture, shape like a ball using your fingers and palm. And that process should be repeated till you finish the ladoo mix.
This easiest and flavorful besan ladoo is a wonderful Diwali sweet and can last more than a week.

Notes

Roasting the chickpea flour is an utmost important step which should be carried out with care and caution.
If unattended for a minute, it is possible that the flour can stick to the bottom and burn which can ruin the taste completely.
I wanted to control ghee, so dry roasted the flour first and then added ghee.
If you like besan ladoo oozing out lots of ghee, increase ghee by 1/8 cup.
As the chickpea flour takes the golden color and nutty flavor wafts out, switch off the flame and immediately transfer to a wide bowl. Otherwise the flour continues to cook with the heat of wok and gets burnt at the bottom.
Granulated sugar can also be used along with powdered one which gives a nice crunch while biting the ladoo. In that case you can use both sugars in 50:50 ratio.
https://udupi-recipes.com/2016/10/quick-besan-ladoo-besan-laddu-recipe.html
All the content in this website are © Copyrighted to – Udupi-Recipes