Cucumber savory idli!!! Just close your eyes and breathe deep. Isn't it appetizing? This aromatic idli coming out of a steam cooker can make any one appetizing at any point of time. Seriously guys.
I am overwhelmingly in love with this idli, just because it can be instant breakfast or dinner. For some reason if you have forgotten soaking rice or making batter kind of stuff then GO for this cucumber savory idli. It's a life saver in such situation and on top of that tastes absolutely delicious with rocking flavor of it's kind.
I always strive to share the recipes in this space that are practically simple and should be possible for you to make in REAL LIFE. It's my goal actually. This idli is quite inline with my goal. You probably have all the ingredients on hand and it's no-difficult recipe to overthink right?
I am so thankful to this wonderful, sort of tiny grain like thing i.e Rava or Semolina. Because it makes life so much easier. It's probably my constant effort to replace rice with semolina in every possible food has made my life effortless. Next to rice it is this rava that I make use of in my cooking. For all instant versions of breakfast or snack or sweet I look for this ingredient in my pantry.
Let's welcome this kind of simple and quick recipes at our home to relax and rest a while.
I had shared cucumber sweet idli a year back. Check that too.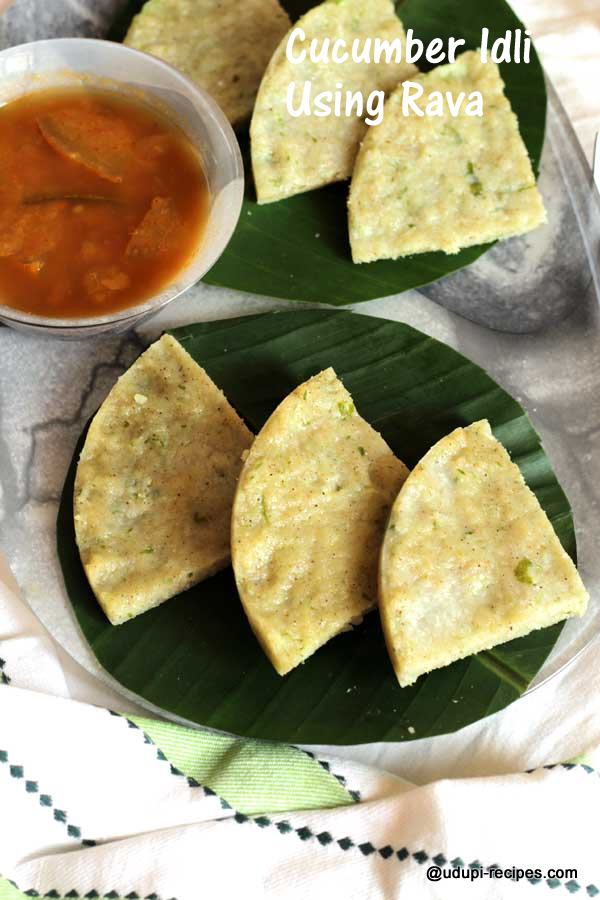 Cucumber Savory Idli using Rava
Ingredients
Medium rava- 1 cup
Tender cucumber- 1 or 2
Fresh grated coconut- 1/3 cup
Green chillies- 1 no.
Cumin seeds- 1/2 tsp
Salt- 1/2 tsp
Instructions
Method

In a mixer, add grated coconut, cumin and green chilly and grind to fine puree. Add water as required for ease of grinding.
Wash the cucumber with enough water, trim the ends and grate it using grater. If the cucumber has seeds, scoop them out before grating. I have used tender ones so didn't de-seed it. Next, dry roast the rava till it warms up.
In a wide bowl add grated cucumber, roasted rava, ground coconut puree and salt. Combine everything well. Add water to get this in to dosa batter consistency.
Take a idli stand and grease each plate with oil and add the batter in to each plate and fix them back in the stand.
Next in a pressure cooker or idli cooker, cook the cucumber idli for about 20 minutes. I cooked in medium flame for about 5 minutes then in simmer for about 15 minutes. Once done, put the plates upside down to remove each one.
Aromatic cucumber savory idli is ready to relish with coconut chutney and sambar.

Notes

If the cucumber is tender, it tastes great and you don't have to remove the seeds.
Roasting the rava is necessary otherwise the idli becomes sticky. Do not skip it.
Adding water in steps is always good to avoid the batter of running consistency.
https://udupi-recipes.com/2016/09/cucumber-savory-idli-using-rava.html
All the content in this website are © Copyrighted to – Udupi-Recipes