It's mid of September and the hot, humid weather of UAE hasn't yet turned in to pleasant, go-for-picnic kind of situation. We are literally waiting for that to happen soon. I mean very soon. Because this end of summer is still too hot to go out. Also I am in look for my local vegetable vendor to reopen his shop which has been shut since 3 SUMMER months. Every weekend trip to this vegetable shop is going to be kind of fun and my most blog recipes born there, finding heap of fresh veggies. Last night I was at a MALL shopping vegetables where I happen to buy a small pineapple thinking I can recreate rasam which I was craving for. And I ended up making pineapple pachadi as one of rice side dish as part of our weekend lunch main course.
At my home main course of weekend lunch usually have two rice side dishes one of which I usually choose easy, comforting or greens based or stir fry kind.  Pineapple pachadi falls in the category of comforting and easy. As the hot weather demands plenty of coolants, use of yogurt and buttermilk in cooking is most common affair and I am not exceptional to it.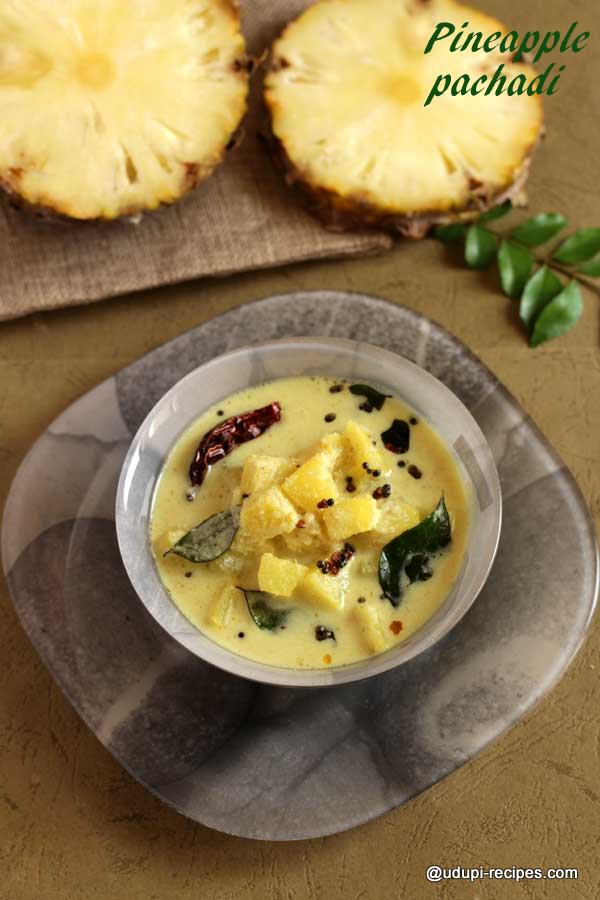 Dices of pineapple cooked in spiced coconut sauce require  just 15 minute kitchen time. And the fruit doesn't even need more than few minutes to cook because we are cooking it halfway. I like the crunch of this fruit in my mouth while eating which is not so good if cooked till mushy. Pachadi is rocking in taste and we are already super fan of it.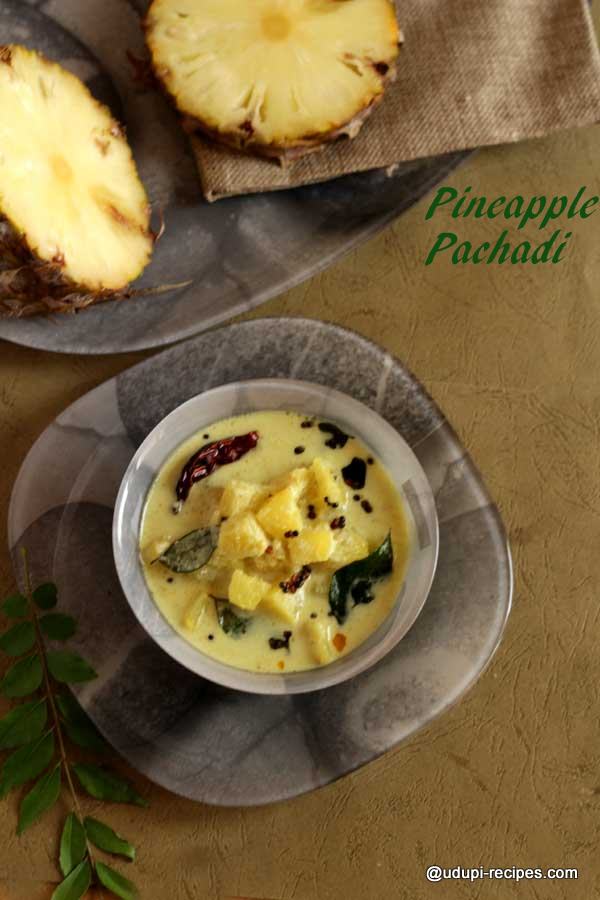 Quick Pineapple Pachadi Recipe
Ingredients
Pineapple- 3 slices (chopped cubes 1 cup)
Fresh grated coconut- 1/2 cup
Whisked yogurt or thick buttermilk- 1/4 cup
Green chillies- 1 nos.
Cumin seeds- 3/4 tsp
Turmeric powder- 1/4 tsp
Salt- 1 tsp

Seasoning ingredients

Cooking oil- 2 tsp
Mustard seeds- 1 tsp
Split blackgram lentils- 1/2 tsp
Broken red chillies- 3 nos.
Curry leaves- Few
Instructions
Method

Chop pineapple slices in to medium sized dices. Put them in a pan adding turmeric powder and a cup of water. Let it cook till soft in medium flame.
As it is cooking, in a mixer add coconut, cumin seeds and green chilly. Grind this to fine puree along with little water.
Include minced coconut puree, salt to the cooked pineapple and let it boil for a minute or two. Switch off the flame and add whisked yogurt.
Heat a seasoning pan adding oil, mustard seeds, split blackgram lentils, broken red chillies and curry leaves. When the mustard splutter pour the seasoning over pachadi.
Comforting rice side dish pineapple pachadi is ready to serve with steamed rice.

Notes

Choose the pineapple that is sour and sweet in taste.
Do not overcook pineapple. It should not be mushy. If you cook halfway with little crunchiness retained, it tastes good.
Use fresh yogurt which is not sour for better taste.
Adjust green chilly as per your preferences.
https://udupi-recipes.com/2016/09/quick-pineapple-pachadi-recipe.html
All the content in this website are © Copyrighted to – Udupi-Recipes