I can't believe we're here. It's been 4 years!! and today I am posting 400th recipe (Sweet boondi). It's a celebration time guys…
From 2012-2016->What a ride.
udupi-recipes has come a long way in 4 years. A huge part of that is the fact that I consistently show up, create content and improve along the way. It sounds simple, but showing up every single day is really hard to do and is one of the most important factors that goes in to building a successful blog. Raising up a blog baby with significant number of posts to the point that it earns a decent income per month wasn't easy for me. Every other day I had to prepare myself to face challenges that come on my way. But the point here is I absolutely enjoyed doing all these things. Passionately cooking a new thing, figuring out props, taking pictures in natural light which plays hide and seek game many times, brain-storming on what to write for every recipe wasn't naturally gifted to me. I had to intentionally develop these skills in me to be in the blogging platform for a long term.
LESSON I HAVE LEARNT
One most important lesson that I have understood in these years is "We must do our work for it's own sake not for fortune, attention or applause". It's important to remember that the goal isn't to arrive somewhere. The destination isn't the prize, the process is. We're currently ( and forever will be!!) in the middle of process. We'll never "get there" which is why it's important to fall in love with the process.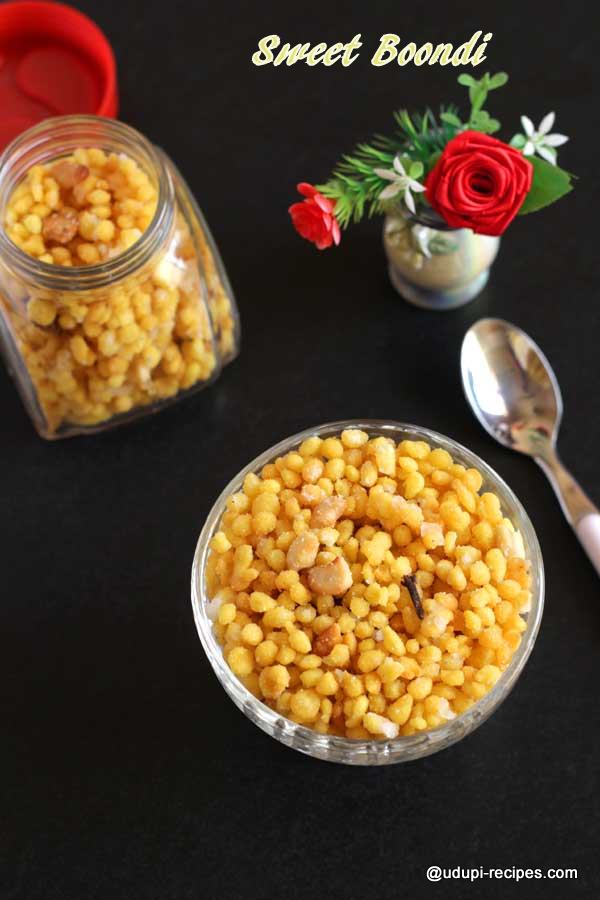 I had very less chance to cook some sweet thing for 400th post and things that I cooked didn't turn out so very well to pass the test and show up here.  As I am already lagging behind my post-schedule, I pulled sweet boondi recipe from the drafts to give the honor of 400th recipe.
Sweet boondi is actually prior version in the process of boondi ladoo and if you omit rolling ladoo step in the latter you end up with the former. It's visually appealing with crystallized sugar and nuts while being awesomely delicious to your mouth.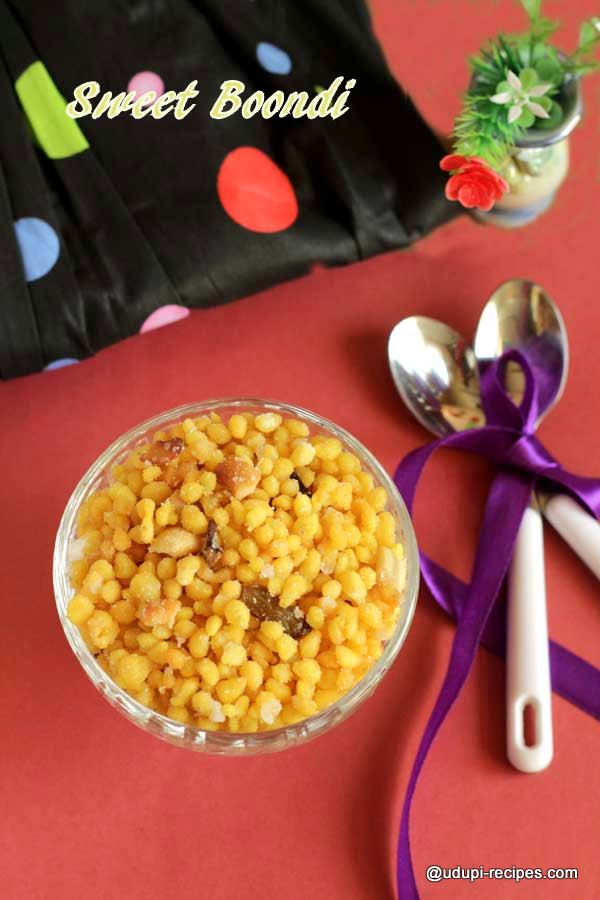 Ingredients
Chick pea flour (Besan flour)- 1 cup
Water - 3/4 cup
Cloves- 7 to 8
Cashews- Handful
Raisins- Handful
Yellow food color or turmeric powder- 1/2 tsp
Sugar candy- 2 tsp
Cardamom- 5 to 6 or cardamom powder- 1/2 tsp
Edible camphor- A pinch
Baking soda- A pinch
Salt- A pinch
Cooking oil- 1.5 cup or enough for deep frying

For sugar syrup

Sugar- 1 cup
Water- 3/4 cup
Instructions
Preparation

Sieve the gram flour in to a wide bowl. Add salt, baking soda and turmeric powder to it. Give a quick mix.

Method

Pour water incrementally to the gram flour to make thick paste. Then make it thinner with little more water adding in steps. I have used up around 3/4 cup of water which may vary in your case. You need two slotted ladles for making boondi laddo, so keep it ready.
Heat oil in a wide wok in medium flame, as it gets rightly heated check the consistency of gram flour batter. Using a spoon drop little batter in to oil, if it forms boondi with tail, then batter has to be thinner. On the other hand if flat boondi is formed instead of round, then the batter has to be thicker. So adjust accordingly. Holding slotted ladle over the hot oil, pour ladle full of gram flour batter and carefully tap so that round boondi drops in to hot oil. Wipe off the slotted ladle with a tissue paper before the next batch.
As the boondi gets cooked ( do not let it become crisp) remove it from oil using another slotted ladle and drain them over a kitchen tissue.
Continue the process of making boondi till the gram flour batter gets over.
Next heat a pan with sugar and 3/4 cup of water. Cook it with constant stirring. After a while swipe the ladle in the sugar syrup and check the consistency. If the syrup forms single string between your index finger and thumb then sugar syrup is ready. Switch off the flame, otherwise continue cooking till you get the right consistency.
In a wide bowl include boondi, cloves, broken cashews, raisins, sugar candy, edible camphor and cardamom powder. Mix and pour sugar syrup over it little by little. Combine everything well.
Let it rest for some time. Sugar gets crystallized and coats boondi well and you can relish it as dessert.

Notes

The gram flour batter consistency is very important to obtain round, juicy boondi.
While checking the consistency of batter if it has to be thicker then you need to add some more flour. If it has to be thinner, then include some tea spoons of water. So always keep some gram flour handy.
While tapping the slotted ladle, ensure you are not holding it too high over the oil. In that case boondi loses its shape.
You have to wipe both back and front side of slotted ladle before starting next batch of boondi making.
The boondi doesn't have to be cooked till crisp, so ensure you remove them on time.
If you feel the sugar syrup is more, then reserve it for later use.
You will see the crystallized sugar only after an hour. So do not hurry.
https://udupi-recipes.com/2016/09/sweet-boondi-recipe.html
All the content in this website are © Copyrighted to – Udupi-Recipes