It's been a goal since a while now to post this visually appealing ladoo for Diwali 2015. Getting hold of this recipe was little tricky that is because the cute little boondi should drop out in perfect round shape without losing the juiciness. For me it took multiple iterations to rightly get the same, it must probably be the case with every one.
When we say boondi ladoo, a benchmark is already set like it should have crystallized sugar coating with the flavors of camphor and cardamom and a nice crunch of sugar candy sweetness. As a pre-boondi ladoo maker mind I always wondered how the sugar can overly the ladoo giving such a glaze look. But it's AMAZINGLY EASY. When I can do it, even you too can.
The thickness of  gram flour batter is what matters the most in getting the perfect boondi shape. It just have to be right. So never ever pour water to the flour instead you can begin by making thick paste first then proceed to get it thinner and thinner. Keep some tea spoon of gram flour and water handy by your side and as you check the consistency of batter in oil you can either add flour or water to just get it right.
The next word of caution is in examining the consistency of sugar syrup. The syrup has to be one thread consistency which otherwise would make ladoo shaping impossible. The ladoo mix has to be warm to shape them properly in to ball and after an hour or so you will find boondi ladoo with overly crystallized sugar. So do not panic if you don't see it immediately.
Diwali is a one such occasion when you find yourself trying some new sweets and snacks. So why don't you try boondi ladoo this year??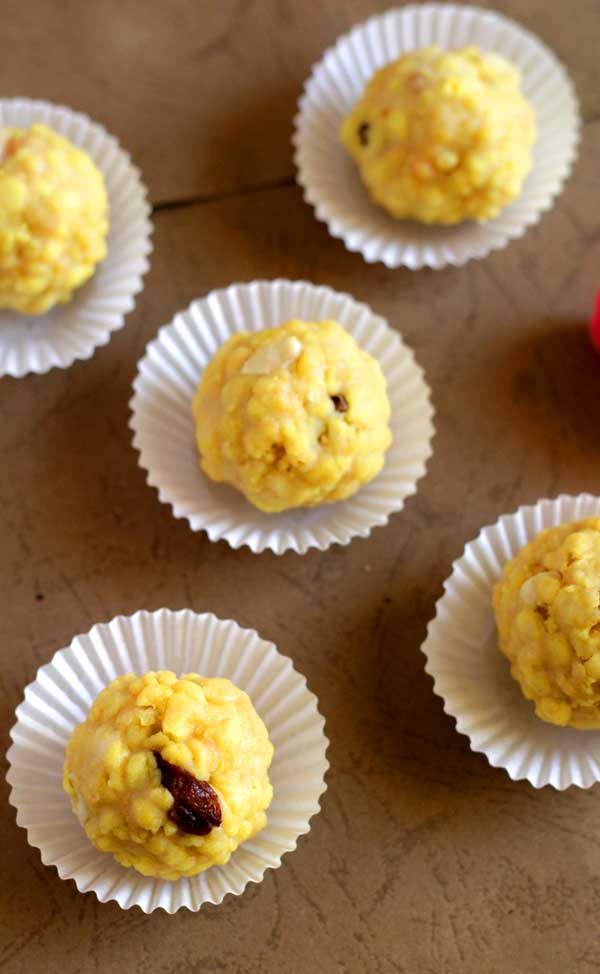 Boondi Ladoo Recipe | Diwali Recipes 2015
Ingredients
Chick pea flour (Besan flour)- 1 cup
Water - 3/4 cup
Cloves- 7 to 8
Cashews- Handful
Raisins- Handful
Yellow food color or turmeric powder- 1/2 tsp
Sugar candy- 2 tsp
Cardamom- 5 to 6 or cardamom powder- 1/2 tsp
Edible camphor- A pinch
Baking soda- A pinch
Salt- A pinch
Cooking oil- 1.5 cup or enough for deep frying

For sugar syrup

Sugar- 1 cup
Water- 3/4 cup
Instructions
Preparation

Sieve the gram flour in to a wide bowl. Add salt, baking soda and turmeric powder to it. Give a quick mix.

Method

Pour water incrementally to the gram flour to make thick paste. Then make it thinner with little more water adding in steps. I have used up around 3/4 cup of water which may vary in your case. You need two slotted ladles for making boondi ladoo, so keep it ready.
Heat oil in a wide wok in medium flame, as it gets rightly heated check the consistency of gram flour batter. Using a spoon drop little batter in to oil, if it forms boondi with tail, then batter has to be thinner. On the other hand if flat boondi is formed instead of round, then the batter has to be thicker. So adjust accordingly. Hold slotted ladle over the hot oil and pour some gram flour batter over it. Then carefully tap the ladle so that round boondi drops in to hot oil. Wipe off the slotted ladle with a tissue paper before the next batch.
As the boondi gets cooked ( do not let it become crisp) remove it from oil using another slotted ladle and drain them over a kitchen tissue.
Continue the process of making boondi till the gram flour batter gets over.
Next heat a pan with sugar and 3/4 cup of water. Cook it with constant stirring. After a while swipe the ladle in the sugar syrup and check the consistency. If the syrup forms single string between your index finger and thumb then sugar syrup is ready. Switch off the flame, otherwise continue cooking till you get the right consistency.
In a wide bowl include boondi, cloves, broken cashews, raisins, sugar candy, edible camphor and cardamom powder. Mix and pour sugar syrup over it little by little. Combine everything well. When the mixture is warm, start rolling ladoo.
Juicy boondi ladoo in a golden yellow color is ready to serve.

Notes

The gram flour batter consistency is very important to obtain round, juicy boondi.
While checking the consistency of batter if it has to thicker then you need to add some more flour. If it has to be thinner, then include some tea spoons of water. So always keep some gram flour handy.
While tapping the slotted ladle, ensure you are not holding it too high over the oil. In that case boondi loses its shape.
If you try frying in very less oil, then too boondi will lose the shape. So as you tap the ladle the dropped boondi shouldn't settle down at the bottom. It should float over the oil.
You have to wipe both back and front side of slotted ladle before starting next batch of boondi making.
The boondi doesn't have to be cooked till crisp, so ensure you remove them on time.
Do not pour the sugar syrup over the boondi at once, it's better to add little by little.
If you feel the sugar syrup is more, then reserve it for later use. Do not try emptying it as it will be difficult to shape it in ladoo form.
You will see the crystallized sugar over ladoo only after an hour. So do not hurry.
https://udupi-recipes.com/2015/10/boondi-ladoo-recipe-diwali-recipes-2015.html
All the content in this website are © Copyrighted to – Udupi-Recipes