I am leading you today to a cozy, delicious wonder of dessert that you can make on this Diwali. I know the festival of light is almost a month away, but I want my readers to give enough time in order to choose from an array of sweets and snacks. Let me mention one thing that I have started with an easy sweet condiment this year which can even be prepared by a novice  cook.
I am proud to announce that this dry gulab jamun has only handful of ingredients which are already in your grocery stock I bet. If you are not a kind of person who stocks bread in the pantry,  then just make a quick trip to your grocery store to buy a loaf of bread.  You can choose unsweetened plain bread instead of salty one.
It's the e happy time of Diwali and I don't want you to be tied up all time in cooking, so this wonder of deliciousness that needs barely half an hour. I guess it's worth to spend  30 minutes on this incredible dry gulab jamun which is juicy inside and has melt in mouth textured crest. These sugary sprinkled  or sugar coated dry gulab jamun doesn't even need a bowl and a spoon like the traditional one to gulp over.
So get ready to test it as pre-diwali sweet and let me know how it has turned.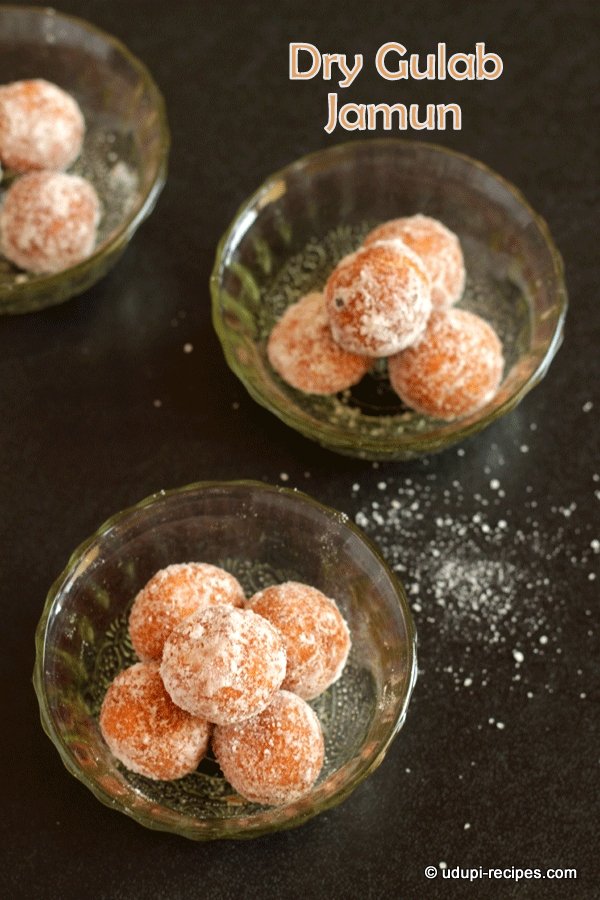 Dry Gulab Jamun Using Bread | Diwali Recipes 2015
Ingredients
Bread slices- 8 nos.
Milk- 1/4 cup
Sugar- 8 tsp
Cardamom powder- 1/2 tsp
Cooking oil- Enough to deep fry(around 1/2 cup)
Instructions
Method

Powder the sugar finely using mixer grinder. You can also use store bought sugar powder directly.
Trim the brown edges of each bread and break them in to pieces. Put these bread pieces in to mixer jar and use Pulse option of Mixer to crumble them evenly.
Transfer the crumbled bread in to a wide bowl, then add 3.5 tsp of powdered sugar and cardamom powder. Give a quick mix. You can taste at this stage to adjust sweetness. Then adding milk little by little make bread crumbs dough. The dough should not be neither too thick nor too thin.
Taking lemon sized dough in your hand, shape it in to ball. Keep all the balls ready like this.
Heat oil in a pan and deep fry each of the jamun ball prepared in the previous step. Let the flame be medium so that jamun doesn't get burnt outside. Fry them till they turn golden brown and drain oil over kitchen tissue.
Finally take all the fried bread jamuns in a bowl and sprinkle rest of sugar powder. Toss them, so that enough sugar powder coats over each of them.
Easy sweet bread dry jamun is ready to gulp on Diwali festival.

Notes

Do not include the edges of bread which may turn the gulab jamun hard.
One bread slice approximately needs 1/2 to 3/4 tsp of sugar powder. You can taste the dough and adjust accordingly.
While making the dough if you feel it needs more milk, then feel free to add. The bread dough should be neither too stiff nor too runny. you should be able make balls that is soft and smooth from inside.
The dry jamun looks hard when you just finish frying, it turns soft, juicy after some time with coated sugar. So don't panic.
https://udupi-recipes.com/2015/10/dry-gulab-jamun-using-bread-diwali-recipes-2015.html
All the content in this website are © Copyrighted to – Udupi-Recipes