For the majority of  my life I have been basically disliking apple though I am fond of eating almost all fruits. It looks so boring and tasteless fruit to me. When I find apple in my fruit basket I would rather try get rid of them by distributing among kids. But this time none of my tricks to clear out handful of apples succeed and that triggered cook in me to prepare this wonderful dessert apple kesari.
Apple kesari, a dessert that is drenched in ghee plus sugar with crunchy cashew plus apple feeling in every bite. It has silky glowing texture, cardamom flavor and not so deep saffron color that makes the dessert drool-worthy. Miracle of the moment is: though the fruit, poor apple seemed so tasteless to kids, have really relished eating this awesome apple kesari which in turn attained my wish. So it's a WIN-WIN situation.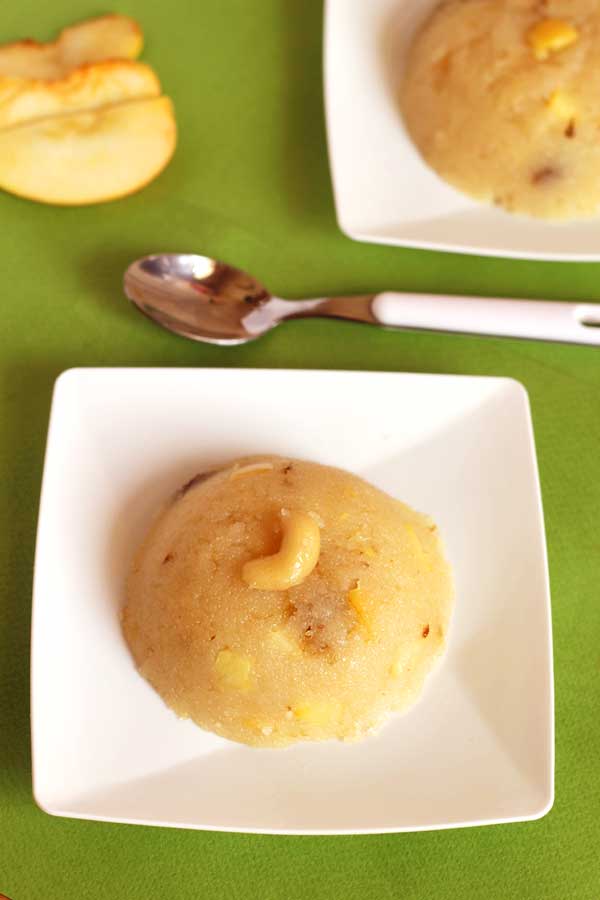 The apple kesari recipe is very simple provided you don't compromise with ghee and sugar. Obviously ghee plays a vital role in making the dessert appetizing by texture. You lose the glossy look as you reduce the amount of ghee. If you are a person with sweet tooth I would definitely suggest adding sugar that is twice the amount of semolina (in ratio of 1:2). But my version has mild sweetness where I have put semolina:sugar:ghee in the ratio of 1:1:1. If you don't like biting chunks of apple in kesari, you can go ahead and grate it, in which case it doesn't need to be cooked in boiling water.
It's Navaratri and you can whip up this easiest kesari for the feast on any day.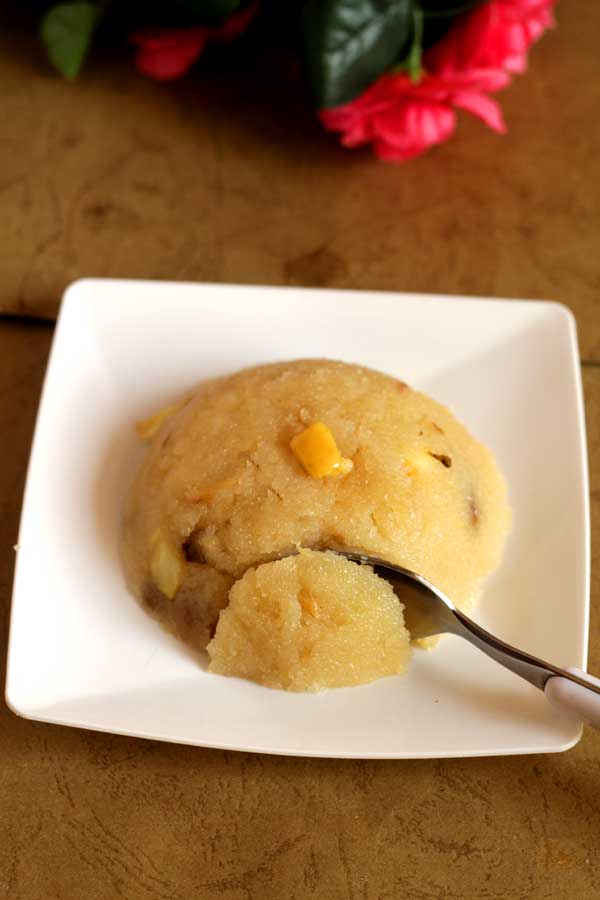 Apple Kesari | Apple Sheera Recipe
Ingredients
Rava / sooji/ semolina- 1/2 cup
Fine cubes of Apple- 1/4 cup
Sugar - 1/2 cup
Ghee- 1/2 cup
Water- 1.25 cup
Cashews+Raisins- Handful
Saffron strands- 4 to 5
Boiled Milk - 1 tsp
Cardamom powder- 1/4 tsp
Instructions
Preparation

Soak safrron strands in milk for 5 minutes and let it release the natural color.

Method

In a pan add 1/4 cup of ghee, cashews and raisins. In medium flame fry the dry fruits for few minutes.
As the cashew turns to brown color include semolina to it. Sauteing continuously roast the semolina till nice aroma wafts out. I took around 5 minutes to get it roasted. Meanwhile heat water in a separate vessel, as it boils include cubed apple and switch it off.
Next carefully pour the hot water to roasted semolina and let it cook. Semolina spills out easily, so keep the flame low at this stage and try not to form any lumps. Now add the saffron soaked milk and mix well.
Next include sugar to the kesari which dilutes immediately and kesari becomes thin. Finally add cardamom powder and remaining ghee. Combine well. At this stage apple kesari doesn't stick to the pan, comes out clean. Switch off the flame.
Luscious apple kesari with nice glowing texture is ready to be served.

Notes

While roasting the semolina, ensure it is not burnt. You need to stir continuously in medium flame.
If you prefer you can peel off the apple but let cubes be small in size.
It's the ghee that makes apple kesari non-sticky and also texture heavily depends upon ghee itself. So reserve enough ghee for this recipe.
If you add little less ghee, it doesn't harm the taste but the kesari becomes thick and solid.
If you have a sweet tooth then you can increase amount of sugar to even 1 cup, in that case apple kesari gets glowing luscious look too.
You can add food color also replacing saffron.
Add sugar only after the semolina gets cooked in water, otherwise it will harm the texture and taste.
https://udupi-recipes.com/2015/10/apple-kesari-apple-sheera-recipe.html
All the content in this website are © Copyrighted to – Udupi-Recipes