Brined jackfruit vada.
What does that even mean? I know it sounds strange. If you are wondering what the hell this brined jackfruit is, then you are a new visitor to this site or you have missed some posts of June month. A couple of months back I had written about brined jackfruit flatbread which is very unique and specific to the people of coastal Karnataka. Today it has taken a sort of fritter form like deep fried vada.
To give a quick recap of that post, brined jackfruit is nothing but raw jackfruit pods in salt. When the jackfruits are in season well grown raw jackfruit pods are stored in a jar with lots of salt. Being in salt these pods extend their shelf life for a year and you can cook them in many ways to relish the fruit when it's not in season. Sounds absolutely awesome isn't it??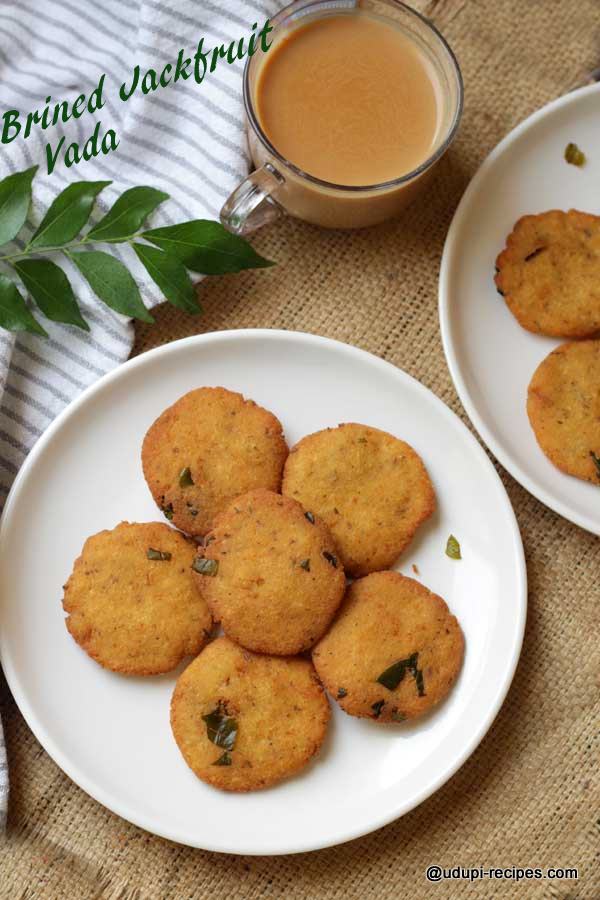 These brined jackfruit vadas are hitting your eyeballs today just because of my Mom. Yes, every year she preserves a jar full of jackfruit pods for the sake of my blog recipes. She never forgets my quest for genuine recipes and keeps the ingredients ready before hand. Unless her behind the scene contribution, this post of mine would never have come up so soon. I cannot THANK YOU enough MOM.
This fritter, brined jackfruit vada is minimal in terms of ingredients but awesomely delicious with unique flavor of it's own. It made last weekend's food mania a super hit at my home and you too surely going to love this.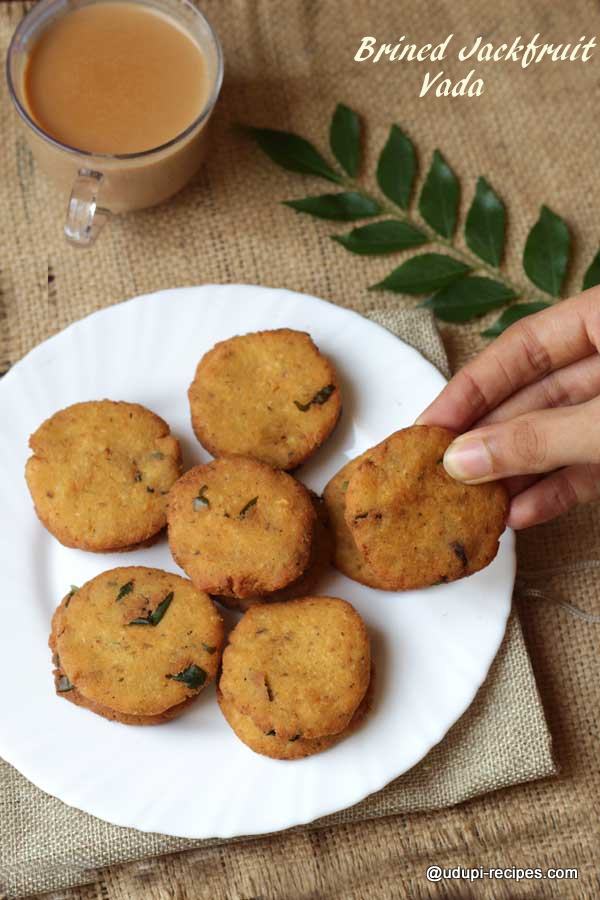 Brined Jackfruit Vada | Uppalachir Vade Recipe
Ingredients
Brined jackfruit pods- 1 cup
Rice flour- 1/2 cup
Fresh grated coconut- 1/3 cup
Cumin seeds- 1 tsp
Green chillies- 3 nos. (Adjust to taste)
Curry leaves - Few (optional)
Cooking oil- Enough to deep fry the vada
Instructions
Preparation

Soak the brined pods in water for about 8 hours or overnight. In the morning rinse them with enough water for at least 3 to 4 times. This procedure is necessary to remove excess salt in them.

Method

In a mixer or blender add jackfruit pods, grated coconut, cumin seeds and green chillies. Grind them together to fine paste. Add this to a wide bowl along with rice flour.
Add some chopped curry leaves and combine well to form thick dough. Next take a mango sized dough and roll like ball and flatten it using your fingers like a vada.
Make a batch of vada and arrange them on a plate. Next heat a wok with enough oil to deep fry. When oil gets heated up, carefully drop 4 ot 5 vada and fry them till they turn brown both sides. Remove from oil and drain over the paper tissue.
Continue frying rest of the vada. Extremely tasty and uniquely flavored brined jackfruit vada is ready to serve with tea.

Notes

Soaking the brined jackfruit pods and rinsing them multiple times is mandatory to remove excess salt. Otherwise the rotti would turn salty.
Do not add any water while grinding the pods with coconut.
The dough should not be too thick nor too thin. It should be stiff enough to pat like vada.
You can adjust the rice flour quantity to get the dough of right consistency.
If you over use rice flour, the vada may turn hard.
Depending upon the type of brined jackfruit, it may consume less or more rice flour. I used 1/2 cup of flour here.
Additioal salt is not required for this recipe, the salt in the brined jackfruit is enough.
The flat bread was soft and it didn't turn hard till evening.
https://udupi-recipes.com/2016/09/brined-jackfruit-vada-uppalachir-vade.html
All the content in this website are © Copyrighted to – Udupi-Recipes