Uniquely delicious brined jackfruit flatbread was my breakfast today which sounds too awesome to start the day guys!! Because it is packed with flavorful, ever craving jackfruit goodness.
Officially kids summer vacation has started today which is alarming me to finish up the grocery and the stuff that are stocked way long back for a good reason. Because it is that time of the year when we start our vacation trip to India to enjoy the holidays with our loved ones. On top of that, you know how my vacation is.  Away from internet, blog, mails and social media thing or keeping them to the minimum I love to be with my dear parents. At the same time, I can't disappoint my valuable readers with NO blog posts, so pre-scheduling most of recipes is happening since a while. You can easily find me in the kitchen or facing computer for extended period of time during these days. Which is kind of compulsion for me to enjoy the holidays like REAL holidays without any distraction.
Let me remind you about brined jackfruit on which I talked about in brined jackfruit fryums post early this year. To reiterate it is the way of preserving some fruits through pickling, for use when they are no longer available. After the fryums, I had left with some pickled jackfruit pods which I transformed in to an amazing flatbread or rotti and it was too very awesome with soft texture and genuine taste.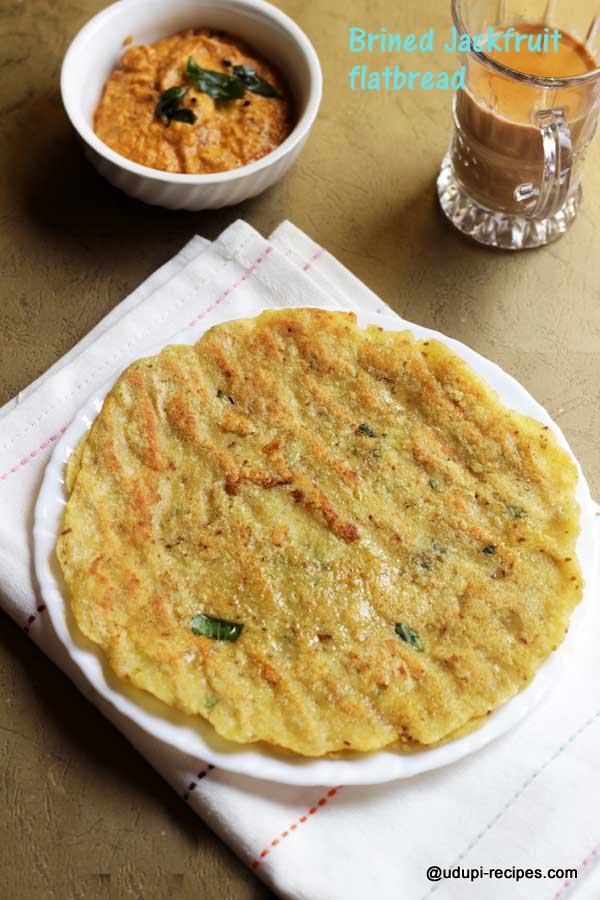 Brined jackfruit flatbread or rotti is going to be in my food memory for long as it has introduced me to a new technique of patting the flatbread. A damp cloth can do the real magic friends. As it lets you to pat the flatbread as thin as possible and rotti  never breaks when you transfer it over the griddle. The damp cloth doesn't stick and melt on the hot griddle which is common issue with plastic sheets. So patting such flatbread is no more messy now onwards.
If you ever get to have some pickled jackfruit, do try this flatbread and let me know.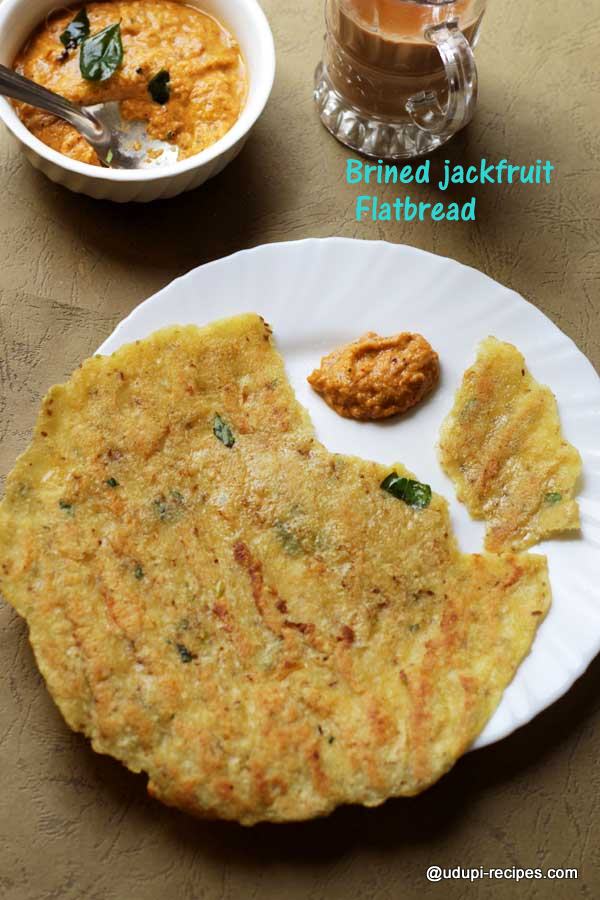 Brined Jackfruit Flatbread | Uppalachir Rotti Recipe
Ingredients
Brined jackfruit pods- 1 cup
Rice flour- 1/2 cup
Fresh grated coconut- 1/3 cup
Cumin seeds- 1 tsp
Green chillies- 3 nos. (Adjust to taste)
Curry leaves - Few (optional)
Cooking oil- Enough to cook the flat bread
Instructions
Preparation

Soak the brined pods in water for about 8 hours or overnight. In the morning rinse them with enough water for at least 3 to 4 times. This procedure is necessary to remove excess salt in them.

Method

In a mixer or blender add jackfruit pods, grated coconut, cumin seeds and green chillies. Grind them together to fine paste. Add this to a wide bowl along with rice flour and some chopped curry leaves. Combine well to form thick dough.
Next take a mango sized dough and place it over a damp circular muslin cloth. Using your fingers pat it thin in circular fashion.
Heat a griddle and smear some oil over it. Transfer the damp cloth containing patted flatbread over the griddle with flatbread facing down. Let it be for few seconds then carefully remove the cloth pulling it towards you. Cook the flatbread on both sides till some brown spots appear on it.
Continue this process with rest of the dough. Extremely soft and uniquely flavored brined jackfruit flatbread is ready to serve with chutney and sambar.

Notes

Soaking the brined jackfruit pods and rinsing them multiple times is mandatory to remove excess salt. Otherwise the rotti would turn salty.
Do not add any water while grinding the pods with coconut.
The dough should not be too thick nor too thin. It should be stiff enough to pat over a surface.
You can adjust the rice flour quantity to get the dough of right consistency.
If you over use rice flour, the flatbread may turn hard.
Depending upon the type of brined jackfruit, it may consume less or more rice flour. I used 1/2 cup of flour here.
Additional salt is not required for this recipe, the salt in the brined jackfruit is enough.
The flat bread was soft and it didn't turn hard till evening. But hot rotti tastes too awesome.
https://udupi-recipes.com/2016/06/brined-jackfruit-flatbread-rotti-recipe.html
All the content in this website are © Copyrighted to – Udupi-Recipes