Ha-looo! Very healthy and diabetic friendly foxtail millet dosa with potato masala, specially for you friends.
I have some delicious things going on right here in the food department because the ground work for my 5-week vacation in India have geared up. The food that has to appear in the blog during vacationing have been planned and cooking is in progress. Meanwhile photo editing, collages and write up are taken care every day working an extra hour off the schedule.
I like the amazing concept as to any cereal or grain can be made in to certain super flexible recipes.  Super flexible recipes in my food life probably happen to be these South Indian staples like dosa, idli, rotti or stuff like that. The cereal that I am talking to is foxtail millet  which is one of the age-old grain that has been in the NEWS recently because of the health benefits. Foxtail millet dosa has become so very common breakfast at my home now that I don't even notice any taste difference.
The porous texture,  softness and the taste resemble very much like plain dosa with bonus health benefits of millet. Which is why I have become a big fan of these cute little cereals. You can easily replace rice with millets in all the possible recipes to know your favorite way of eating them. I have explored millet idli, pongal, bisi bele bath, pulao, rotti and even shevige which deserve to be on this blog space as separate recipes.
More or less all millets have same look, feel and taste when cooked, but I found this foxtail millet to be harder than others. Cooking them requires little extra water and time too.  Adopting to millet life style doesn't force you compromise the taste but assures plenty of health advantage.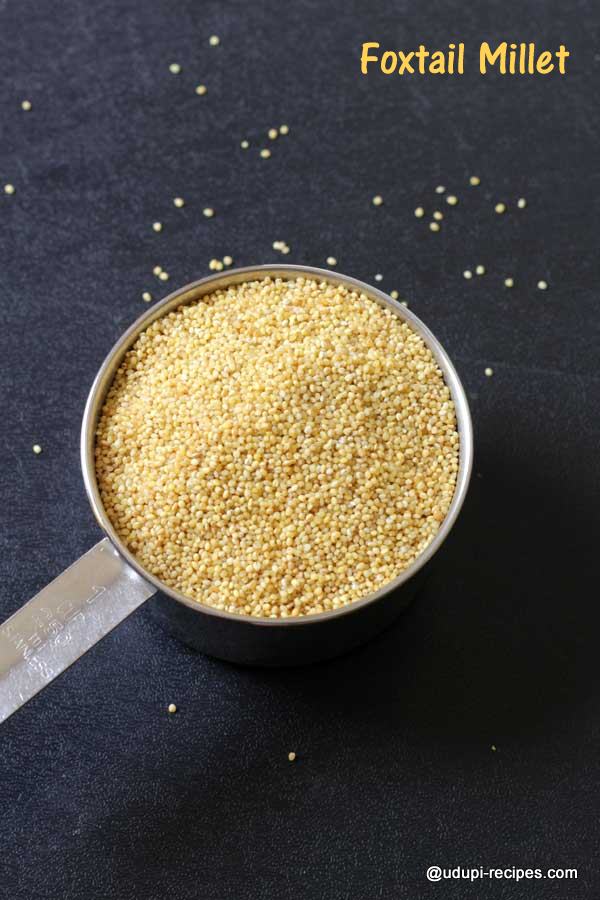 Foxtail millet dosa | Navane Dosa Recipe
Ingredients
Foxtail millet- 1 cup
Split black gram lentils- 1/4 cup
Fenugreek seeds- 1 tsp
Cooking oil- Enough to cook the dosa
Thin rice flakes-1/2 cup(optional)
Instructions
Method

Take foxtail millet, split black gram lentils and fenugreek seeds in a bowl. Rinse them with enough water and soak for about 3 to 4 hours. Soak rice flakes just for 15 minutes.
Drain water and add the soaked ingredients in a mixer and grind together to fine batter. Add 1/4 cup of water and let the consistency be like normal dosa batter. Let it ferment for good 8 hours at a warm place.
Heat a dosa griddle smearing little oil, when it gets heated up pour a ladle full of batter and spread it in circular fashion using the back of ladle. Drizzle some oil and cook it covered for about few seconds. When done, loosen the edges and remove it from griddle.
Very healthy foxtail millet dosa is ready to serve with chutney, sambar of your choice.

Notes

Good 8 hours fermented batter would make the dosa very soft with porous texture. So plan to have enough time for fermentation.
You can use either mixer or wet grinder to grind the batter.
Foxtail millet is a very healthy alternative to rice and good for diabetes patient. It tastes equally good like the ones made using rice.
You can use rice flakes too while grinding the batter which makes the dosa even softer. Soak them in water for about 5 minutes.
https://udupi-recipes.com/2016/06/foxtail-millet-dosa-navane-dosa-recipe.html
All the content in this website are © Copyrighted to – Udupi-Recipes