Rewinding my life back a month, I was quite unfamiliar to these cereals that are way too tiny in size but loaded with maximum proteins and minerals. I had no clue at all about so called millets and the positive effects that make on our health. Am I living in a isolated, remote city of the world?? I wonder.
I was watching a cooking show in a TV channel where it's been showcased about millets and their impact on our health as a substitute of rice or wheat. I understood about millets and the various ways it can be part of our day to day food life. And you know what, my quest to cook these millets in most amazing and delicious form triggered out. My trip to supermarkets in search of tiny cereals began all in all, but till last week I had no luck finding any. Yesterday, my joy knew no bounds when I found all types of millets neatly arranged in a shelf of Mall out of which kodo millet and barnyard millet have took place in my cart.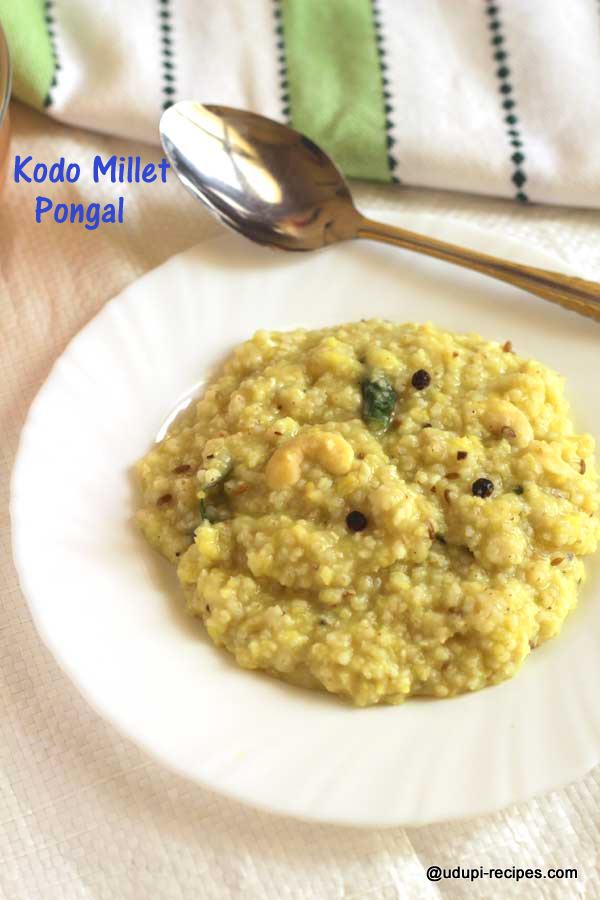 Kodo millet pongal is the first and easiest one pot meal that I tried my hands on. The pongal was overwhelmingly seductive and never even felt that I am eating something new and unique cereal. Kodo millet has already won our hearts in taste with health being it's bonus gift.
While making kodo millet pongal, I cooked the millets and lentils separately in a pressure cooker and then combined everything in a seasoning to a porridge consistency. You can even cook both of these together in cooker itself. Let's step up from health perspective through the use of millet goodness in our lives. Kodo millet pongal => you win.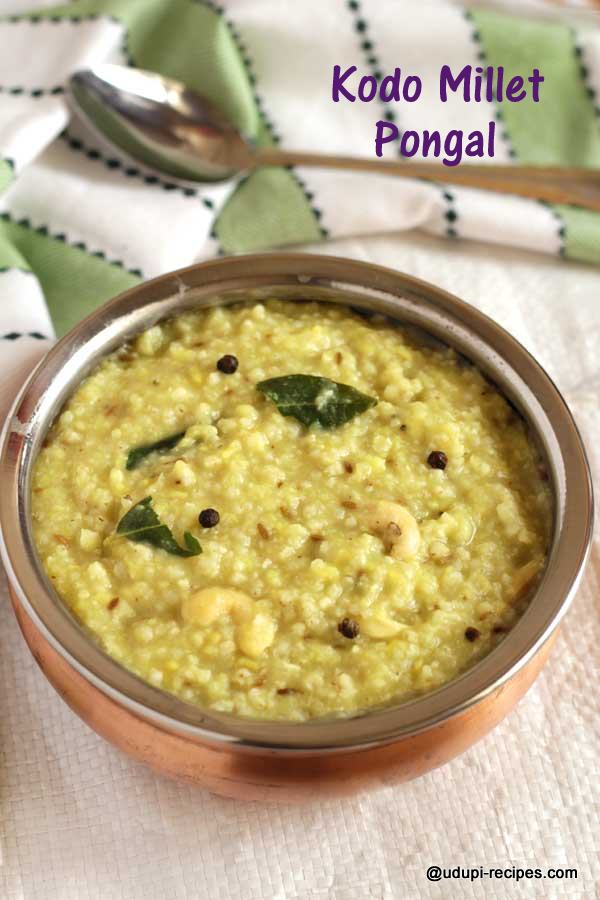 Kodo Millet Pongal | Millet Recipes
Ingredients
Kodo millet - 1/2 cup
Split green gram lentils- 1/4 cup
Fresh grated coconut- 1/3 cup
Finely chopped ginger- 1 tsp
Black pepper- 1/2 tsp
Green chillies- 1 no.
Turmeric powder- A pinch
Cashews- Few

Seasoning ingredients

Ghee- 2 tsp
Cumin seeds- 3/4 tsp
Curry leaves- Few
Instructions
Method

Rinse the kodo millet very well with ample amount of water. Pressure cook the millet and green gram lentils for 3 whistles in medium flame. Kodo millet requires 1.5 cups of water(3 times more than the millet quantity) and lentils need around 1/2 cup of water to cook soft.
Once the pressure subsides naturally, remove the lid and keep the millet plus lentils ready. Next heat a pan adding ghee, cumin and curry leaves. As the cumin sizzles, include ginger and crushed black pepper.
Saute the seasoning for a while and then include cashew nuts and turmeric powder. The cashews turn slightly brown then add 1 cup of water and bring it to boil. Include cooked millet and lentils, combine everything well. Finally add salt and grated coconut. Mix it up and switch off the flame after few seconds.
Very healthy kodo millet pongal is ready to serve.

Notes

For pongal the millet needs to be cooked little mushy, so I have added water in the ration of 1:3. To cook it with separated grains, it may require 2.5 cups of water.
You can pressure cook both millet and lentils together and then include seasoning. But I prefer cooking separately, then combining them in seasoning.
While cooking pongal, you can adjust water as per the desired consistency as it tends to thicken with time.
https://udupi-recipes.com/2016/03/kodo-millet-pongal-millet-recipes.html
All the content in this website are © Copyrighted to – Udupi-Recipes