Weekend lunch cannot be better than this, especially for my son who loves food which he can hold, dip and nibble on at his own slow eating pace. My kindergartner son is very much fascinated about chapati and if the same chapati is little more delicious with some no-spicy stuffing then he gets overjoyed to eat it. I made the weekend a Special one by lovingly cooking peas paratha for him and the visual of 4 year old cute son dipping green veggie stuffed peas paratha in thick yogurt and filling in his mouth was way too awesome.
I sometimes wonder how adaptable and versatile chapati is, as you can just spread some fruit jam or ketchup or some vegetable based stir fry and roll to eat. Otherwise you can even mix the flour with some spices and grated vegetables like carrot, beetroot or cabbage which then turns colorful and more appetizing with balanced taste. Or even otherwise like this peas paratha you can prepare a dedicated stuffing with all the things that you love to eat and then stuff it and roll thick to devour. So chapati is really magical and you can creatively eat it it in many ways.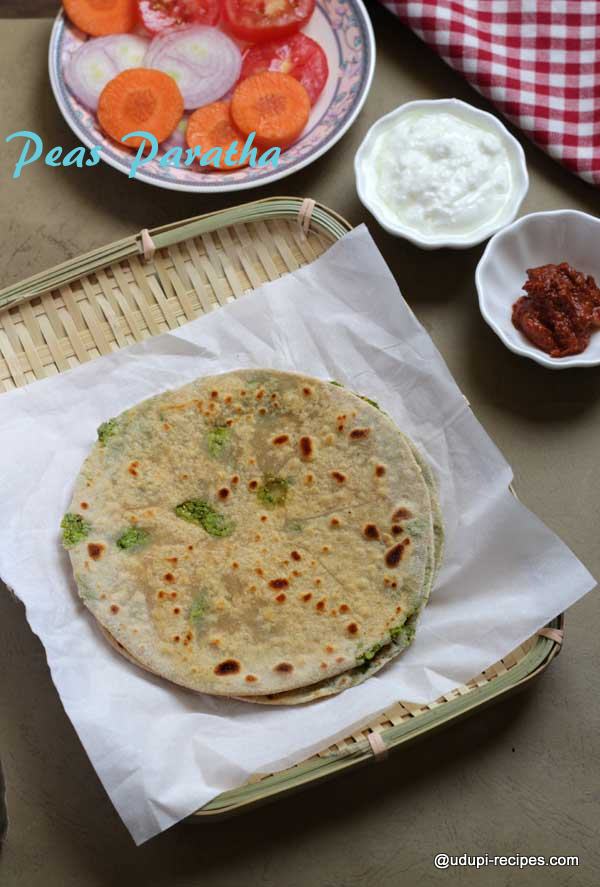 The peas paratha recipe is straightforward with dough and peas stuffing preparation. Peas stuffing can have little this and little that, like you can add some flavorful and taste giving spices to make it homogeneously balanced in palate.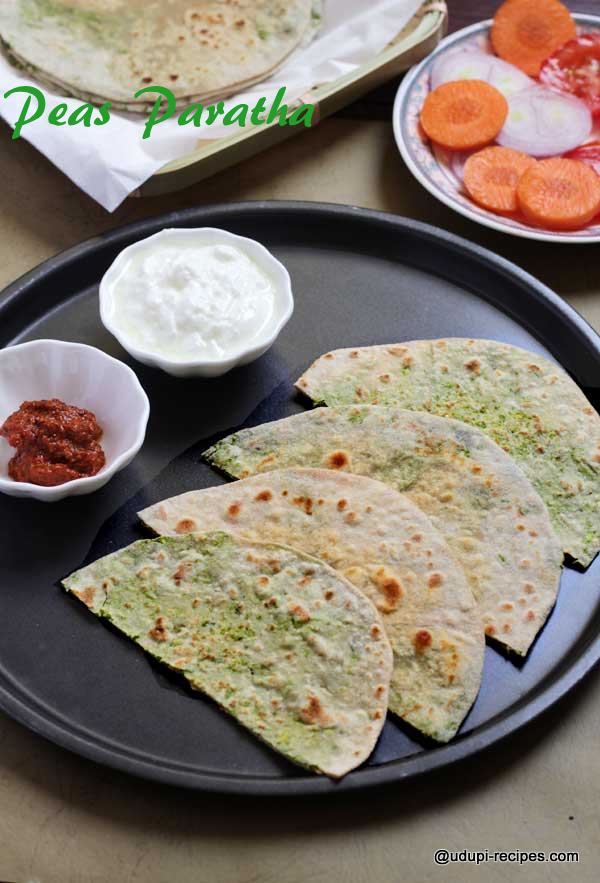 Peas Paratha | Peas Stuffed Paratha Recipe
Ingredients
Wheat flour- 1 cup
Salt- 1/2 tsp
Water- 1/3 cup

For stuffing

Fresh or frozen peas- 1 cup
Coriander leaves- 1/2 cup
Green chillies- 1 nos.
Salt- 1/2 tsp
Coriander powder- 1 tsp
Garam masala- 1/2 tsp
Chopped ginger- 1 tsp
Lemon juice- 1 tsp
Cumin seeds- 1 tsp
Cooking oil- 1 tsp
Instructions
Method

In a wide bowl add wheat flour, salt and give a quick mix. Then adding water incrementally prepare a pliable, soft dough.
The dough shouldn't have any cracks which indicates lack of water. In that case sprinkle some more water and knead well. Keep the dough covered with damp cloth for about 15 minutes or till the stuffing is ready.
Next steam cook peas till soft without adding any water. Add these cooked peas in to mixer jar along with ginger, coriander leaves and green chilly. Grind them together to coarse paste. Do not add any water while grinding.
Next heat a pan with oil and cumin seeds. As the seeds sizzle, include the ground peas and all spices. Saute for a while and switch off when most moisture evaporates. Squeeze lemon and let it cool down for few minutes.
Divide both stuffing and wheat dough in to 6 equal parts and roll them as balls.
Dusting enough wheat flour roll a dough ball in to 2" disc and keep a stuffing ball at the center. Bring the sides up and cover stuffing and then seal it on top.
Keeping the sealed side on top, roll the paratha carefully in to medium thick disc. Then transfer it over a hot skillet. Smear some ghee or oil over the paratha and cook till some brown spots appear on both sides. Continue the process with rest of the dough.
Delicious peas paratha is ready to serve along with yogurt and pickle.

Notes

The water quantity required to prepare the dough differs with quality of wheat flour. So adjust accordingly
The dough should be given minimum 15 to 30 minutes of resting time for better results.
This is mild in spice, as per your taste buds you can increase it by adding some red chilly powder.
The consistency of stuffing and dough should be same, otherwise the stuffing comes out while rolling.
While rolling the stuffed paratha, be extra careful and apply pressure evenly.
https://udupi-recipes.com/2016/03/peas-paratha-peas-stuffed-paratha-recipe.html
All the content in this website are © Copyrighted to – Udupi-Recipes