Super healthy drumstick leaves stirfry, be my friend forever!!
Drumstick leaves- These are divine gifted greens that are super food of the world with bazillion nutrients and if you are a fan of these cute little leaves then we both are twins towards good health. When you use such green goodness in your diet on daily basis, you would possibly turn in to a walking picture of health. I look for ways to include beautiful drumstick leaves in my everyday meal which is practically not the current scenario. SAD 🙁
You know these beautiful drumstick leaves are few steps away from my doorstep. There is a huge tree with lots of  branches with feathery leaves and fruits hanging all year-round.  The other day as I walked by the tree, my food brain dated back calculating when did I eat these greens last time? Nope, failed to recollect. Because it's so long that I haven't used up the leaves in cooking which is very sad part of the story.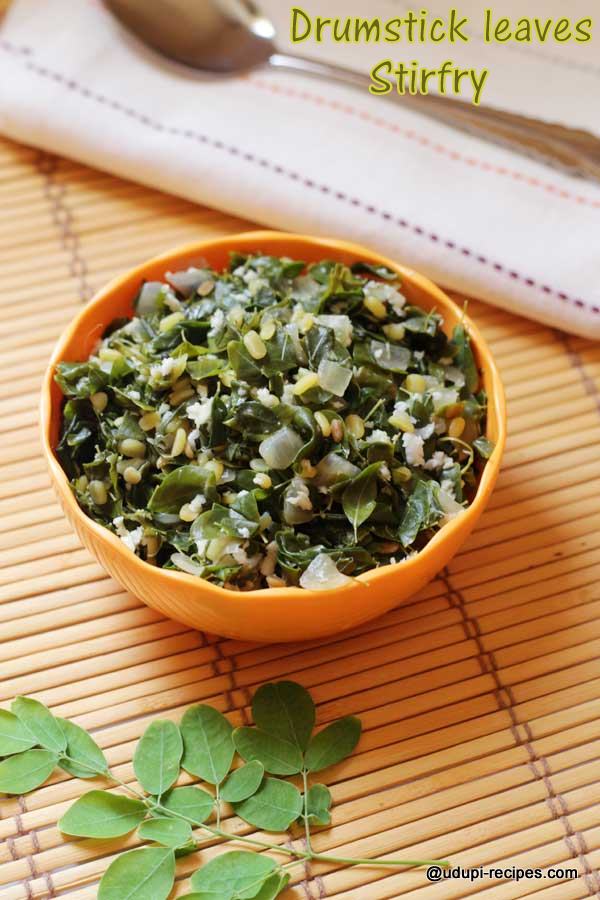 Today I was very intentional to feed myself and family with the wonderfulness of drumstick leaves through this stirfry. Which happened to be a success as kids too enjoyed eating it. The drumstick leaves stirfry has mainly onion and yellow lentils for the extra crunchy feeling while eating. Otherwise the leaves alone cannot cook to an appetizing dish.
To add up on regular usage of these leaves, I have decided to throw up these tiny greens in any dosa batter or rotti batter or chapati batter which is our everyday breakfast routine, this way I can see myself  with positive impacts of greens.
If you have any better idea of using these calcium rich power food as every day meal, please do let me know through comments. It can really help health conscious people like me. 🙂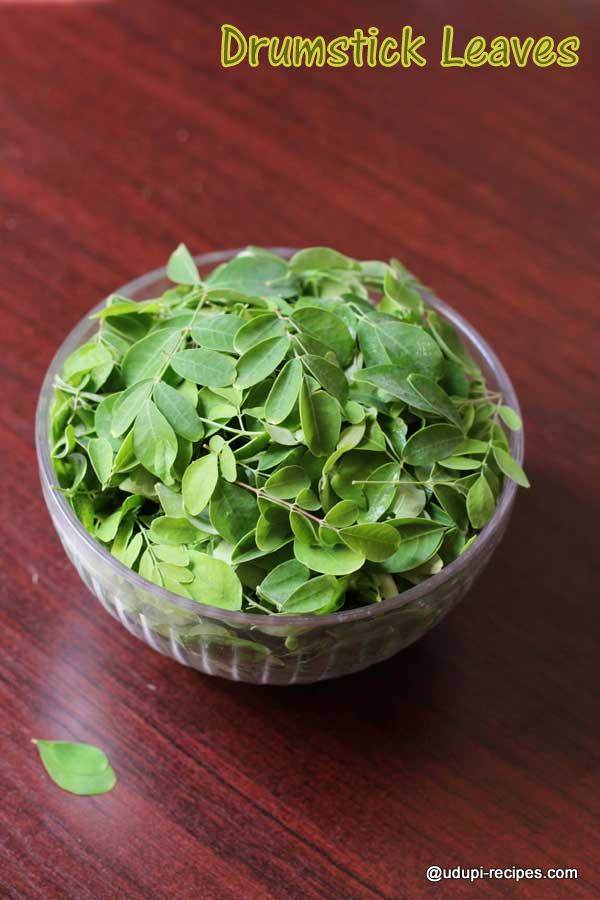 Drumstick Leaves Stirfry | Nuggesoppina Palya
Ingredients
Drumstick leaves- 2 cups (pressed)
Green gram lentils (yellow lentils)- 1/8 cup
Fresh grated coconut- 1/2 cup
Onion- 1 no.
Green chillies- 2 no.
Salt- 3/4 tsp

Seasoning ingredients

Cooking oil- 2 tsp
Mustard seeds- 1/2 tsp
Split black gram lentils- 1/2 tsp
Curry leaves- few
Instructions
Preparation

Wash the drumstick leaves thoroughly in enough water and separate the leaves from stem. Keep this ready before you start.

Method

Peel off the onion and chop it in to fine pieces. Heat oil in a pan with all the seasoning ingredients included. As the mustard sizzle, add onion pieces and slit green chillies. Saute for about 5 minutes and then include yellow lentils and drumstick leaves.
Saute the greens for about few minutes, add salt and 1/4 up of water. Cook this covered till the lentils and greens turn soft. It may take 8 to 10 minutes. Finally add fresh grated coconut and mix. Switch off the flame.
Nutritious drumstick leaves stirfry is ready to serve with rice-rasam.

Notes

Always choose tender drumstick leaves because it tastes less bitter than the matured ones.
Yellow lentils and coconut enhances the taste, so I recommend using them.
Drumstick leaves is said to be super food with most important nutrients, so do
https://udupi-recipes.com/2016/06/drumstick-leaves-stirfry-nuggesoppina-palya.html
All the content in this website are © Copyrighted to – Udupi-Recipes